Booking the trend - the future of public libraries
Since the turn of the millennium there has been a sharp decline in visits to public libraries. The internet, the proliferation of charity shops selling cheap second-hand books and the ubiquitous Kindle seem to have taken their toll. Yet independent subscription libraries are enjoying a remarkable renaissance. Why?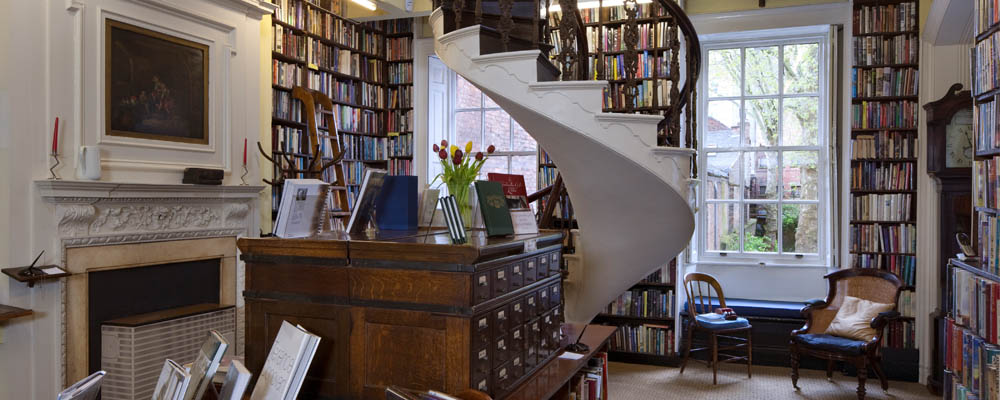 Stephen Hunter, Investment Director, Rathbones
They are considered by many to be Britain's best kept secret — an "underground network" of independent libraries across the country, often in glorious settings, their shelves lined with treasures waiting to be stumbled across by the curious browser.
Independent libraries date back to the 18th century when books and newspapers were expensive even for the upper middle classes. The solution was to pool resources.
The Portico Library in Manchester is a good example. Conceived in the 18th century and opened in 1806 as a library and newsroom in what is now a Grade II* listed building, it was funded by 400 of the city's wealthiest men. Each gave around 30 guineas for a share — the equivalent of 18 months' wages for a framework knitter. Thereafter they paid a few guineas a year for subscriptions.
Kirsten Loach, who is writing a PhD thesis on independent libraries, says their popularity spread across the country and at one time there were several hundred. For the working classes a parallel movement began of Mechanics' Institutes, offering technical education as well as access to books.
In 1850 the Public Libraries Act gave local boroughs the power to establish free public libraries and the heyday of the independent library was over. Today Loach estimates there may only be around 50 independent libraries left and until a few years ago their future was in serious peril.
Emma Marigliano is head librarian at the Portico and chairs the Association of Independent Libraries. She says: "When I came to the Portico 30 years ago, the membership was a bunch of old men sat in armchairs reading newspapers and smoking pipes and cigars. They would have been very happy for it to continue like this until the place fell about them, which wasn't far from happening. That's all changed. We're not only getting a lot more women but quite a lot of young people, including writers, teachers and professionals looking for sanctuary from life in the company of books."
Today membership of independent libraries is rising. One of the jewels in the movement is the Bromley House Library in Nottingham. Its doorway, nestled between a high street newsagent and a charity shop, gives no hint of what lies within up the lead-lined steps of a wide staircase.
This Grade II* listed Georgian townhouse, with its broad sash windows and book-lined walls, houses around 45,000 books, some dating back to its creation in 1816.
The library is a maze of rooms, punctuated by comfortable chairs — many occupied by happy readers. In the past 10 years, membership of Bromley House has doubled to 1,500 and it is attracting 20 to 30 new members a month. It is adding to its collection too, with the purchase of around 700 new books a year.
The London Library in St James's is the biggest of the independent libraries. Its 7,000 members pay just over £500 a year for access to 17 miles of shelving and a million books. It is an extraordinary place.
The library has an almost complete collection of The Times and Punch publications. In the former you can find the generous obituary to Leo Tolstoy — published, rather unfortunately, three days before his death in November 1910. The 13 February 1924 edition of Punch offers the first glimpse in print of Winnie the Pooh.
Members can borrow books dating from 1700 to the present day — including periodicals and first edition copies of Dickens. Alternatively, you might peruse a favourite of spy writer Ian Fleming — a keen birdwatcher who lived in Jamaica — Birds of the West Indies, written by James Bond.
Past members include Charles Dickens, George Eliot, Agatha Christie, Virginia Woolf and Winston Churchill. Today's membership also reads like a list of the great and good in the arts and academia, but that does not mean the library is affluent — not when you consider the costs of maintaining this staggering collection and the building that houses it. The library receives no public funding.
Marigliano says that despite their recent success, all independent libraries operate on a "child-size shoe string" and have to be incredibly efficient. If their buildings and heritage collections are to be preserved many will ultimately need some public funding. And ironically, that may be a reason behind their success. They have had to become more open to win that funding — though it is not always forthcoming.
Bromley House — where membership costs the equivalent of just £2 a week — is a classic illustration. A heavy downpour sends staff scuttling with plastic buckets up to the attics (which are all lined with ageing books). The building is in desperate need of a new roof but it will cost £500,000. The trustees also want to install a lift to improve accessibility. Bids for Heritage Lottery funding have so far failed.
Assistant librarian Geraldine Gray says: "There is a perception that these libraries are still private institutions for the privileged, but we've worked so hard to change that. We have open days every week, which are often fully booked. Most of our talks are open to members of the public and we have a full calendar of events. We work with schools with disadvantaged pupils to support literacy and there's more we could do if we had a watertight roof and a lift and could create more ready access to the attics."
Loach says: "Buildings are integral to the heritage of many of these libraries and they're something that attracts a lot of people to them, but maintaining that heritage is one of their main expenses."
The growing popularity of independent libraries comes at a time when their public counterparts are facing their own funding pressures and losing readers. Council spending on books has shrunk by 40% since 2005 and in the same period overheads have almost doubled. In the past decade the number visiting public libraries in Britain has fallen by over 25%.
The Society of Chief Librarians argues that modern public libraries are in a healthier state than those figures suggest. There are more than 300 million visits to public libraries each year and 60% of the UK population have a library card.
They argue that the modern 21st-century library has a range of roles.
These include supporting learning, acting as a community hub offering a trusted non-clinical space that delivers valuable information on health and other "life-critical" areas, providing access to digital services and encouraging an enthusiasm for reading in young people.
Jenny Peachey from the Carnegie UK Trust, which supports public libraries and funds innovative projects within them, says: "Whilst public libraries face significant challenges in terms of funding and resources, they also offer many opportunities and have an enduring place in people's hearts.
"Free at the point of access and open to all, public libraries have always played a critical role in helping the individuals and communities they serve to fulfil their potential. Books will remain an important part of this work but libraries are broadening their way of working, from safeguarding and lending information to helping people navigate this information. Libraries are increasingly engaging citizens to help them improve their wellbeing by pursuing their interests and aspirations."
Marigliano agrees that public libraries serve a vital function but believes many of those joining independent libraries are drawn by the offer once seen as core to public libraries — a hushed, calm retreat centred on books.
She says: "The administrators of some public libraries have a progressive agenda and think that people don't want dusty old books any more, just Kindles and digital journals. The media would give you that impression too, but people want both. There is still nothing like the feel of a book and the excitement of browsing a library shelf and chancing upon something unexpected and interesting, wondering who else has read it before you."
To find an independent library near you visit independentlibraries.co.uk