Brexit and 100 days of Trump
Ed Smith, Rathbones asset allocation strategist, spoke at 'Brexit and 100 days of Trump', an event in our Liverpool office on 3 May. Here is a summary of Eds presentation.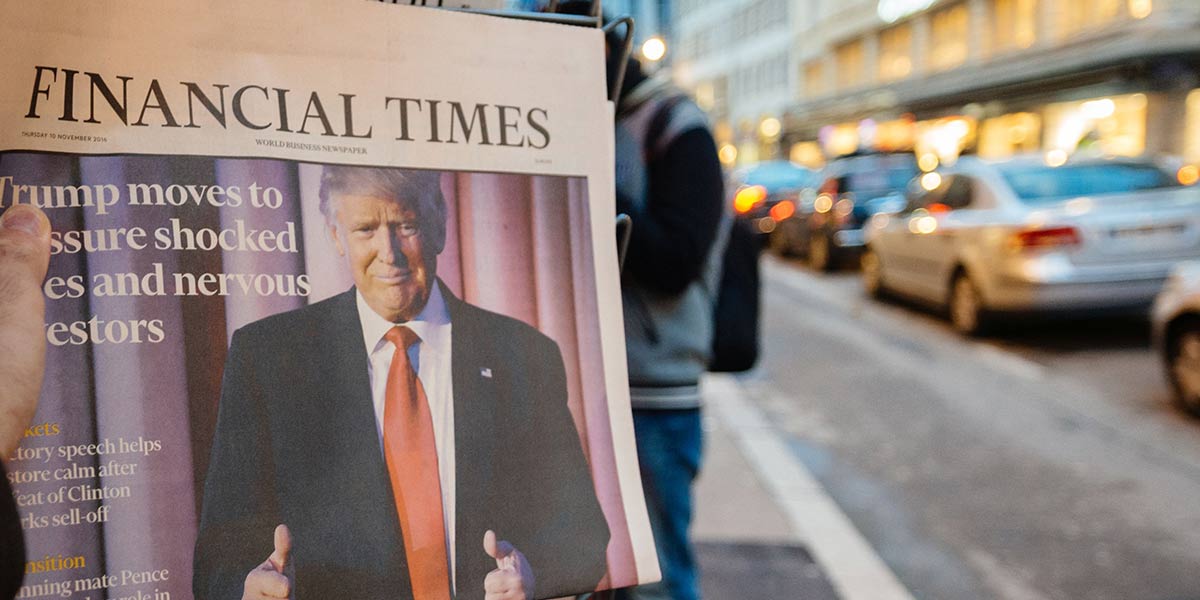 There are too many presentations doing the rounds at the moment whose bombast does not reconcile with their presenters' asset allocations. Too many wax lyrical about the danger posed by Trump, vertiginous equity market valuations or corporate and government leverage ratios, only to leave audience members scratching their heads when they later look at accompanying investment position and allocations to equity markets or the US at around benchmark weight.
We want to save you from these head scratching moments. Yes, we have vital concerns about Trump and the stock market's expectations for growth-enhancing policy. Yes, valuations temper our enthusiasm. But we have remained invested – albeit cautious with our stock, sector and style selections – because the global economy has been doing well. Our business cycle indicator tells us we are over 3 years into the expansion phase, after an unusually long recovery phase. Eight out of nine other confirmatory indicators that we monitor alongside our main indicator provide the same message. The leading economic indicators suggest that global growth is set to reach a six year high by the mid-way point of 2017.
The economic backdrop is important. 1987 flash crash aside, we don't get bear markets (a greater than 20% fall in equity markets) without one. That's why we remain invested. But while the risk of a bear market is low, we believe the risk of a market correction (a 10% fall) is higher than usual, and we're positioned cautiously. Valuations have gotten ahead of themselves and equity risk premia have fallen to multi-year lows. Is the world really a more certain place today than at any other time over the last five years?
Trump's first 100 days has not gone to plan. From Obamacare to the border wall, to ditching NATO and prosecuting Hillary Clinton, Trump's road to the White House has so far been littered with a string of empty promises. President Trump's ability to press his agenda remains unclear – tax reform (particularly corporate tax cuts) could boost corporate profits but the timing and degree is uncertain, as is the ultimate impact on US growth. This is all against a backdrop of significant political risk. Markets appear quite complacent at this juncture – CBOE's VIX (the 'fear gauge') is 10.33, not much greater than the lowest ever level and lower than the 17 level hit just before the US election.
We are not banking on Trump's tax reforms or infrastructure spending at all in 2017. It took Reagan – who governed with a Republican party both united ideologically and willing and able to strike deals with the Democrats – two years to get a tax reform bill passed. The tax cuts announced this week – and there was little mention of the promised reform – could add £3.5trn to the national debt over 10 years. GDP would need to grow an additional 2% a year in order to make them deficit-neutral! Remember that Reagan boosted growth by cutting taxes and increasing government spending simultaneously. In this light it is very difficult to see these cuts getting passed anytime soon. His repeal and replace of Obamacare failed in the House because the fiscally conservative Freedom Caucus were concerned that it would add a few hundred billion to the deficit – now we're talking about a few trillion.
Even if Trump does implement his tax/infrastructure splurge, there is really no guarantee that it will have that much of an impact on growth. It's all about the 'fiscal multipliers ' – how many dollars of new spending, each dollar of tax cuts/government expenditure leads to. There are an unhelpfully broad range of estimates. Given that the economy is near full employment, the impact on GDP is likely to be towards the lower end of the range – perhaps as low as just 0.25% of GDP per year, even assuming he gets everything passed.
Back home, it seems many forecasters may have been guilty of letting politics get in the way of science. The consensus now expects the UK economy to grow at 1.5% (inflation-adjusted) in 2017, a very large upward revision to what we have always viewed as a more realistic rate from the overly pessimistic forecasts declared last year (although consensus is now well below the OBR's very optimistic 2.0% announced for the March Budget).
Nevertheless, 1.5% is nothing to be excited about, and despite a decent six months since the referendum, there are a number of factors that are likely to weigh on growth in the first two or three quarters of 2017. Indeed the early estimate of the first quarter's GDP suggests the year got off to a difficult start. First, there is a clear negative correlation between consumer confidence and household inflation expectations. As the latter rises, further consumer spending – which has been the backbone of economic growth over the last two years – could falter, particularly after households drew down on savings and took out an alarming amount of consumer credit in 2016. The savings rate has fallen from 7% at the end of 2014 to 3.3% at the end of 2016 – conspicuously the lowest ratio since data collection began in 1980.
Second, business investment is still weak and surveys do not give grounds for optimism. Third, net trade should help, but companies are only passing on c.50% of the fall in sterling, using the rest to rebuild margins. Fourth, our modelling work would suggest that an 'uncertainty shock' only really starts to drag on growth after six months has passed from the initial event.
That said, we do not expect the general election to dent the economy further. We find no evidence that general elections over the last 50 years have had any immediate impact on the business cycle. Even the more flighty, survey-based indicators of consumer or business confidence are invariably unfazed. Neither do we find that general elections impact economic uncertainty, which explains why they do not slow down the cycle in their run up. Financial market volatility does not tend to rise around general elections either and UK markets do not tend to underperform.
Global markets have not been rewarding excessive risk-taking since February and the steadier parts of the market are outperforming. We're staying cautious, but invested for now.