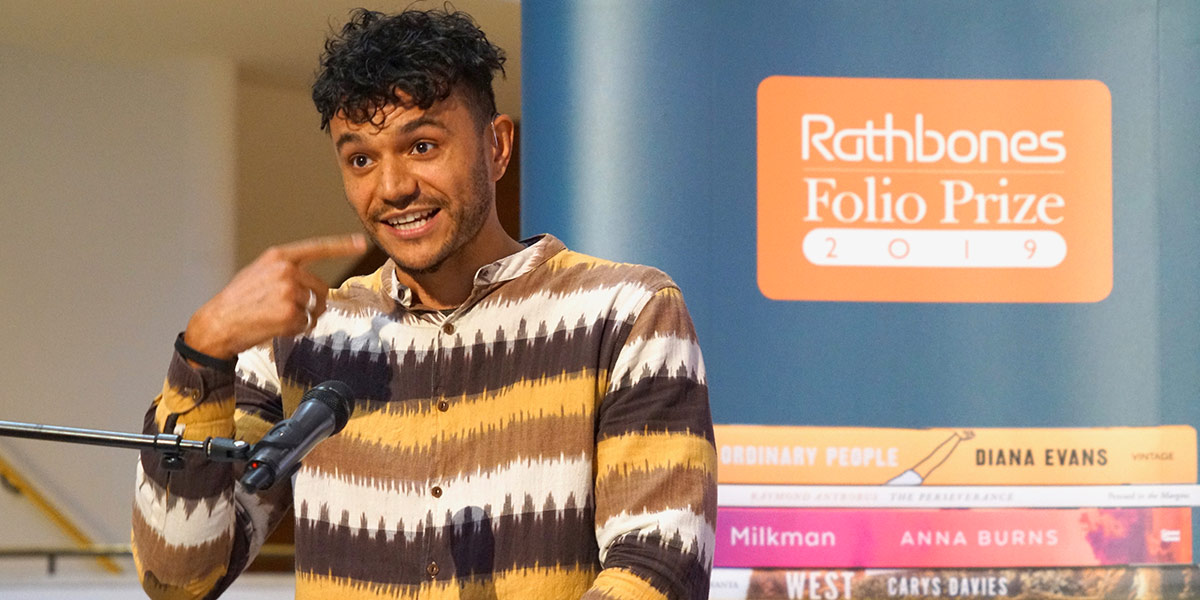 The 33-year old spoken-word poet Raymond Antrobus was named the winner of the £30,000 Rathbones Folio Prize last night, for his debut collection, The Perseverance. It is the first time the prize – which rewards the best work of literature of the year, regardless of form – has been awarded to a poet.
The Perseverance reaches across history and continents to explore issues as wide-ranging as the poet's diagnosis with deafness as a child, mixed heritage experience, masculinity, and his beloved father's alcoholism and later decline into dementia and death. Last month, the book, which contains a fierce challenge of Ted Hughes's description of deaf children, was given the Ted Hughes Award. It was shortlisted for the Griffin Prize, the Jhalak Prize and the Somerset Maugham Award.
At the awards ceremony at the British Library, Kate Clanchy, chair of the judges, said: "We chose eight books we loved in different genres and deciding between them was painful. In the end it came down to two books and a tense vote. Alice Jolly's Mary Anne Sate, Imbecile, is a feat of voice – the story of a nineteenth century servant told in short lines which jag down the page like stitches or epitaphs – a startling, original work of remembrance. In the end, though, we agreed on Raymond Antrobus' The Perseverance, an immensely moving book of poetry which uses his D/ deaf experience, bereavement and Jamaican/British heritage to consider the ways we all communicate with each other. It's an exceptionally brave, kind book: it seemed, in our atomised times, to be the book we most wanted to give to others, the book we all needed to read."
Antrobus was born in Hackney, east London, to an English mother and a Jamaican father. At school, he was thought to be dyslexic with severe learning disabilities because his deafness was only discovered at a later stage. He is one of the world's first recipients of an MA in Spoken Word Education. He works nationally and internationally as a poet and teacher.
The 2019 judges were the poet, writer and teacher Kate Clanchy, the London-based Mexican writer Chloe Aridjis, and the author, poet and playwright Owen Sheers.
The Perseverance was chosen from a shortlist that contained four novels, a novella, one collection of poetry and two works of non-fiction from the UK, Ireland, New Zealand and North America.
Raymond Antrobus was awarded a cheque for £30,000, following an increase in the prize money from £20,000 last year. He joins Richard Lloyd Parry (2018), Hisham Matar (2017), Akhil Sharma (2015) and George Saunders (2014) as previous winners of the prize.
Launched in 2013, the Rathbones Folio Prize is the only literary prize in which all books, fiction and non-fiction, are judged, strictly on merit, by an Academy of writers.
Sincere congratulations from all of us at Rathbones go to Raymond. It is a remarkable feat to be singled out amongst such a diverse and impressive shortlist, and is very well deserved. Writing a great work of literature is a true labour of love, and all that choose to undertake such a task deserve recognition. Our aim at Rathbones is not only to celebrate and support those creating great works of literature, but to also look forward to the next generation of writers. We are looking forward to continuing our collaboration with the Folio Academy Foundation, in support of the Rathbones Folio Prize and the Rathbones Folio Mentorships for young writers.
 
'Raymond Antrobus is as searching a poet as you're likely to find writing today.'
Kaveh Akbar
 
'These are courageous autobiographical poems of praise, difficulties, testimony and love.'
Malika Booker
 
'Raymond Antrobus's compelling debut, The Perseverance, confronts deeply rooted prejudice against deaf people.'
The Guardian
 
'[A] memorable collection ... Antrobus interlaces wit and pathos as he examines his identity as a deaf British-Jamaican man in a world between sign language and speech'
The Sunday Times