As the great-grandson of Sir Winston Churchill, Rathbones investment director Randolph Churchill works tirelessly to safeguard the legacy of one of the most towering figures in Britain's history.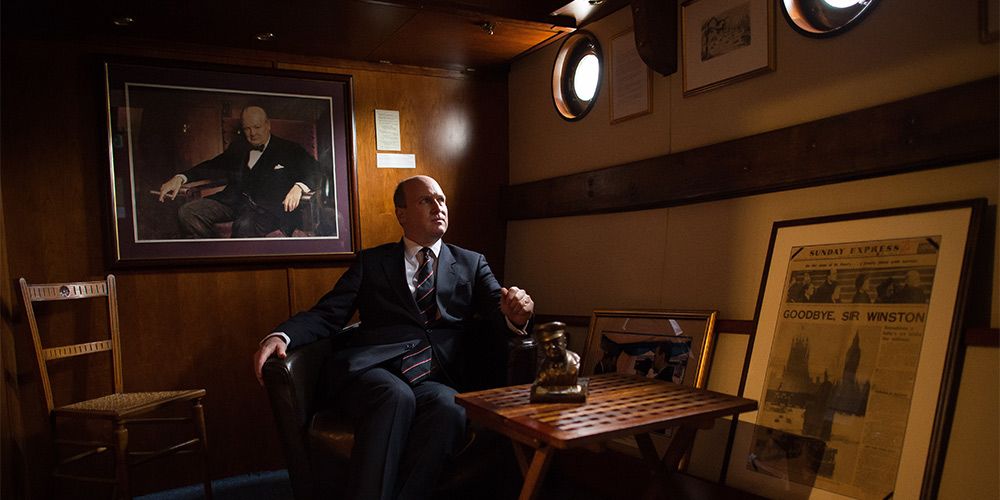 Julian Chillingworth, Chief investment officer, Rathbones
Randolph Churchill knows full well that 2015 is a year to remember, replete with episodes to treasure and occasions to cherish. Already, though, one memory seems forever guaranteed to bring a proud smile to his face.
The moment came during a January visit to the Royal Mint in Llantrisant, Mid Glamorgan, to attend the launch of a special-edition £20 Winston Churchill coin. For Randolph, a trustee of the Winston Churchill Memorial Trust, the engagement was part of a series of events marking 50 years since the death of the man universally regarded as among the most important figures in Britain's history. For John Churchill, Randolph's seven-year-old son, it was principally a fun day out — until, that is, a reporter from ITN asked him what had made his great-great-grandfather so remarkable.
The reply proved entirely in keeping with the Churchillian penchant for powerful one-liners. Amid the thousands of words written by speechmakers, journalists and authors, it fell to an unrehearsed schoolboy to deliver the most succinct encapsulation of the Churchill legacy. Immaculately attired in suit and tie, John looked straight into the camera and confidently declared: "He won the war."
Randolph was himself seven when he began to appreciate the extraordinary impact of the Churchill name. As he joined members of his family at statue unveilings and other official functions — "I vividly recall being brought on parade and standing to attention," he says — he gradually realised he was bearing witness to acts of respect, even reverence, and that those present, irrespective of whether they had a personal connection, cared deeply about the man whose achievements they were celebrating.
These public shows of admiration furnished him with his earliest insights into his great-grandfather's significance to Britain and its people. Now, more than four decades later, he works to ensure this significance is understood and preserved for generations to come.
For many, of course, Churchill is characterised by his stirring oratory and his dogged determination during the Second World War. Randolph believes that to truly appreciate his feats and his legacy — particularly how he won the war — it is essential to consider his endeavours prior to the conflict that came to define him.
He was, for a start, something of a failure at school. This led directly to his love of the military. Within weeks of arriving at Harrow he joined the Harrow Rifle Corps; afterwards he went to Sandhurst — passing the entrance exam at the third time of asking — where his training as an officer laid the foundations for an illustrious career that both took him around the world and underpinned the incomparable political life that followed.
"One of the reasons he was so respected was that he had fought alongside the men and knew exactly what they were up against," says Randolph. "The fact that he had been on the front line counted for a lot when he was leading the country. As he once said: 'It was the nation that had the lion's heart. I had the luck to be called upon to deliver its roar.'"
It is often overlooked that he was also an exceptional forward-thinker. This much is evidenced by Churchill's Scientists, the Science Museum's contribution to the commemorative effort, which tells the little-known story of how his fascination with technological advances, coupled with his first-hand experience of combat, helped defeat Hitler and the Nazis.
"He was especially interested in how science might change warfare," says Randolph, who had the privilege of opening the exhibition on his own 50th birthday. "Within a few years of the Wright brothers' inaugural flight he not only established the Royal Naval Air Service, the precursor to the Royal Air Force, but also took to the skies himself, taking flying lessons at a time when to do so was both pioneering and dangerous. While at the Admiralty during World War One he encouraged the interception and decoding of enemy messages, which led to Bletchley Park in World War Two. He played a key role in the development of tanks when he commissioned the 'Land Ships' committee. He pushed for radar. He was even the first politician to appoint a dedicated scientific adviser. As he said in a speech at Harvard at the end of the Second World War: 'The empires of the future are the empires of the mind.'"
Randolph was born on 22 January 1965, just two days before his great-grandfather passed away. His birth was announced in the same newspapers that reported Churchill's death. To this day, even though they never actually met, he derives "a huge thrill" from knowing their lives intersected for a few hours.
He also acknowledges certain parallels. Both men found genuine purpose and discipline only when they entered the military, in Randolph's case when he joined the Royal Navy at the age of 18. Both discovered a love of learning later in life, in Randolph's case when he went to university, aged 23, to study financial management and accountancy.
"We're energetic," jokes Randolph when asked about his family's chequered school record. He admits to a sense of being "redeemed" on the high seas and in academia; and there is no doubt that Churchill's story, too, was one of redemption, with ultimate victory coming only after the frustration of his early years, the tragedy of his fall from office over Gallipoli, and his decade in the political wilderness in the 1930's, when his warnings about Hitler fell on deaf ears.
Perhaps it is only fitting, then, that learning from mistakes is central to the work of the Winston Churchill Memorial Trust, which each year funds hundreds of British citizens from a variety of backgrounds to travel abroad in pursuit of new and better ways of tackling society's problems. Areas of interest include providing opportunities for youth, prison reform and, in keeping with Churchill's own passion, science.
Randolph sees the Trust's work as an act of remembrance for those who died in both World Wars and a model of inspiration for their grandchildren and great-grandchildren. "When you look at everything Winston did — not just the triumphs and the things he got right but the scrapes, the accidents and the things he got wrong — you can't help but be inspired," he says.
"That's why he's still a great role-model. When you read his writings and listen to his words you're aware that what he said was always uplifting, optimistic and focused on 'the broad, sunlit uplands'. A crucial part of his legacy is that even today he offers us the same stirring message that you should never give in. He expressed it himself: 'Success is not final; failure is not fatal. It is the courage to continue that counts.'"
The Winston Churchill Memorial Trust
The Winston Churchill Memorial Trust was established in 1965, the year of Churchill's death, with donations from thousands of people who wanted to see his legacy benefit future generations. It funds British citizens from all backgrounds to travel overseas in pursuit of new and better ways of tackling a wide range of the challenges currently facing the UK.
To qualify, applicants need only a suitable project and a desire to improve their community, profession or field. Thereafter they are known for life as Churchill Fellows. More than 5,000 Fellowships have been awarded during the past half-century.
Visit www.wcmt.org.uk for more information, including details of Churchill 2015, a series of international events coordinated by Churchill-related organisations around the world.