Captain Noel Chavasse of the Royal Army Medical Corps (RAMC), King's (Liverpool Regiment), was the only serviceman to win two Victoria Crosses in the First World War. He died of wounds received while rescuing a fellow soldier.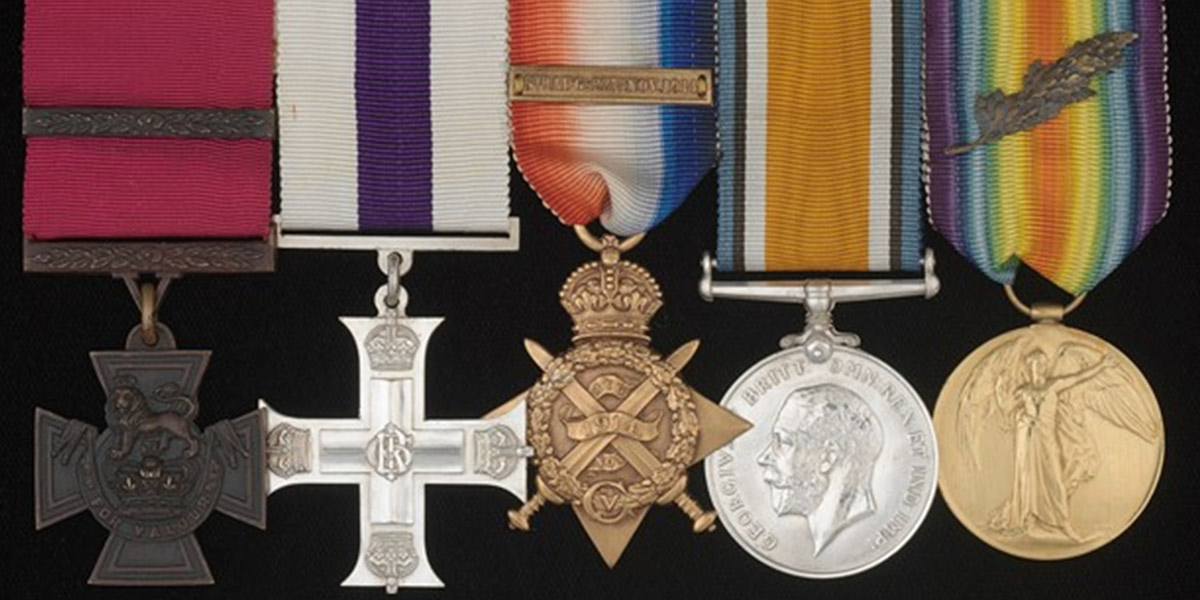 Related to Aidan Chavasse, Corporate Development Analyst, London Office
Noel Chavasse was born in Oxford on 9 November 1884, 20 minutes after his identical twin, Christopher. Their father, Rev. Francis Chavasse, was appointed as the second Anglican Bishop of Liverpool in 1900. The twins attended Liverpool College, where they were excellent sportsmen, before both won places at Trinity College, Oxford.
Noel graduated with a first-class degree in 1907, but Christopher failed and this caused him to suffer a nervous breakdown. The twins stayed at Oxford – Noel to study medicine and Christopher to retake his exams. However, they made time for sport and in 1908 both were chosen to represent Great Britain in the 400m at the London Olympics.
In 1909, Noel returned to Liverpool and subsequently qualified as a doctor in 1912. His first placement was at the Royal Southern Hospital in Liverpool. In 1913, as tensions increased in Europe, Noel applied to join the RAMC and was attached as a Surgeon-Lieutenant to the 10th King's, a Territorial Army battalion based in Liverpool and known as the Liverpool Scottish.
The battalion embarked for France in November 1914 and, having been promoted captain in April 1915, Noel was awarded the Military Cross for gallantry in its first major action at Hooge in Belgium in June 1915 and mentioned in dispatches in November 1915. He was awarded his first Victoria Cross for his actions at Guillemont on 9-10 August 1916 during the Battle of the Somme. The citation said that he saved the lives of 20 men and "his courage and self-sacrifice were beyond praise".
He was similarly courageous in winning his second Victoria Cross between 31 July and 2 August 1917 in the first few days of the Battle of Passchendaele (Third Battle of Ypres). The citation reads:
"War Office, September, 1917.
His Majesty the King has been graciously pleased to approve of the award of a Bar to the Victoria Cross to Capt. Noel Godfrey Chavasse, V.C., M.C., late K.A.M.C., attd. L'pool R.
For most conspicuous bravery and devotion to duty when in action.
Though severely wounded early in the action whilst carrying a wounded soldier to the Dressing Station, Capt. Chavasse refused to leave his post, and for two days not only continued to perform his duties, but in addition went out repeatedly under heavy fire to search for and attend to the wounded who were lying out.
During these searches, although practically without food during this period, worn with fatigue and faint with his wound, he assisted to carry in a number of badly wounded men, over heavy and difficult ground.
By his extraordinary energy and inspiring example, he was instrumental in rescuing many wounded who would have otherwise undoubtedly succumbed under the bad weather conditions.
This devoted and gallant officer subsequently died of his wounds."
Noel was buried in Brandhoek New Military Cemetery. His medals, which his family had left to St Peter's College, Oxford, were bought in 2009 by Lord Ashcroft for around £1.5 million and are now on display in the Imperial War Museum.
Noel's twin brother, Christopher, displayed similar levels of bravery. In 1917, while serving as an Army Chaplain, he was awarded the Military Cross for "conspicuous gallantry and devotion to duty" After the war, he became the first Master of St Peter's College, Oxford, which his father had founded, and was Bishop of Rochester between 1940 and 1960.
Chavasse Park in Liverpool (which is close to our current offices in the Port of Liverpool Building) was dedicated to the memory of Noel and Christopher Chavasse, and their father, Francis, for his service as Bishop of Liverpool from 1900 to 1923, during which time he was the driving force in commissioning the construction of Liverpool Cathedral.