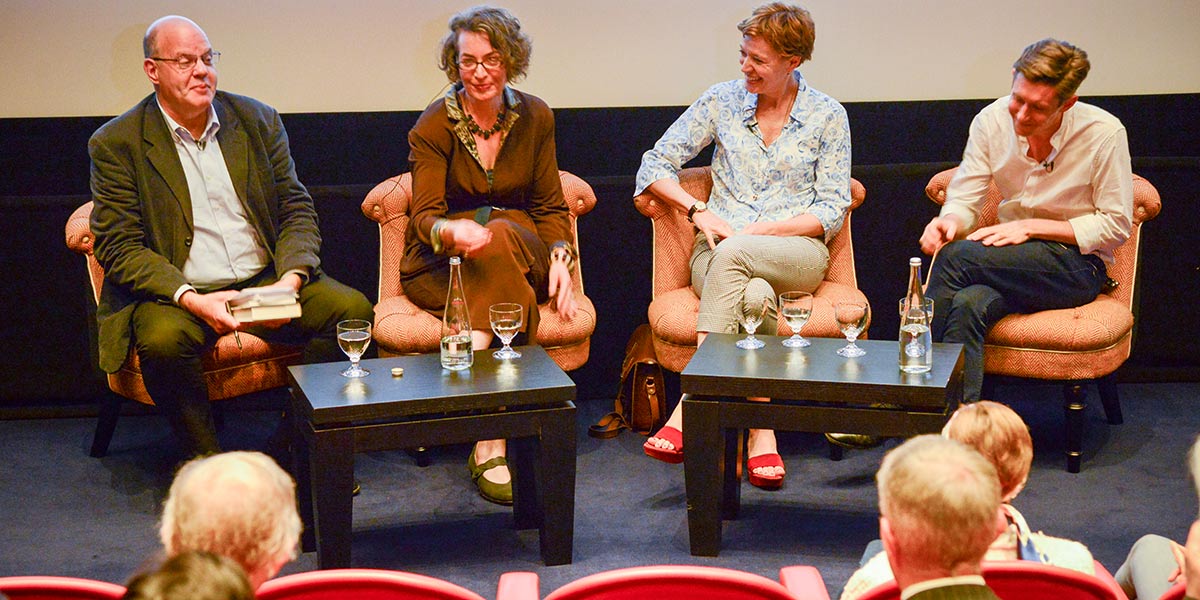 Do you ever finish reading a good book and wish you could ask its author a few questions? Stories Behind the Stories – a literary event at the Soho Hotel where Rathbones investment directors and their clients meet two authors on the Rathbones Folio Prize shortlist – gives readers insights into the writers' craft. This year's event raised anticipation to tantalising levels ahead of the announcement of the winner at the British Library on Monday evening.
It began with a warning from journalist Mark Lawson who chaired the discussion: the audience inside the packed auditorium should not deduce that Carys Davies or Guy Stagg had been chosen to appear tonight because they have won the £30,000 prize. Kate Clanchy, chair of the judges, backed up this point, saying: "We absolutely do not know who will win yet. Cutting the longlist of 20 books to the shortlist of eight was painful. We found it extremely difficult."
Clanchy, who will meet with fellow judges Owen Sheers and Chloe Aridjis to choose the winner on Monday morning, is a perfect fit for the Rathbones Folio Prize, having written poetry, fiction and, recently, a memoir. She hailed the range of the shortlist which includes fiction, poetry, memoir, a novel in verse and a book of essays from three continents – exactly the kind of genre-crossing internationalism with which the prize is synonymous.  
The evening's theme was journeys, a timeless subject that Davies, in her novella West, and Stagg, in his travel memoir The Crossway, both explore in distinctive ways.
"Any piece of writing is a journey," said Davies when asked about the process involved in inventing the story of Cy Bellman who sets off across America in the early 19th-century. "If a writer knew where they were going when they started working on a book, what would be the point of writing it? You discover where you are going by writing."  
At just over 150 pages, West is a triumph of compression. "There was pressure to write a big, fat western," said Davies, "but every story is as long or short as it needs to be. I wanted to show big forces of fate and history at work."
Lawson said The Crossway was a rare example of a 400-page book that couldn't have been shorter. It leaves the reader with a feeling of achievement at having shared a 21st century odyssey with its author. Davies epitomised the palpable sense of mutual admiration on the panel when she said: "When I read Guy's book, I thought the walking was a great metaphor for writing. All writing is about a struggle to live."  
Stagg agreed, saying his book, which is an account of walking across Europe and on through the Middle East to Jerusalem, charts his attempt to find out how to live following a period of depression. He wanted to recreate the spirit of a medieval pilgrimage, although he is not a religious believer and didn't intend to write about his journey when he set off.
"I had thought, after suffering from depression, that I wasn't psychologically robust enough to spend long periods on my own and in my head," he said. "But the journey made me think that maybe I could do it."
Discussion was wide-ranging and Clanchy's assertion that "books are made of other books" was underlined by the number of other authors mentioned, with Davies quoting the American poet Elizabeth Bishop, and Stagg saying his own use of digression was influenced by the German writer W.G. Sebald. "I tell the stories of saints, crusaders and armies," said Stagg, "to intensify my own story."
When Lawson invited questions from the audience, hands shot up and mics roved. Stagg was asked what he plans to write next and said: "Writing that is necessary, and that you have to write, is writing that is alive. I hope that will be the principle with which I continue to write books, so I am reluctant to conjure up journeys merely for the sake of another book. Recently, I've been trying to write fiction."
Another question from the audience prompted thoughtful perspectives on the ethics of writing about real people. "I wish I could write about my family," said Davies, "but I find it very difficult." Stagg said he tried "to be true to the stories I was told" by those he met while walking. Clanchy offered sage advice: "You should only write about people who you can write about with love."
It was a pertinent place to end and, as the audience and panel moved into the hotel's Indigo Room to continue the conversation over drinks, it was clear Stories Behind the Stories has become an important stage on the road to discovering the winner of the Rathbones Folio Prize. Next stop the British Library.