Edinburgh office sponsor St. Andrews University Men's Golf Club
As part of our sponsorship of the St Andrews University golf club, seven Rathbones managers and our guests travelled to St Andrews to take on a formidable University golf team.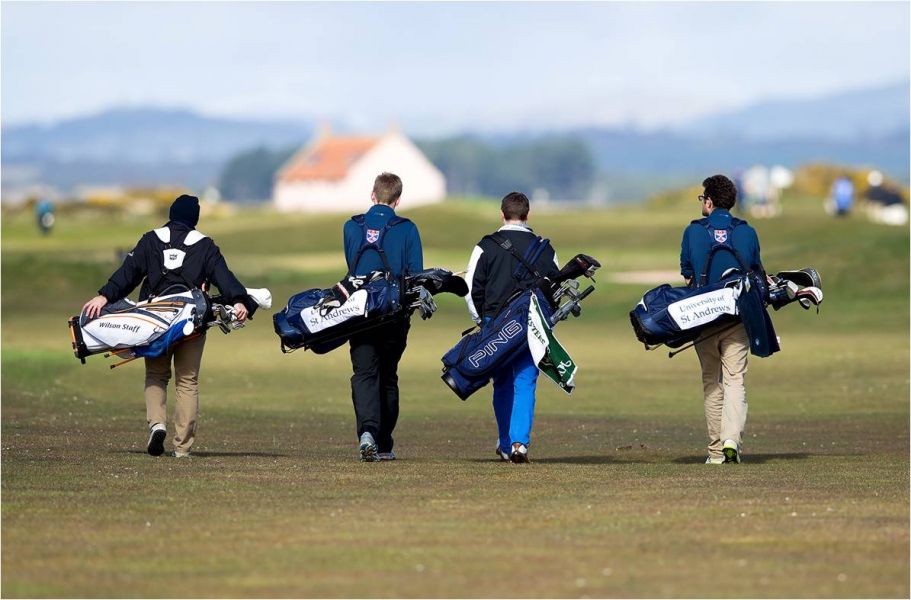 Peter McCallum, investment manager
Our corporate responsibility programme looks to focus on youth development, with a particular emphasis of the role of sport in the lives of young people as a means of enhancing key life skills. Through our sponsorship St Andrews University Golf Club is able to host and travel to matches against other golf clubs across Scotland. Many of the top players in the club are enrolled in the Saints Golf performance programme and take part in both UK and international competitions. We also discussed some of the future monies being diverted to cover time at the St Andrews Golf Academy, where those not on the scholarship could take advantage of leading technology and coaches to improve and understand their game further.
As part of our sponsorship, seven Rathbones investment managers and our guests travelled to St Andrews to take on a formidable university golf team in April. Following two weeks of unseasonably good Scottish weather it was ambitious to hope for another sunny day for the match, and when our bus aquaplaned on the A9 it was looking bleak! However, the clouds parted as we arrived at the links clubhouse and we played in glorious sunshine, albeit with a testing wind. The university's club captain put the guests' nerves at ease by placing his opening drive into the gorse 50 yards off the first tee (although it wasn't the worst opening drive of the day). The games were close and the golf a good standard throughout, although one guest did suggest during supper that his Rathbones partner's golf game didn't turn up until the 15th hole! After a promising start with two halved games and a Rathbones win on the board, the students ended up walking away with a comfortable 5-2 victory. Our opponents for the day also won the best individual Stableford, closest to the pin and longest drive competitions. The students represented themselves fantastically both on the course and after, and as we agreed on our trip home, are a very good bunch to be wearing the Rathbones logo.
We have received an array of positive feedback from our guests on the day and the university golf club members and look forward to working with the club to develop the relationship further in years to come.