The 2019 Rathbones Folio Prize shortlist shows extraordinary range, risk and imagination – and confirms the quality of international writing today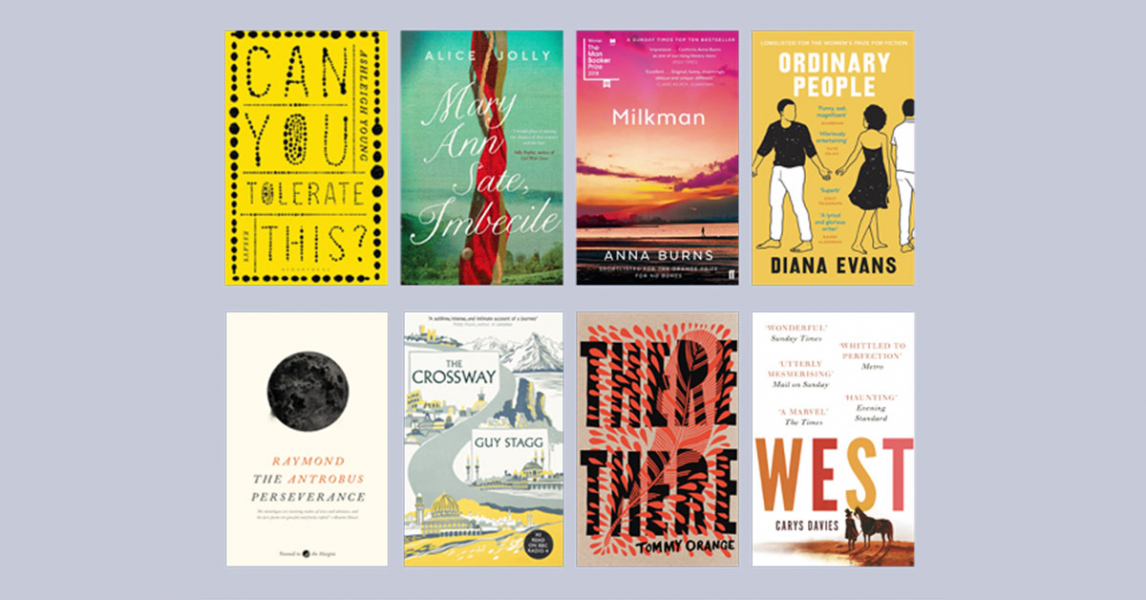 Four novels, a novella, one collection of poetry and two works of non- fiction from the UK, Ireland, New Zealand and North America are in contention for this year's £30,000 Rathbones Folio Prize.
2018 Man Booker Prize winner Anna Burns, powerful new voice in Native American fiction Tommy Orange, London-born poet Raymond Antrobus and genre-defying memoirist Guy Stagg were among the eight writers found to be writing at the top of their game by the Folio Academy; an international group of people, primarily writers and critics, who are immersed in the world of books.
The eight shortlisted books are now in the running for the overall prize which will be awarded at a ceremony at the British Library in London on 20 May 2019. They were chosen from a list of 80 works of fiction, non-fiction and poetry, which the Folio Academy deemed to be the best published in the UK in 2018.
Academy members Kate Clanchy, Chloe Aridjis and Owen Sheers make up the judging panel for the 2019 award.
Join the conversation @RathbonesFolio
Learn more about our shortlisted books by selecting one below.
"Can You Tolerate this?"
Ashleigh Young
"Mary Ann Sate, Imbecile"
Alice Jolly
"Milkman"
Anna Burns
"Ordinary People"
Diana Evans
"The Perseverance"
Raymond Antrobus
"The Crossway"
Guy Stagg
"There There"
Tommy Orange
"West"
Carys Davies
Exploring the shortlist
Can you tolerate this? by Ashleigh Young
An intellectually curious, prize-winning collection that delicately probes the boundaries of the essay, exploring isolation, debilitating shyness, the limitations of the body, and the challenges of personal transformation. Ashleigh Young is an editor at Victoria University Press, and teaches creative writing at the International Institute of Modern Letters. She lives in Wellington, New Zealand.
Mary Ann Sate, Imbecile by Alice Jolly
As the nineteenth century draws towards a close, Mary Ann Sate, an elderly maidservant, sets out to write her truth: Alice Jolly uses this fictional found memoir to recreate history as seen from a woman's perspective and to give joyful, poetic voice to the silenced women of the past. She lives in Stroud, Gloucestershire.
Milkman by Anna Burns
Milkman is a tale of gossip and hearsay and silence. It is the story of inaction with enormous consequences. Anna Burns was born in Belfast and is the first writer from Northern Ireland to win the Man Booker Prize. She is now based in East Sussex.
Ordinary People by Diana Evans
Set in London to an exhilarating soundtrack, Ordinary People is an intimate study of identity and parenthood, sex and grief, friendship and ageing, and the fragile architecture of love between two couples at a moment of reckoning. Diana Evans is a British author of Nigerian and English descent. She lives in London.
The Perseverance by Raymond Antrobus
The Perseverance is a book of loss, contested language and praise, where elegies sit alongside meditations on the d/Deaf experience. Raymond Antrobus is a British- Jamaican poet, performer, editor and educator, born and bred in East London, Hackney.
The Crossway by Guy Stagg
The Crossway is simultaneously a breath-taking account of a physical journey, a memoir about recovering from mental illness, a meditation on the history of pilgrimage, and an exploration into the lives of contemporary believers. He grew up in Paris, Heidelberg, Yorkshire and London. In 2013 he walked from Canterbury, via Rome and Istanbul, to Jerusalem. The Crossway is an account of this journey.
There There by Tommy Orange
A propulsive, multi-generational story that culminates with searing events of the Big Oakland Powwow, There There is a vital contemporary novel of violence and recovery, identity and power, from a stunning new voice in Native American fiction. He currently lives in Angels Camp, California. There There has been named a New York Times Book of the Year. It is his first novel.
West by Carys Davies
An exquisite novel of wonder and loss set in the early 1800s on the American Frontier, when a widower goes in search of ancient giant creatures, leaving his daughter behind.  Born in Wales, she grew up there and in the Midlands, lived and worked for eleven years in New York and Chicago, and now lives in Edinburgh.
Learn more about the Rathbones Folio Prize and other initiatives.