The Future of Banking
Banks have proved unusually resilient to the disruptive forces reshaping almost every field of business, yet the gradual transformation of the sector is becoming ever harder to deny — and to resist. Are our traditional banks now under threat?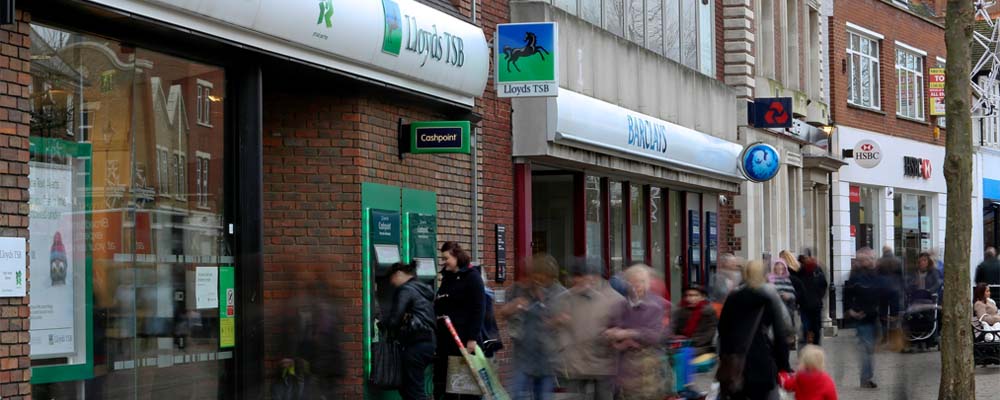 Robert Hughes-Penney, Investment Director, Rathbones
Many revolutions are quiet, but the one that officially began on the second Saturday of this year was particularly low-key. Apparently unheard of by the vast majority of the UK population, the Open Banking age commenced in earnest.
Open Banking aims to encourage individuals to share their transaction data with whichever companies they wish, so allowing those companies to analyse the information and try to offer better deals. The idea relies on apps — software designed to run on smartphones and other mobile devices — that enable customers to aggregate and view all of their accounts in one place and to compare their existing products and services with any others available.
The official definition offered by the Open Banking Implementation Entity (OBIE), a body set up by the UK's largest providers of accounts for individuals and small businesses, is that this will let customers "make the most of their financial data and easily and securely access services from a wide range of companies that better meet their needs". Dozens of apps geared towards this goal have already hit the market — although only a few have so far emanated from major banks.
A landmark inquiry into retail banking paved the way for this new era. Carried out by the Competition and Markets Authority (CMA), the probe cost around £5 million, took almost two years to complete and was published in August 2016. Condemning big banks' clear advantages over their less recognised counterparts, it declared: "Older and larger banks do not have to compete hard enough for customers' business, and smaller and newer banks find it difficult to grow. This means that many people are paying more than they should and are not benefiting from new services."
Although the inequities of the system were already widely known, it was important that regulators and policymakers should acknowledge these manifest failings. It was important, too, that the public's long-held suspicions should be confirmed. The CMA's findings were vital to setting in motion a series of measures intended to level the playing field, and the advent of Open Banking is perhaps the most significant milestone so far on the proposed road to transformation.
It is a revolution that has technological change at its heart. It has been touted as potentially the most seismic shake-up in the annals of personal finance. So could it strike a decisive blow in banking's ever-intensifying battle between the extant and the innovative?
Banks have frequently been buffeted by the winds of change, but they have very seldom — if ever — surrendered to the gales of creative destruction. The sector's most familiar names owe much of their longevity and pre-eminence to an uncanny ability to tread the line between incremental evolution and radical metamorphosis, moving with the times when necessary while determinedly retaining the core attributes that have invariably served them well.
What is different now is the extraordinary pace at which technology is advancing and the all-encompassing applicability of the resultant breakthroughs. Maybe nowhere is this more obvious than in the rise of big data — the analysis of huge quantities of information, much of it generated by "smart" devices such as mobile phones, to reveal patterns, trends and associations, especially in relation to human behaviour and interaction.
This phenomenon lies at the heart of arguably the greatest source of disruption confronting banks today: fintech — financial technology. "Fintech is the real game-changer," says Dr Robert Webb, an associate professor of banking at Nottingham University Business School and the author of Economics Express: Financial Markets and Institutions. "In the past banking was about reputation, bricks and mortar. It was about having a recognisable name and a branch network. Thanks to fintech, all of that is disappearing. I've been working in this field for a quarter of a century, and this is the first time I've felt the whole picture is going to change very substantially and very rapidly."
Evidence of this change is not hard to find. The loans industry in particular has become a fintech poster child, with digital platforms meeting the needs of the "underserved" and the "unbanked" — those unable to satisfy conventional banks' lending criteria — by delivering a process that is paperless, personalised and completely data-driven.
A torrent of innovation is redefining the likes of fundraising, payments, transfers and insurance, and the notion of consumer choice is more often than not key.
It is certainly at the core of Open Banking, yet for many critics the inference that a multi-million-pound inquiry had culminated in the endorsing of some fancy new apps provoked derision. A Which? survey's subsequent revelation that 92% of Britons had not even heard of Open Banking just months before its launch further fuelled claims that the CMA had produced a damp squib.
Such pessimism underestimates the sheer power of big data. As an article in leading tech magazine Wired pointed out, Travis Kalanick needed only maps and location data to invent Uber; Mark Zuckerberg needed only names, ages and universities to invent Facebook. What might a cutting-edge financial start-up company — or, for that matter, the likes of Amazon and Google — be able to achieve if presented with a detailed record of a person's spending, borrowing and shopping?
Historically, customers have chosen a bank more or less at random and stuck with it through thick and thin. Research has shown that this inertia usually stems not from loyalty or satisfaction but from apathy, concern about the difficulty of changing standing orders and direct debits and a belief that there are no conspicuously superior alternatives to be found. Even cash incentives failed to prevent the number of account switchers hitting a new low — fewer than 60,000 in a month — late last year.
This stasis has long represented a passport to oligopoly for the big banks, but Open Banking could finally spark a change. The future, even in this most resistant of realms, looks digital.
"To the millennial generation," says Dr Webb, "names like Lloyds and Barclays mean nothing. They're not interested in having a branch on the High Street or applying for a loan in person. The names that resonate with millennials are the names of tech companies, and it's tech companies that are going to make banking as straightforward as listening to music — with pretty much everything the customer could ever want out there, easily accessible and 'always on'."
In 2016 a Citigroup report warned that the banking industry could shed around 1.7 million jobs in Europe and the US by 2025 as a consequence of fintech's impact on its most profitable business niches. As the ranks of innovative newcomers swell, the incumbents are facing mounting pressure to adopt a "digital by default" philosophy.
Some are already responding. Last September, announcing that it would "embrace Open Banking as an opportunity", HSBC became the first major UK bank to release an aggregator app, while RBS and Santander have entered into partnerships with prominent fintech firms.
According to Jeni Tennison, CEO of the Open Data Institute, a non-profit organisation founded by worldwide web creator Sir Tim Berners-Lee, banks have "come a long way". "It's a big a leap to go from having absolute control over the information they're putting out to publishing open data," she told Wired last year.
Yet Tennison also noted that banks are "quite scared". At least at present, much of their fear can be attributed to a regulatory environment that could see them punished if customers commit to inappropriate products and services. Going forward, say some experts, what they should really be afraid of is the prospect of Amazon, Google or a similar tech leviathan rendering them practically obsolete at a stroke.
"Banks have had their worries in the past, but the conditions for an all-out restructuring of the market have never truly existed before," says Dr Webb. "It's different now. If the very biggest tech players decide to get involved then a bank trotting out a new app is going to be the equivalent of a sunbather donning a small pair of water wings just before a tsunami hits the beach. We're talking about a huge tidal wave of innovation, and there's no telling what it might sweep away."
Every innovation brings winners and losers. In this instance the winners look most likely to be fintech firms and the consumers to whom they grant unprecedented flexibility and freedom of choice; and the losers look most likely to be those banks that flatly refuse to countenance the possibility that the aforementioned gales of creative destruction might at last blow their houses down.
Naturally, this quiet revolution may take a while to unfold in full. Studies have indicated that many people could be reluctant to share their data, mainly because of security concerns. Banking licences are not handed out on a whim. The OBIE cautions that a "vibrant, innovative new market for financial services" will develop "in time". But it will develop.
Ultimately, it is difficult to envisage anything other than a future in which banking, like so much else, is dominated by digitisation and data. "The walls that have surrounded conventional banking for so long are finally tumbling down," says Dr Webb. "Even now there are only a few bricks left, and they'll be gone soon enough. Then it will just be a matter of who's driving the bulldozers."
Challenging times
The UK's "challenger" banks could play a major role in the battle between the established and the emergent. Smaller and more tech-savvy than their traditional counterparts, they are usually able to offer superior deals by virtue of their lower overheads.
Most, such as Atom and Monzo, are almost exclusively digital. This means they have no need to undergo lengthy and expensive tech transformations and can instead use innovation to grow from the ground up.
A few have a small number of branches, often going to great lengths to distinguish them from their established competitors. Metro Bank's outlets are open seven days a week, from 8am to 8pm, and include drive-thrus and
a recently opened branch on London's King's Road, where real-estate prices are famously high. Traditional banks still have far more physical outposts — while Metro has 56, Lloyds, Barclays, NatWest and HSBC each have more than a thousand — but have been steadily reducing their infrastructure for many years as part of cost-cutting measures.
The list of challenger banks might today also be said to include the likes of Zopa, which launched as a digital lender, was recently granted full authorisation by the Financial Conduct Authority (FCA) and has now applied for a banking licence. This move should allow it to expand its product range, attract cheaper funding and progress towards becoming a fully fledged bank.
Like Zopa, many challengers have enjoyed a significant head start over conventional banks in the race to digitise. Nonetheless, leading figures in the sector have expressed different views regarding the likely future of banking and the potential extent of their own contribution.
Some claim that more could still be done to end the long-term titans' domination. "Government policy is that they want to see greater competition," Paragon chief executive Nigel Terrington told the Daily Telegraph in November 2017, "but the big banks today still have a bigger market share than before the financial crisis."
Samir Desai, co-founder and CEO of Funding Circle, another digital lender granted full authorisation by the FCA, is among those who argue that start-ups have already developed a fintech-driven competitive advantage that their conventional rivals may never be able to overcome. "Banks have a lot of data, but they're going to have to learn all over again," he said last year. "There will definitely be more competition — we expect that — but platforms like ours are getting to levels of scale and data that will also make us very difficult to dislodge."