Healthy argument
Some experts believe sugar now poses as big a threat to public health as cigarettes. With obesity costing the NHS billions of pounds every year, can investors force food manufacturers to start being more responsible in their use of this bitter sweet ingredient? Rathbone Greenbank is playing its part in lobbying for change.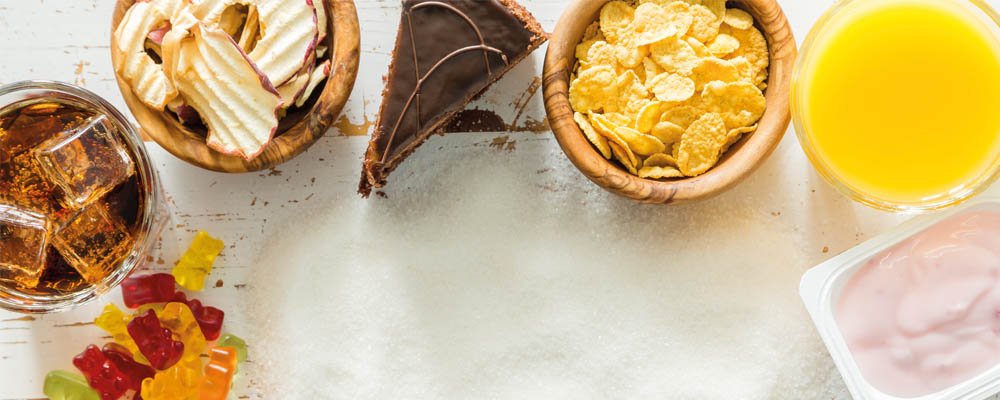 Kate Elliot, Senior Ethical Researcher, Rathbone Greenbank
The world is facing a double burden of over and undernutrition, where millions of people have too much of the wrong type of food, and millions more do not have enough of the right food. The proportion of people who are overweight or obese is on the rise in every country around the world, and the already significant economic cost of associated health conditions such as diabetes and heart disease is growing.
In the summer of 2016, the UK government stated that NHS spending on obesity-related health problems amounted to over £6 billion. Globally, estimates suggest that up to 20% of health budgets are spent on this issue. If you also consider additional factors such as lost productivity and avoidable deaths, the total economic impact of obesity is approximately £1.5 trillion each year — that is equivalent to 2.8% of global GDP or roughly equal to the economic impact of smoking.
Simplistically, rising obesity rates can be traced back to long-term trends towards calorie-dense diets and sedentary lifestyles. But blaming the crisis solely on a collapse of individual willpower ignores the significant influence of 'obesogenic environments' that encourage unhealthy behaviour. Urban environments that promote car travel over walking or cycling, fast food outlets located near schools, increased portion sizes, and food manufacturers paying for supermarket shelf-space at the eye-level of a child to maximise the potential for pester power — all these encourage unhealthy eating and inactivity.
Voluntary and industry-led efforts to tackle the obesity crisis have largely failed, in part because of fears among food and drink manufacturers that their competitors will fail to comply with voluntary codes. A similar reluctance exists among retailers whose own motivations for selling processed foods lie in consumer tastes and product affordability — especially among lower- and middle-income consumers.
This has led to an increased likelihood of regulatory interventions, for example controls on advertising to children or the imposition of taxes on unhealthy products. With its high energy density and low nutritional value (especially in soft drinks), sugar has now become a central target in the fight to address global over-nutrition.
Forms of sugar tax have already been proposed or implemented in Denmark, France, Mexico, Norway, South Africa and several US cities, with varying degrees of success. In the UK, a levy on the soft drinks industry will come into force in April 2018, aimed at driving product reformulation and reducing portion sizes. This will impose a levy of 18p/litre on drinks containing five grams or more of added sugar per 100ml, and a higher rate of 24p/litre for drinks containing at least eight grams of added sugar per 100ml.
As taxation and marketing restrictions on sugary and unhealthy products start to take effect, the associated risks and opportunities for the food and drink industry become clear. Companies will need to adapt their product portfolios, reformulate high sugar products and respond to growing consumer interest in healthy eating. In turn, investors in these companies need to identify those which are best placed to respond to, and benefit from, changing regulatory and consumer demands.
Against this backdrop, it has become common to draw comparisons between sugar and tobacco. Both are substances with few positive consumer benefits and explicit links to chronic health disorders which are massively costly to society as a whole. But the comparison breaks down when you consider the companies involved.
The tobacco industry is limited to developing less harmful products, but the food and drink industry can deliver genuinely beneficial products in a variety of ways. For example, Nestlé is fortifying foods to address micronutrient deficiencies while Unilever has established comprehensive targets for increasing nutritional content across its product portfolio, with reference to standards it can be held accountable to.
But while there is reasonable consensus on the differences between good and bad practice in nutrition, it is currently difficult to assess the relative positioning of companies and the risks that they may face. Very little relevant information is reported by companies, and that which is provided is often inconsistent or selected to present them in the best possible light.
To counter this information gap, Rathbone Greenbank partnered with Schroders in 2016 to conduct a series of roundtable discussions with food and beverage producers, retailers, academics and public health organisations in order to develop a comprehensive investor briefing. A broad range of topics was discussed, including product reformulation, portion size and policy reform. The result was a balanced framework to enable investors to measure company performance against expectations in five key areas: governance, strategy, implementation, public policy positions and lobbying, and evidence of progress.
Investor expectations
Governance identifies whether a company
is reviewing nutritional risk and developing policies to combat it, whether there is board-level oversight and whether or not executive remuneration is tied to meeting relevant targets.
Strategy assesses how prepared companies are for opportunities presented by regulatory changes and consumer trends.
Implementation evaluates the extent to which companies are translating policies and strategies into positive actions, particularly with regard to existing product reformulation, investment in innovation and marketing across diverse media. Tactical product marketing is especially responsible for influencing poor dietary choices among children, so assessing producer and retailer responses in this area should encourage those with inconsistent records to emulate market leaders.
Assessing companies' positions on public policy and lobbying helps investors to gauge levels of corporate transparency and the degree to which companies are behaving consistently. For example, between 2011 and 2015, Coca-Cola and PepsiCo provided funding to around 100 public health organisations in the US while simultaneously lobbying against almost every proposed public health intervention.
Evidence of progress is a key performance indicator for investors, but there are pitfalls where company data lacks clarity or transparency is limited to notable examples of best practice. The investor briefing suggests a cross-business range of performance indicators to encourage greater reporting consistency. For sugar, that might mean measuring content across product ranges, monitoring reduction targets or even recording how much sugar is purchased each year for food production.
The briefing helps stakeholders, consumers and investors alike identify leaders and poor performers, to identify and reduce investment risks arising from nutritional issues, and, ultimately, to improve health outcomes.
When the investor guide was published in December 2016, signatories included a coalition of investors with approximately £1 trillion of assets under management. Investors are now armed with the tools they need to conduct rigorous, ongoing engagement with the industry. Through this work, corporate accountability on sugar-related obesity will be greatly increased.
The significance of this commitment, combined with an increased likelihood of regulatory interventions, is already being felt. For example, in March 2017, A.G. Barr announced that it would halve the sugar content in its flagship brand, Irn-Bru, and, in August 2017, Coca-Cola and PepsiCo were among seven drinks companies to agree to a cap on sugar content in drinks sold in Singapore — just a couple of the many positive indications that companies are responding to the urgent need to reformulate their product ranges.
Find out more