The first draft of the Modern Slavery Bill began its progress through Parliament in December 2013. By December the following year the government had included an amendment requiring all commercial organisations over a certain size to address the risk of slavery in their supply chains. Rathbone Greenbank played a key role in encouraging this shift.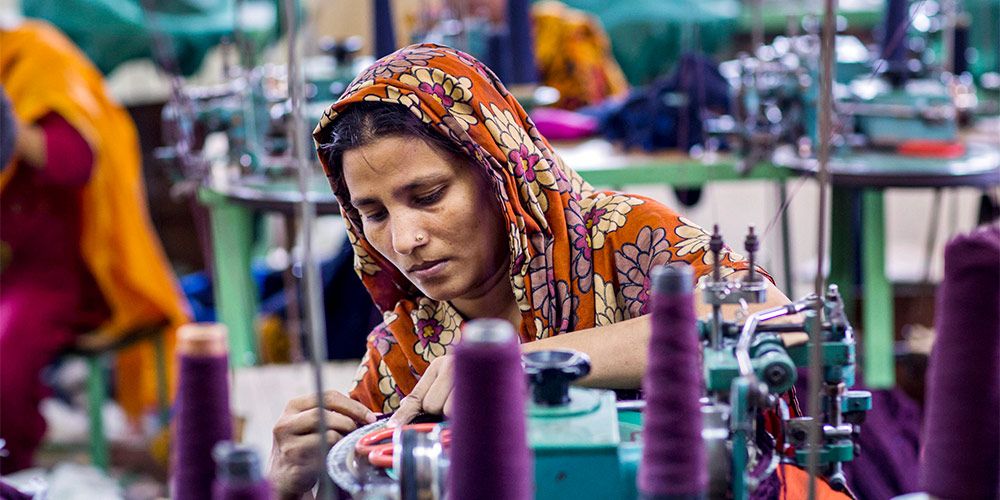 Matt Crossman, Ethical Research and Corporate Engagement
Modern slavery — an umbrella term covering forced labour, human trafficking, forced marriages and debt bondage — is estimated to affect 35.8 million people globally. Although many of these are concentrated in a small number of countries, the issue has worldwide relevance.
Aside from the strong moral dimension, there are significant economic consequences for the countries most affected. The International Labour Organisation has calculated that modern slavery generates around $150 billion in illegal profits each year.
Although the problem may not be eradicated by widening the scope of the criminal activity covered by legislation, reducing the financial incentives and increasing the chances of arrest can bring real progress. Engaging companies in the debate and pressuring them to investigate the risk of modern slavery in their own supply chains are significant steps.
One way to achieve this in law would be to require companies above a certain size to report on their efforts in this regard. Transparency in supply chains (TISC) legislation along such lines was first proposed in the UK in 2012, thanks to MP Michael Connarty's private member's bill.
Although Connarty was unsuccessful, momentum soon began to build. In the summer of 2013 Home Secretary Theresa May announced her intention to include TISC in the proposed Modern Slavery Bill.
In February 2014 I was invited to give evidence to the Parliamentary Joint Select Committee scrutinising the draft bill. The Committee supported TISC. In tandem, Rathbone Greenbank coordinated an investor coalition — with a total of £195 billion in assets under management — to write to the Prime Minister to register its support. Unfortunately, despite the Committee's backing, TISC was omitted from the final draft of the bill, which was presented to Parliament in June 2014.
Yet intensive efforts behind the scenes led to growing cross-departmental consensus in government over the merits of such legislation. Soon it became clear that MPs would defy party lines and vote to accept a Labour amendment — and at this point the government changed course and expressed its support for including TISC in the bill.
Rathbone Greenbank coordinated a letter on behalf of institutional investors with some £940 billion in assets under management, calling for effective supply chains reporting in the bill. In keeping with the strong abolitionist history of our company's founding family, this letter, published in the Daily Telegraph in November 2014, was co-signed by Rathbones' chief executive, Philip Howell.
The Modern Slavery Bill received Royal Assent in March this year. It encompasses new powers for the police, the establishment of an independent anti-slavery commissioner and a strengthened role for the Gangmasters Licensing Authority, a public body set up to oversee the protection of casual labourers in the agriculture and food industries.
In addition, thanks to the efforts of Rathbone Greenbank and many committed NGOs and other experts, companies will have to start reporting on the risk of modern slavery in their supply chains in the near future.
Investors and consumers alike will benefit from this greater transparency. Most importantly of all, though, the legislation will help save millions of people from the terrible conditions of modern slavery.
William Rathbone IV
Rathbones' involvement in the campaign to end modern slavery continues a long, honourable tradition. William Rathbone IV was a merchant in Liverpool and a committed opponent to the slave trade in the 18th century. Rathbone Greenbank takes its name from his family house and estate in Liverpool.
Responsible investment in action
Companies and charities have always had to be mindful of the way they conduct business. Whether through whistle-blowers, investigative journalists or activists, uncomfortable stories have always surfaced to bring scandal, embarrassment and promises to 'learn lessons'.
The internet and social media have, however, had a radical impact on the availability of information in general and the way it can be harnessed for particular causes. Companies and charities now have to be ultra-sensitive in how they conduct their affairs — whether it is the impact extractive industries have on the environment, the source of 'beef' for microwave lasagne, the cheap labour used to produce 'throwaway' fashion or charities investing in the arms industry or payday loan companies.
It is increasingly important, both for moral reasons and pure self-interest, to know all about your suppliers' and partners' business practices and to work only with companies that behave responsibly towards their customers, employees, shareholders and society. The price of not doing so is too high.
As shown by our role impressing for the inclusion of TISC in the Modern Slavery Bill, Rathbones continues the tradition of its founding family in campaigning to improve the lives of others. We used our specialist knowledge and industry contacts to effect changes that will affect millions of people and set a standard for other countries to follow.
Our charity clients can be sure that Rathbones is committed to raising standards and awareness in the investment industry and to using our expertise for the benefit of society. These are not just words in a CSR statement: we devote people and resources to make a difference to the world around us.