Home comforts
Working from home rather than in the office was once regarded as the preserve of a fortunate few. COVID-19 and lockdown have now democratised the concept, but are we witnessing an authentic new normal or an exigent fad whose relevance and appeal will fade over time?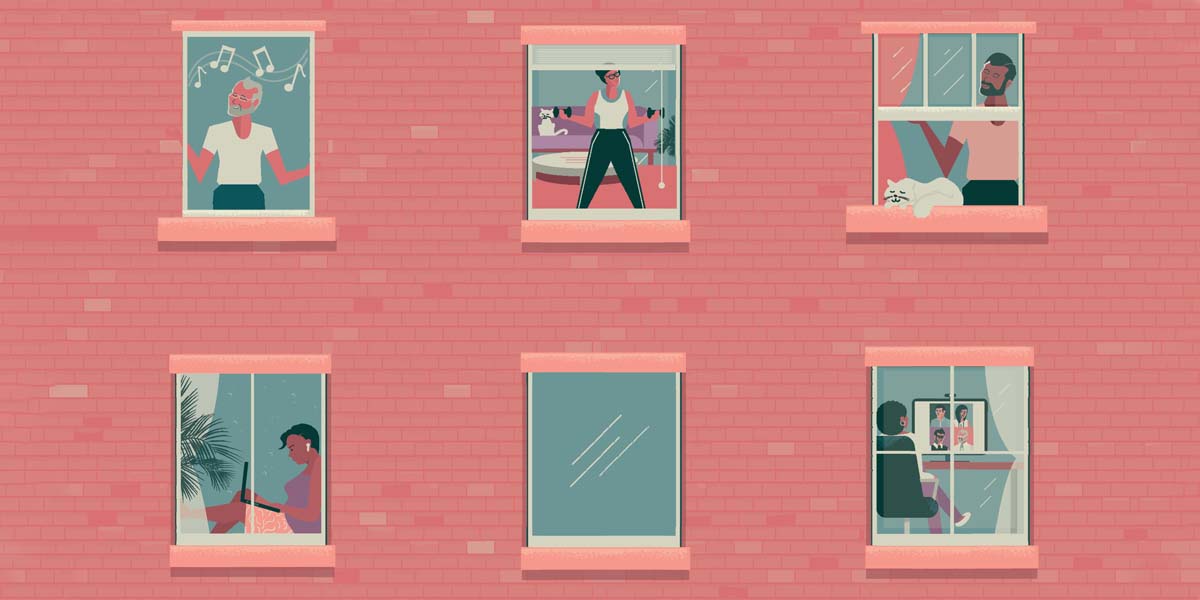 Article by Harveer Mata, Investment Manager, Rathbones
In 2019, in his role as the world's first professor of health humanities, Paul Crawford co-authored Florence Nightingale at Home, an exploration of how the founder of modern nursing achieved many of her greatest feats while bedridden with a condition contracted during the Crimean War. Little did he know that less than a year later, thanks to COVID-19, working from home would become a new normal for millions of us.
As this trend has accelerated, several major companies have already indicated that their staff need never return. PwC chairman Kevin Ellis has declared that "lockdown has done away with presenteeism", while one major employer in the City has hailed a "rethinking of the rulebook on flexibility".
"There is already a growing suspicion that what might strike us as novel and refreshing today could prove less appealing over the longer term."
But does it automatically follow that the future lies in remoteness, cloud computing and video conferencing? Maybe not. There is already a growing suspicion that what might strike us as novel and refreshing today could prove less appealing over the longer term, with unhappy consequences both for the economy and for our basic notions of humanity and social cohesion.
Viewed in this light, the shift to remote working does not constitute a classic instance of crisis giving rise to positive change: rather, it represents a salutary illustration of the old axiom that you should be careful what you wish for. So which, if either, is true?
Crawford, director of the Centre for Social Futures at the Institute of Mental Health, appreciates both sides of the coin. This year, alone in his own property for almost six months, he has written Cabin Fever: Surviving Lockdown in the Coronavirus Pandemic. "Florence Nightingale was able to accomplish more from her bed than most people could accomplish in a traditional office," he says, "but for many individuals the impact of prolonged confinement may lead to a home environment that can just as easily resemble a prison as it can a sanctuary."
A dream come true?
Confronted by the apparent monotony and perceived rigours of office life, most of us will at some point have dreamed of working from home. We will have fantasised about trading a tedious commute and a nine-to-five regime for the comfort of our own abode and the elasticity of a self-imposed timetable. We will have yearned to abandon our chairs, desks and suits and instead embrace our sofas, laptops and pyjamas.
Few of us, though, will have expected these longed-for privileges to be granted in such abrupt and extraordinary fashion. Working from home is one of the most prolific new normals to emerge from the COVID-19 pandemic, and suddenly the office has rarely — if ever — looked more passé.
According to research by Morgan Stanley, UK workers have been reacquainting themselves with their in-trays at a slower rate than their counterparts in other major European countries. Only 34% of British white-collar employees surveyed in July had returned to the office, compared with an average of 68% for France, Germany, Italy and Spain.
Similarly, ManpowerGroup, a specialist in staffing and talent management, reported 'negative sentiment' about going back to work among 73% of UK employees. The analysis, published in August, revealed this level of disinclination to be unmatched elsewhere in other large European economies and equalled only in the US.
Estate agents have also identified trends that appear to demonstrate a reluctance to resume old routines, with Rightmove recording a major post-lockdown surge in city dwellers looking to relocate to rural areas. "The most popular village moves are still within the same region the home-hunters are currently in," says Rightmove founding director Miles Shipside, "as it's likely they'll keep their current job but may have more flexibility to set up their working space at home."
Reality bites
All these findings seem to indicate that many people, having at last enjoyed a long-awaited taste of it, prefer remote working. Above all, they welcome the freedom that comes from controlling their own work environment, conditions and schedule. Studies have repeatedly linked working from home with increases in job satisfaction and individual productivity.
"The crisis has shown that more jobs could be successfully done remotely if the right conditions are met, but it is also true that human interaction can be important."
There can also be benefits for employers. While reduced spending on office space is the most obvious, research has suggested that employees are likely to be more committed to their work, which should result in lower staff turnover, and more efficient, which should contribute to enhanced profits.
But there are also disadvantages. Take the experience of Stanford University economist Nicholas Bloom, author of a widely cited study that found home-based call-centre staff to be 13% more productive than their office-based peers: in May 2020, five years after his seemingly prescient findings featured in the Quarterly Journal of Economics, he ruefully admitted to The Atlantic that his own productivity during lockdown was being dented by his children's bagpipe lessons.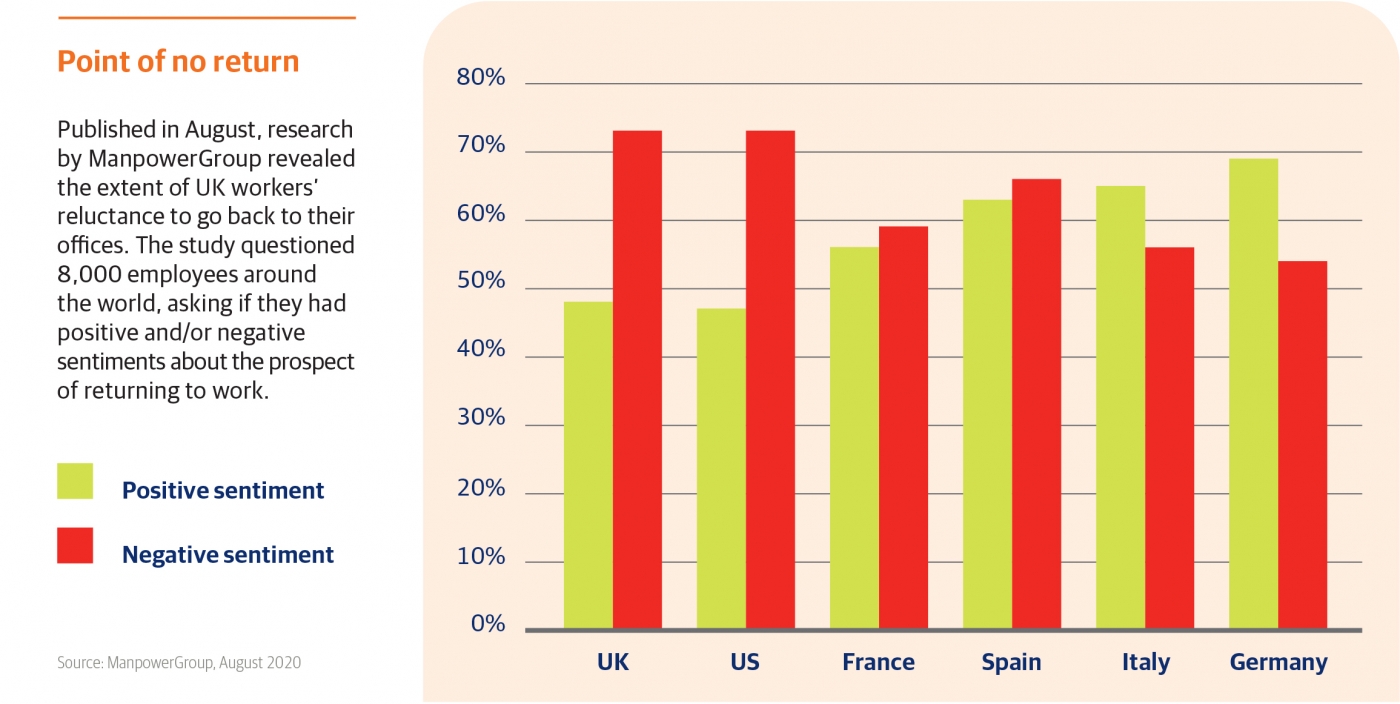 The reality, as Bloom discovered, is that working from home — like working in an office — is not for everyone. Many people are likely to miss their colleagues, authentic collaboration, a sense of belonging, a creative spark, guidance, banter, gossip, team spirit, a reliable broadband connection, a true feeling of work-life balance, even office politics.
Dr Ekaterina Nemkova, of Paris's IÉSEG School of Management, recently carried out a study of designers exclusively reliant on digital platforms. She found that many have "feelings of despair and anger" and think of their working lives as "devoid of meaning". "The COVID-19 crisis has shown that more jobs could be successfully done remotely if the right conditions are met," she says, "but it's also true that human interaction can be important."
Confusion and caution
The tech-sector paradox

The home working challenge is not new to some sectors. In the 2000s, reflecting their more relaxed approach to corporate culture, fledgling tech giants such as Yahoo and Google encouraged employees to abandon the office — but more recently, before the pandemic struck, they brought everyone back again.

This may explain why Microsoft CEO Satya Nadella recently warned against "over-celebrating" any perceived productivity gains from remote working. What he really missed, he told the New York Times, was genuinely "connecting" with his colleagues. "I feel we're burning up some of the social capital we built up," he said. "Where's the measure for that?"

The irony, of course, is that these companies, whose technology makes home working possible, are now ideally positioned to profit from everyone else burning up their own social capital.
Policymakers spent much of late summer using both economic and emotional arguments to encourage workers to return to their offices. Bank of England governor Andrew Bailey reportedly expressed his shock at the deserted scenes encountered on his daily drive to Threadneedle Street. Fearing vacant real estate, plummeting rents and the collapse of small businesses desperate for footfall, Mayor of London Sadiq Khan lamented that remote working presented "a big problem" for the capital. A resurgence in COVID-19 infections then brought a dramatic change in sentiment in early autumn. Amid continued uncertainty, employees and employers alike face tricky choices.
"It may be natural to enthuse about working from home now, but the idea might not be so attractive after another six months or so."
"The overall picture is mixed, to put it mildly," says Nottingham University Business School's Professor David Falzani, a venture capitalist and the president of the Sainsbury Management Fellowship. "I know of a company that secured a 10-year lease on a new office in anticipation of doubling in size. Now it's struggling to figure out what to do, because the staff aren't keen to go back to 'the old ways'. I know of a company that's set to save hundreds of thousands of pounds a year by going completely remote. And I know of a company that plans to reduce its office space by 50% through hot-desking. As ever, there are risks and opportunities."
Given this confusion, further surveys about happiness and productivity might be taken with a pinch of salt for the time being. It may be natural to enthuse about working from home now, but the idea might not be so attractive after another six months or so — especially when some efforts to ensure that productivity is maintained, such as accessing employee webcams, could be seen as draconian intrusions.
All things considered, it may be that we have not yet found a genuine new normal. At least for some of us, sofas, laptops and pyjamas could turn out to be every bit as susceptible to the Groundhog Day effect as chairs, desks and suits. It is still too early to say, and for now we would be wise to proceed with care.
"The key message at this stage is simply that remote working doesn't suit everybody," says Crawford, "and that's why the liberation that we expect from working from home should be met with great caution. The potential damage from spending long periods without flesh-and-blood sociality needs to be carefully factored into all post-pandemic innovation, because the home can prove both sweet and sour."
This article has been taken from, 'Rathbones Review Autumn 2020' read the full publication here.