How soon can we abandon fossil fuels?
If Britain is to meet its target of generating net-zero greenhouse gas emissions by 2050, we are going to have to wean ourselves off fossil fuels — coal, oil and gas. We are well ahead of many developed nations, but how hard is the challenge that confronts us?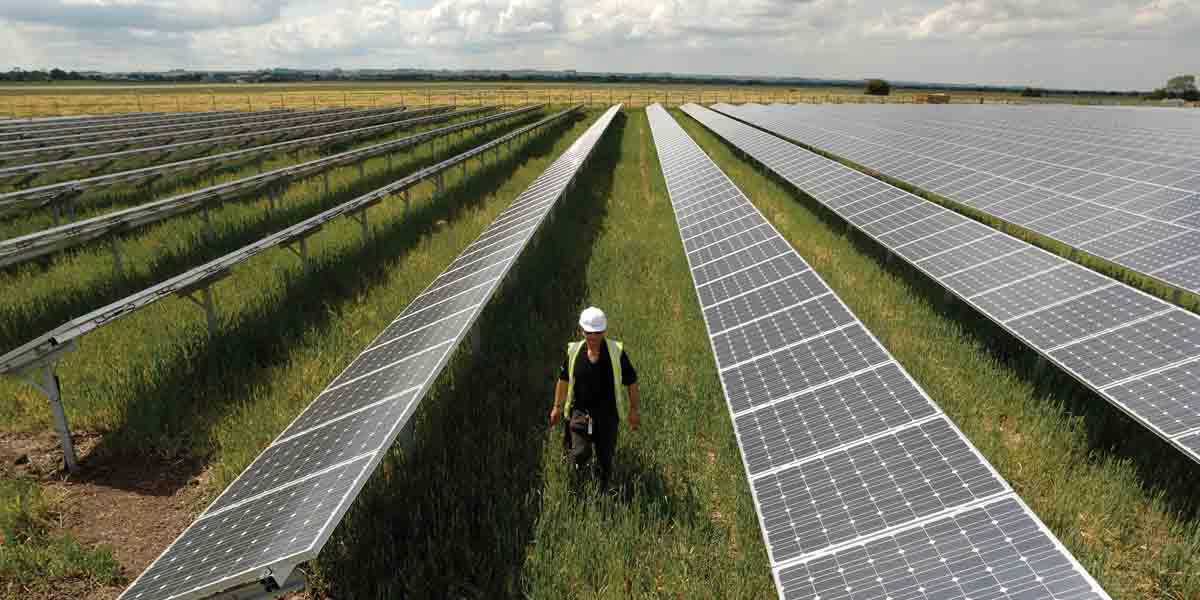 Article by, Jane Sydenham, Investment Director, Rathbones
Few may have noticed amid the turmoil of COVID-19, but last April and June something rather unusual happened in Britain. For the first time since the opening of the Holborn Viaduct power station in 1882 we managed to survive two months without burning coal for electricity.
The days of coal are nearly at an end in Britain. The Drax power station, near Selby, North Yorkshire, stopped coal production in March. Four of its six boilers have now been converted to biomass, burning compressed wood pellets to create electricity.
The final two coal-fuelled power stations on the UK national grid network — at West Burton and Ratcliffe-on-Soar, Nottinghamshire — will close in 2024.
Eliminating coal-burning power stations has helped Britain cut emissions faster than any other developed country during the past 20 years. Between 1990 and 2018 carbon dioxide (CO2) emissions fell by 43% in the UK, compared with a decline of 2% for the rest of the G7 countries. And this is a period during which the economy has grown by 75%.
Winds of change
What has driven this transformation is the fivefold growth of renewable energy in just a decade. It now accounts for around 40% of our power needs.
"The days of coal are nearly at an end in the UK. Our final two coal-fuelled power stations will close in 2024."
Half of our renewable energy comes from onshore and offshore wind power. Onshore wind power is the fastest-growing source of power generation globally and is already as cheap as fossil fuels. Offshore wind power costs are falling rapidly.
In October 2020 the Prime Minister told his party conference that within 10 years offshore wind farms would generate enough electricity to power every UK home. Research suggests fulfilling this pledge would cost £50 billion and involve the installation of a new offshore wind turbine every day for the next decade.
It is a tall order, but the government is certainly committed. In March it unveiled £95 million worth of investment in the Humber region and Teesside for port infrastructure to enable the building of the next generation of offshore wind farms.
It is claimed that once complete the two ports will have the capacity to support the development of up to nine gigawatts (GW) of energy from offshore wind projects each year — enough electricity to power around eight million homes.
Solar so far
Wind is only part of the story. We are also seeing rapid expansion of solar energy production. In 2020 solar plants in development were expected to generate 13.43GW of energy on completion. Those installed during the past decade already provide around 6% of our electricity. The cost of solar has fallen dramatically, and estimates suggest it will drop by another 27% by 2030.
We are now seeing the construction of a number of super-size solar farms — near-1,000-acre plots of land dedicated to harvesting the Sun's energy.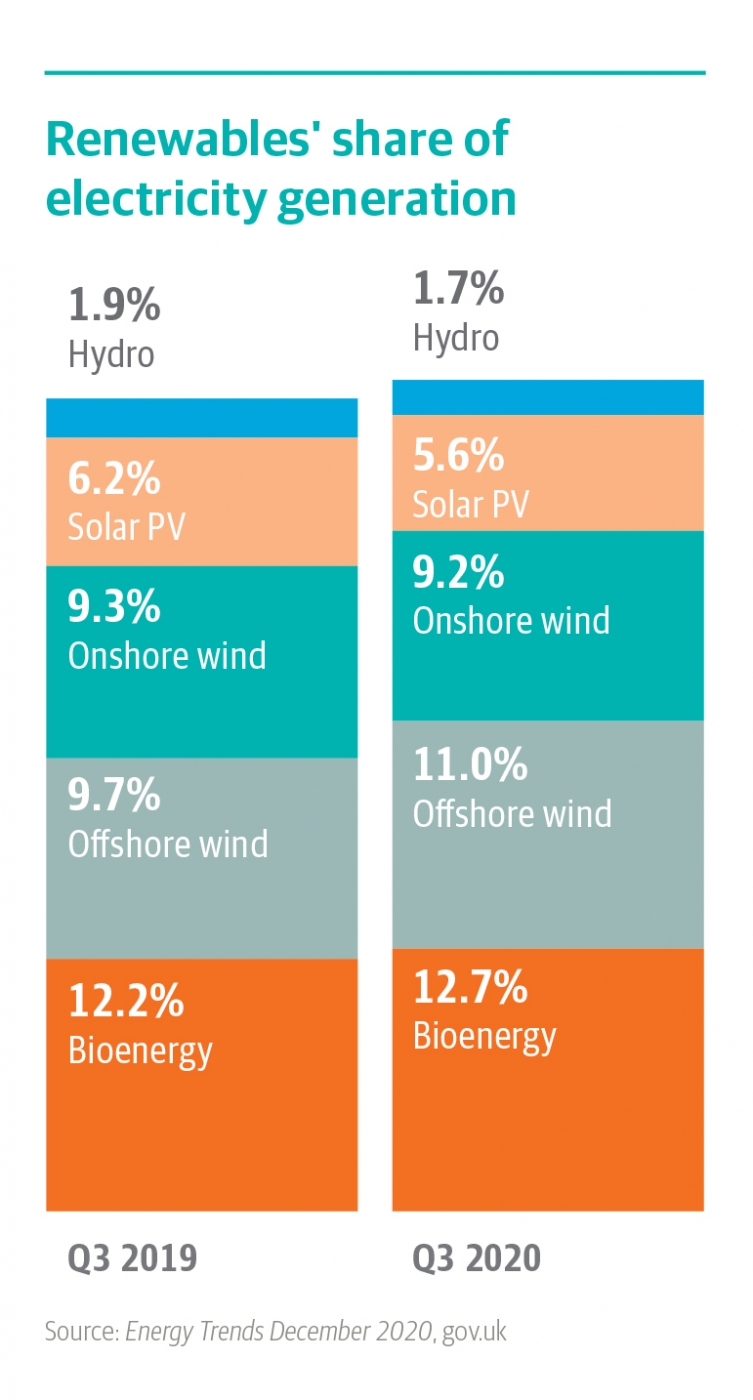 None of these renewable energies is without problems. Biomass plants raise concerns about destruction of forestry. Solar farms and onshore wind farms change the face of the countryside and distress residents. Offshore wind farms are perhaps the least controversial, though migrating birds can be caught in the propellers — which themselves are hard to recycle and dispose of.
All things considered, most people would welcome the rise of renewable energy. Our success in ending dependence on coal and reducing CO2 emissions is certainly to be celebrated.
Yet we will also have to wean ourselves off gas and oil if the UK is to meet its 30-year target of bringing greenhouse gas emissions to net zero. This next phase will be much harder.
Roads less travelled
The biggest source of emissions in the UK is transport. It accounts for 28% of emissions in a typical year. One in 15 vehicles sold in the UK last year was battery-powered, and nearly 30% — usually hybrids — had some electric drive capacity. But no new petrol or diesel cars will be sold in the UK from 2030, and sales of new hybrids will be phased out by 2035.
With at least one in five motorists not having a drive on which to charge their car, we will need much more on-street charging. The idea of fitting chargers into lamp posts has gained ground in recent years. Expect to see a huge surge in the numbers of public charging points across the country, too. There are currently around 40,000 in nearly 15,000 locations, and hundreds are being added each month.
New technology is speeding up charging times. 'Range anxiety' should also diminish, as virtually all major car manufacturers are now working on electric cars — an investment that is worth many billions of pounds and which should lead to significant range extensions.
Meanwhile, we need public transport and freight to become zero-emission — and we need more people to spend less time in their cars. We are already seeing more electric buses. Newer rolling stock is improving CO2 emissions on Britain's rail network. In 2018 emissions from passenger trains dropped by 195,000 tonnes — the equivalent of taking around 90,000 cars off the road.
Around 70% of passenger trains are already electric-powered, and the government has challenged the rail industry to remove all diesel-only trains by 2040. This will mean electrifying more of the network. However, with rail travel projected to grow by 60% in the next 30 years, emissions are expected to rise rather than fall. More needs to be done. There is hope that hydrogen may provide the answer — more on this shortly.
The final transport challenge is air travel. The Department for Transport expects international and domestic aviation demand to increase by 73% between 2018 and 2050, but more efficient planes and uptake of low-carbon sustainable aviation fuels mean emissions are at least likely to remain broadly flat.
Home heating
"We are going to become much more dependent on electricity. The electricity needs to be from renewable sources, and supply needs to be dependable."
One of the the biggest challenges in achieving net-zero emissions, as identified by the government's Committee on Climate Change (CCC), is eliminating the use of natural gas to heat our homes — all 29 million of them. Buildings are the second-largest source of emissions in the UK, thanks largely to the burning of gas to heat radiators. Nearly 90% of Britain's homes are heated by gas — compared to 47% in Germany, where there is much greater dependence on electric and shared 'district heating'.
For years we have been encouraged to install supposedly energy-efficient gas combi-boilers, but now we are told we need to replace them with heat pumps and electric underfloor heating. While we are at it, we need to make our homes more energy-efficient to reduce the need for power and prepare them for a changing climate.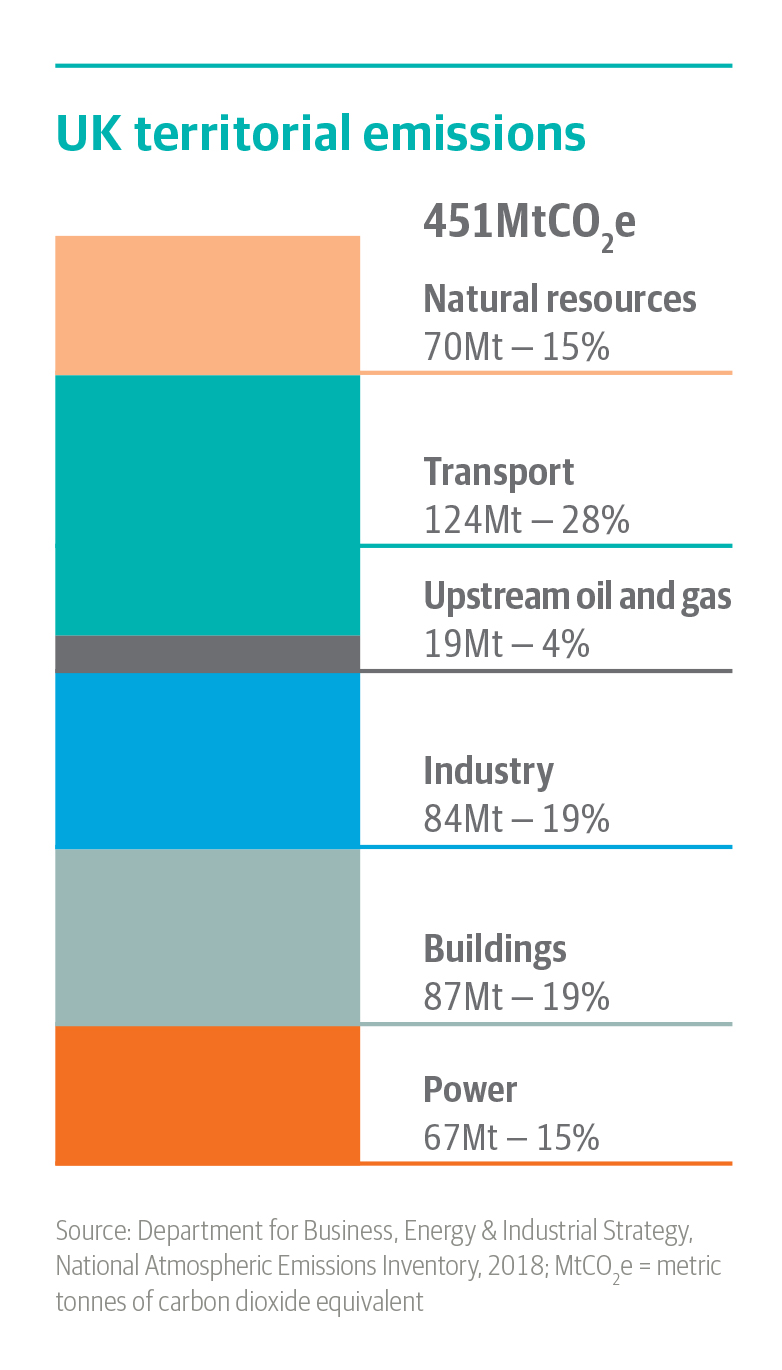 Gambling on batteries
What is clear from this brief overview is that we are going to become much more dependent on electricity. This electricity needs to be from renewable sources, and supply needs to be dependable.
This is one of the biggest problems of solar and wind power. Neither sunshine nor wind can be guaranteed. This makes it harder to match peak energy production with peak energy use. And it means we need back-up for those dark, still days.
This will need to be provided by batteries. Until recently the size of a battery needed to store a meaningful amount of energy has been too large to be practical. Today we have the prospect of high-energy-density lithium-ion batteries — developed for use in mobile phones and electric cars — being deployed in vast arrays to store enough energy for use in the power grid. Tesla's Elon Musk is among the trailblazers in this field.
In 2016 South Australia experienced a near total blackout after a powerful storm. Politicians blamed the push for renewable energy for the extent of the shutdown. Through Twitter, Musk laid a bet with Australian billionaire Mike Cannon-Brookes that he could guarantee steady renewable energy within a hundred days if Cannon-Brookes could arrange the finance.
Musk promised that the Australians could have the $50 million system for free if he should fail to install it in time. The result was what was then the world's largest battery farm. The Hornsdale Power Reserve stores a hundred megawatts (MW) of energy from nearby wind and solar farms — enough to power 30,000 homes for eight hours. That is sufficient to enable the grid to absorb power surpluses and ride power dips, reducing outages. Musk won his bet: the system was installed with 40 days to spare.
Coming to a field near you
"When combined with oxygen, hydrogen creates electricity efficiently. No heat is produced, and the only by-product is water."
Hornsdale has become a model for other countries. Last November the UK government gave the green light to a 320MW lithium-ion battery site at DP World London Gateway, a new port and logistics centre on the Thames Estuary in Essex. Costing £200 million, the project has the potential to double in size — at which point it would have about a third of the capacity of a large coal-fired power station. It will dwarf the UK's biggest active battery project so far, the 50MW Thurcroft battery storage site in South Yorkshire.
Batteries can provide one answer to the problem of intermittent renewable energy. But they are not the only one.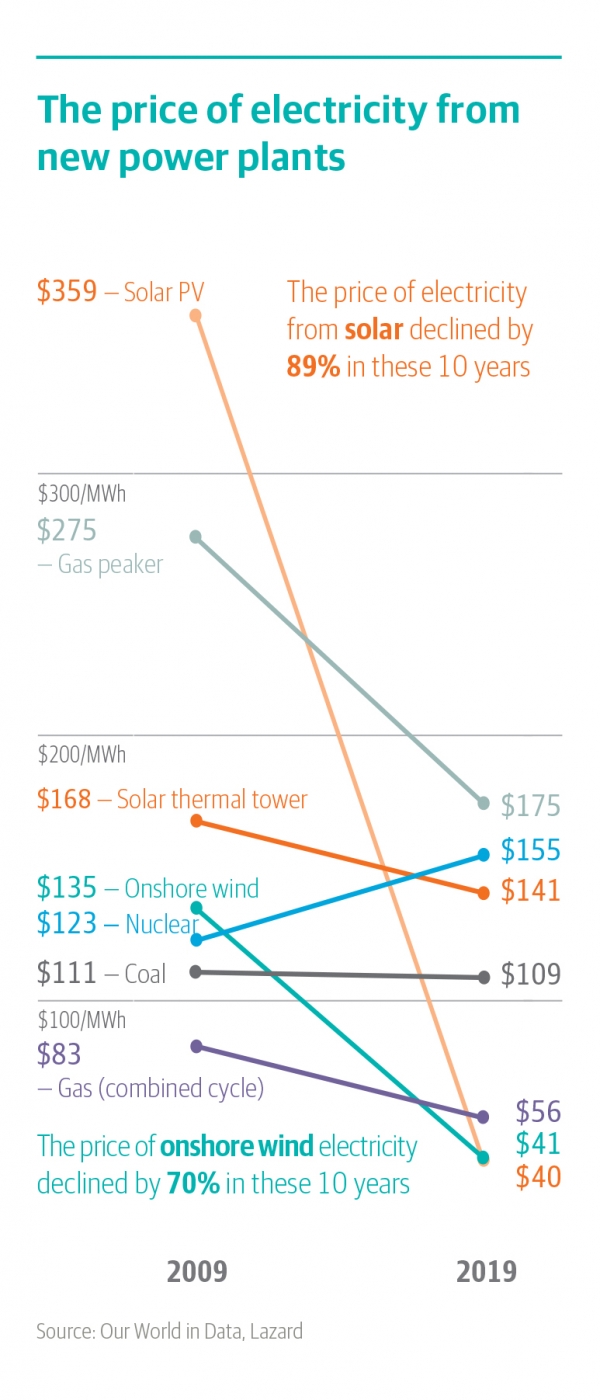 Hydrogen
Hydrogen is one of the great hopes for many in the energy industry. It has a number of potential uses as an energy source. It can be blended (5%-15%) into the existing natural gas pipeline network without damaging gas boilers, helping to reduce emissions from existing gas power.
When combined with oxygen it creates electricity efficiently. No heat is produced, and the only by-product is water. Hydrogen holds more energy in less space than electric batteries — though not as much as petrol or diesel. It is seen as a viable fuel for trains, lorries and buses.
Some car manufacturers are also exploring its potential. Toyota's hydrogen-powered Mirai saloon has a range of 342 miles and can be refuelled in under five minutes at a similar cost to petrol. But there is one drawback: there are only 13 hydrogen refuelling stations in the UK at the moment.
There are two major issues with hydrogen. One is storage — the gas needs to be compressed, liquefied or chemically combined prior to storing, and at present there is no standardised approach for doing this. The other is that the most common form of production involves natural gas and creates a CO2 by-product.
Scientists are exploring ways to address this through carbon capture and storage. They are working with a group of leading power companies on a project in Humberside — the Zero Carbon Humber. The Humber is the most carbon-intensive industrial cluster in the country, with its steel and chemical industrial manufacturing plants emitting 12.4 million tonnes of CO2 a year.
The government hopes to produce hydrogen at scale in Humberside and convert neighbouring industrial plants to its use while at the same time capturing the carbon. This could bring down the price of hydrogen, stimulate demand and set the stage for greener forms of hydrogen to be produced more competitively in future.
Nuclear
The other energy source we have yet to mention is nuclear. Britain's old nuclear fission power stations — seven of them — generate around a fifth of the country's electricity supplies. Six are due to be retired by 2030, with the seventh, at Sizewell, set to be decommissioned in 2035. Plans to build new large reactors have hit funding challenges.
The UK Atomic Energy Authority is currently inviting communities to bid to host a prototype nuclear fusion plant, to be completed by 2040. The government has committed £525 million to the project, with the hope that similar plants would follow. It sees nuclear as a clean energy source. Whether it will work is another matter.
There is a big difference between fission and fusion. One works by splitting large atoms and creates highly radioactive particles. The other works by fusing lighter atoms into a larger one — as occurs in stars, such as the Sun — and is argued to be much safer. The promise of nuclear fusion has remained a dream, always seemingly just 20 years away, since the 1950s.
Gridlock?
"The promise of nuclear fusion has remained a dream, always seemingly just 20 years away, since the 1950s."
The list of challenges grows. We also need to spend billions on the national grid. Britain started to create its national grid system in 1937, when a series of smaller regional grids were connected to try to improve the security of supply and reduce the overall cost of electricity.
As energy demand has increased over time, new capacity has not kept pace. This means the amount of headroom — the difference between peak supply and peak demand — has dramatically reduced. As a result, power companies need to fire up older and more inefficient power stations to meet peaks in demand.
The process of getting electricity from where it is generated to where it is needed is fairly simple. The grid was designed to transmit huge amounts of electricity great distances. But this is very inefficient, and large amounts of power are lost due to lengthy supply lines. As renewables are integrated into the grid, the sources of power are increasing from hundreds of traditional power stations to millions of geographically dispersed, small power plants — think of all those solar panels on roofs.
A complex puzzle
What is clear from all this is that weaning ourselves off fossil fuels is not going to be easy. It is not a case of simply switching to renewable energy. We need to reduce our demand for energy. We need to store energy. We need different sources of energy. And we need a more efficient grid.
Reaching net zero by 2050 will be hard, but it is not impossible. A small but growing number of economists are talking optimistically about the transition. Two things are encouraging.
First, governments and populations around the world are becoming aligned in seeing this as a priority for the planet. Policymakers everywhere are addressing the problem and allocating resources to change.
Second, technology is making renewable energy cheaper and cheaper — as our chart shows. There will come a time when we will not need policymakers to drive us in this direction. Simple finances will make the shift happen. As we reach that tipping point, change could come very quickly indeed.
This article has been taken from 'Rathbones Review Summer 2021' read the full publication here.