Introducing MyRathbones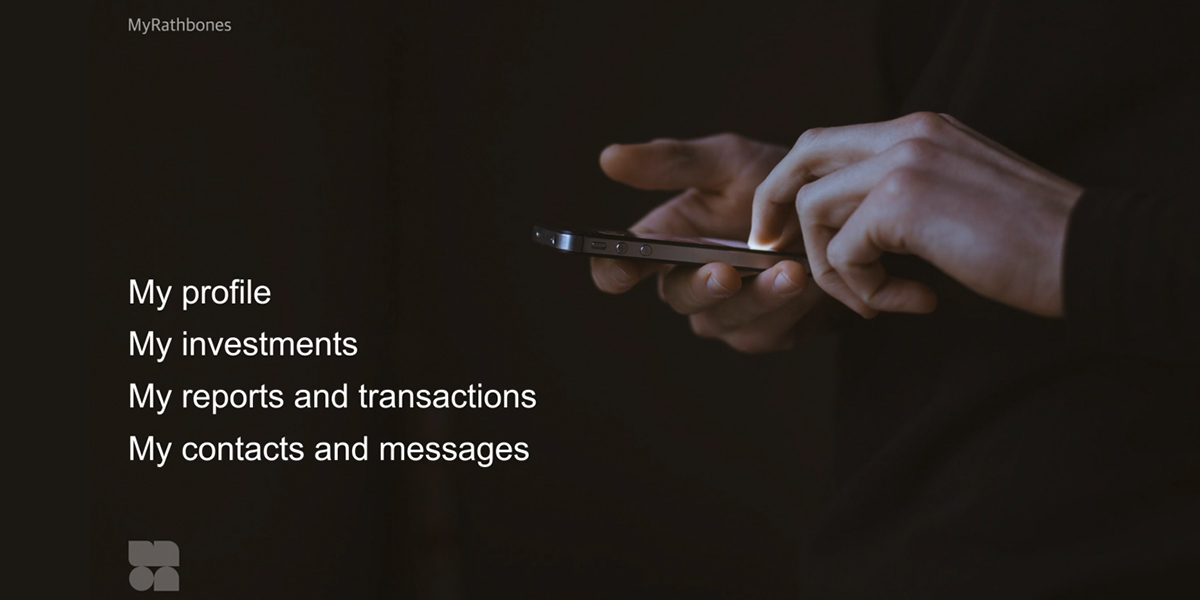 What is MyRathbones?
MyRathbones is offered as a web-based service that can be viewed on a desktop or tablet and also as a smartphone Android or iOS (Apple) app that will make access even easier.
MyRathbones will be your digital 'doorway' into Rathbones. It will:
be easy to use
be built using solid, secure technology
enable you to correspond with your investment team securely
allow us to add more relevant features and content over time
Watch our short MyRathbones demonstration video below
MyRathbones provides similar functionality to Rathbones Online, and we are grateful to the clients who helped us with its initial design. We expect that you might initially choose to use MyRathbones for everyday tasks such as checking your portfolio balance, viewing a valuation report, or sending a secure message to your investment manager.
Please be assured that our intention is that MyRathbones will very much complement the personal service you receive from your investment manager and team, rather than replace it.
The latest technology to keep your data secure
We have completely redesigned the log-in process and introduced what is known as 'two factor authentication' which helps us confirm your identity. Security of your data is paramount to us, and this method has already been adopted by many financial institutions to provide a higher degree of online protection. With the world awash with passwords and keychains, you may also be pleased to know that we will be making it easier to reset your password too, should you need to do so.
There are three authentication methods to choose from when you first sign in and change your temporary password:
By text to a mobile telephone – Confirming your identity by text message to the mobile phone number* we have on record for you each time you login.

By Authenticator app - You can set up and use your preferred authentication app on a smartphone or as an internet browser extension.

By telephone - We can call* you on the landline number we have on record for you and you will hear a six-digit code. The code is valid for three minutes and is what you will use to access MyRathbones.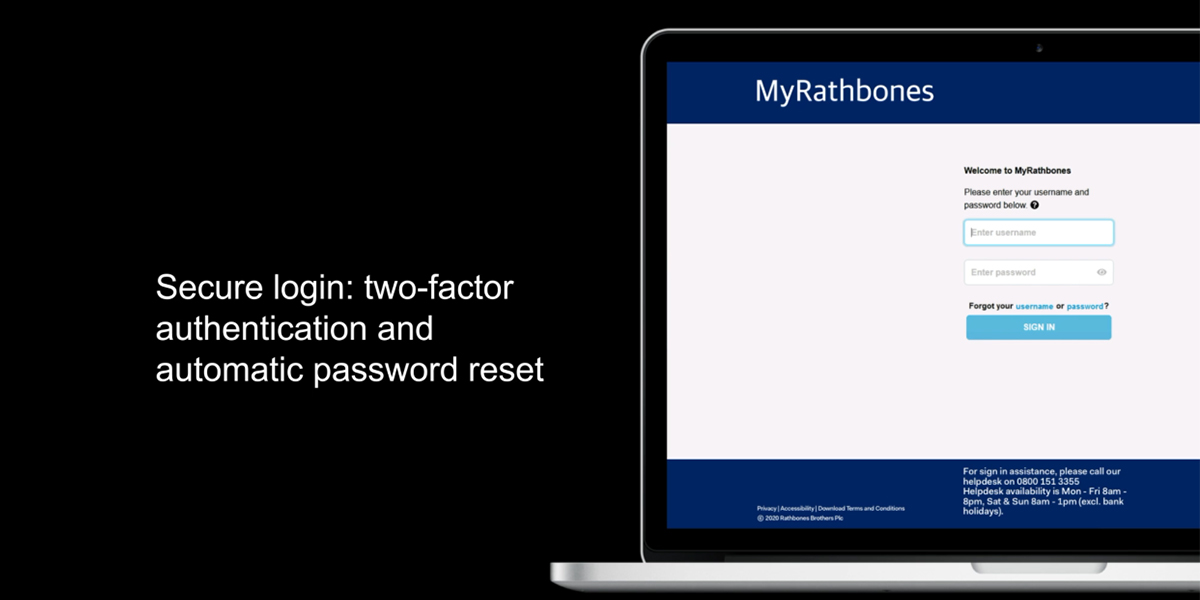 What do I need to do next?
We will shortly email* you some temporary log-in details that you will be asked to update, so they are known only to you.

Please follow these steps when your temporary log-in details arrive:
First, click through to MyRathbones using the link in the email that we will send to you - you will then be guided through the following steps to set up your MyRathbones service:
Enter your temporary username and password (these are valid for fourteen days)
Create a new password - this will automatically prompt you to select your preferred authentication method to generate a six-digit authentication code
Enter the six-digit authentication code
Create a preferred username that you will use in future when you log in
Review and accept our Terms and Conditions
Choose or create three security questions and answers in case we ever need to verify your identity
You are now ready to use MyRathbones
Please note: once you have registered for MyRathbones you can no longer access the Rathbones Online service.

Keeping in touch
Once MyRathbones is set up simply use your new password and username and enter the authentication code that will be sent by text message each time you log in.
We will continually develop and improve MyRathbones, so we welcome your questions, comments, or suggestions either via your investment manager or by email to: MyRathbonesFeedback@rathbones.com
*Please contact your Rathbones investment manager to update your email and/or mobile phone number if different from our records.