John Huntingdon's Charity working hard to fulfil its founder's aims through the crisis
Charity Manager Jill Hayden and Finance Manager Hilary Seaward tell us how John Huntingdon's Charity is coping with demand for its services as a result of the Covid-19 outbreak at a time when its income is falling.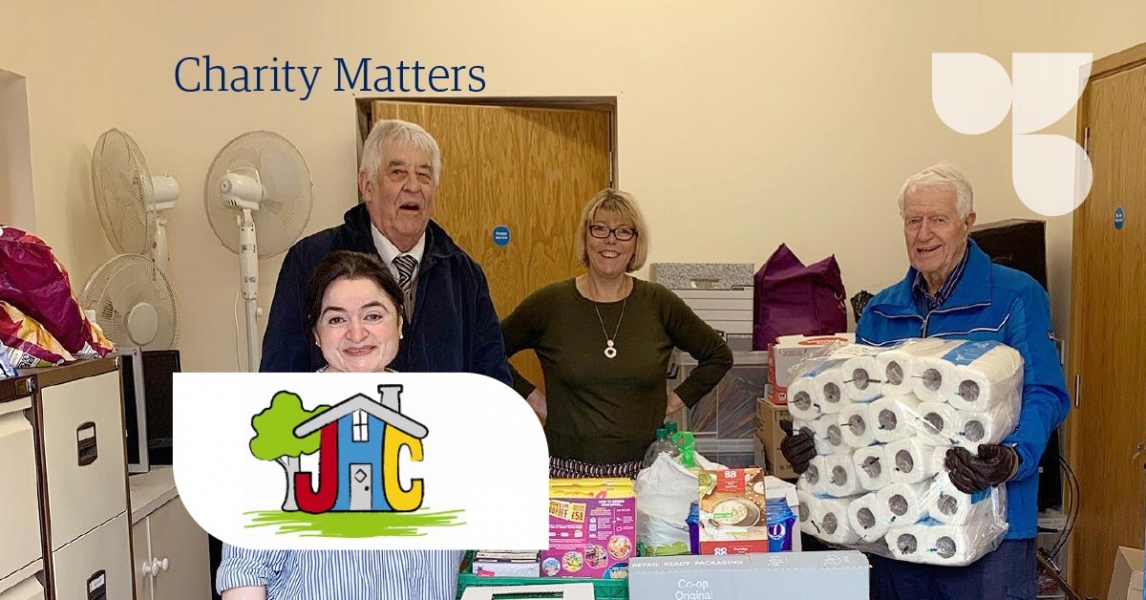 John Huntingdon's Charity has been giving help to those who need it since 1554, when the enlightened landowner after whom the charity is named bequeathed money and land to benefit the poor of the parish of Sawston in Cambridgeshire.
Today, it owns property including 28 almshouses in the village, providing temporary accommodation for disadvantaged people of all ages, including some with physical disabilities or learning difficulties.
Besides that, the charity's headquarters normally serves as a foodbank, a meeting place and a drop-in centre, where a small team of support workers – operating in conjunction with local medical professionals, councils and other organisations ­– provide information and advice. The charity also makes direct cash grants to assist both individuals and other charities working in the community.
Growing demand
Charity Manager Jill Hayden says demand for the charity's services, particularly the foodbank and advice about the government's various financial support schemes and applying for Universal Credit has "rocketed" during the pandemic crisis. She expects that increased workload to continue, and while the foodbank remains open for collections and donations, several of her staff are continuing their duties from home.
Social distancing and other lockdown restrictions have radically changed the way the charity's staff work. Jill says: "We're a very close-knit team so it's strange for those working from home. I'm doing a daily WhatsApp video call and a weekly Zoom meeting so I can not only talk work but make sure everyone's okay."
The team are busy supporting many people who have not used the charity's services previously and working closely with schools to identify the most vulnerable children.
With the lockdown situation evolving all the time, it's important the charity's decision-makers stay in touch too, and various meetings, including the AGM, will go ahead online. Jill says: "With things happening so fast we need to know the trustees are happy and decide how we'll deal with a situation where our income is falling yet demand on our services is increasing."
Financial challenges
Jill and Finance Manager Hilary Seaward are monitoring the charity's finances closely, with a watchful eye on cashflow. Covid-19 has had a significant impact on its income, a substantial part of which is a fixed monthly drawdown from its investment portfolio. Not surprisingly, in line with global market movements, the pandemic crisis has dented the portfolio's value in the short term. Jill says: "Estimated income is slightly lower than what we would normally draw down in a year – but things are changing so rapidly that that could go up or down over coming months."
Rental income generated from its property in the village is usually the other main source of revenue, but a children's nursery and a coffee shop, which both let their premises from the charity, have been given a three-month rent holiday.
And while roughly a third of the residents at the charity's almshouses can expect their usual housing benefits payments to cover their rent, the situation is unclear for the rest. As Jill says: "Many are not working at the moment and some have had problems with employers not wanting to put them on the government's furlough scheme, so it's uncertain whether they'll get financial support to pay rent."
She adds: "The charity's trustees will have to look at whether we're going to help with that – but it will depend on how much money will be required."
Jill says one solution to the current funding challenge would be to "cut our cloth accordingly" and drop the level of services the charity provides. "It's not what we'd want to do and, personally, I think now is the time we should be giving out more, not less – now is when people need it more and we're a charity that's here for those people who are suffering hardship."
What next?
Jill has applied for a number of additional grants but is not holding out huge hope for them being accepted. She adds that the picture regarding central government funding is unclear due to the level of the charity's reserves, although clearly it is relatively fortunate that it doesn't rely heavily on grants and donations.
Hilary says: "If we have to, there is a safety net in drawing down more from the investment portfolio. We're in a fortunate position in that we can take a very long-term view – we could risk taking out a bit more knowing that in the long run it will come back again."
The charity's plans for the sale of some land, currently on hold because of the pandemic uncertainty, may also need to be adapted so the charity can provide more support for people now. Jill explains: "We planned to build another 25 almshouses with money from the sale, but we could build fewer homes and put the rest back into the portfolio to replenish what we need now."
This is another option for the trustees to consider around its investment portfolio, managed by Rathbones. Hilary says she is grateful for the firm's support: "They've kept
us and the trustees informed on what's going on, which is reassuring. I feel confident that we're in good hands – they understand what we're trying to do to steady the ship."
Jill adds: "They're being proactive and making choices based on the changing circumstances. They're happy to answer any questions and while no one has a crystal ball, everyone feels they're doing everything they can."
Relationships will be key to future
The unique challenges of the pandemic so far have served to underline some of the charity's real strengths. Jill says: "Our network of relationships with other organisations and within the community has proved really valuable in being able to quickly offer holistic help."
She says it's "too early" to judge if the charity's Covid-19 strategy is 100% right but believes it's "in the right direction". However, she adds: "This is not a short-term challenge – I think the ramifications could go on for years and there will be lots of hardship ahead. We need to monitor this very carefully and adapt to change at the appropriate time to help and support our beneficiaries."
To find out more about John Huntingdon's Charity visit johnhuntingdon.org.uk