Land of milk and money
You might think this has been a bleak time to be a British dairy farmer, with Brexit, COVID-19 and the growth of veganism adding pressure to an already demanding job. But Britain's farmers are a tough breed, and many of them are responding to the challenge with energy and creativity.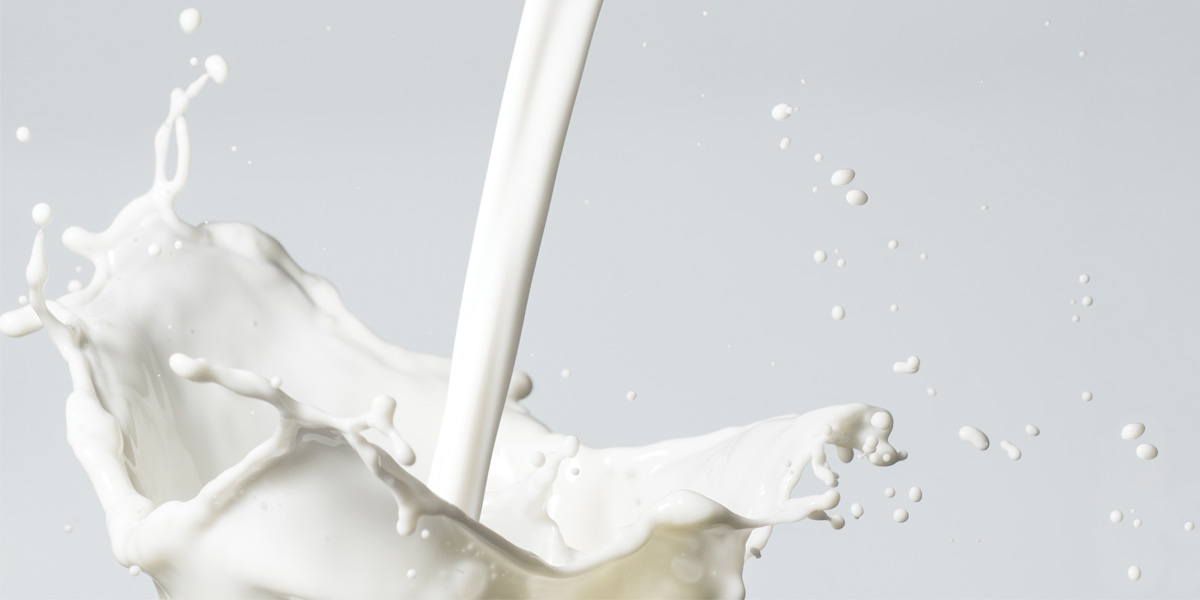 Rowland Flower, Investment Director, Rathbones
Coronavirus struck Scottish dairy farmer Robert Sloan's family early on. Robert's sister, who lives next door to his farm in Ayrshire and works for the NHS, caught the virus. He had to send his three staff home amid fears they would be infected, but that left just him and his father, Bryce, looking after their 60-cow herd.
Fortunately, Robert's earlier investment in automatic milking machines and calf feeders paid off. The farmhands could stay at home for a short time without compromising the wellbeing of the herd, the business or their respective families.
" Many farmers have turned to producing their own dairy products — yoghurts, ice creams and cheeses — to enhance the money they can make."
Labour problems are far from the only challenge the pandemic has created for Britain's dairy farmers. In the past year the country's 24,000 cafés have been forced to close, driving down demand. Getting milk to supermarkets has not been easy at times either.
The total number of UK dairy cows fell from 2.6 million in 1996 to 1.9 million in 2018 — a 27% reduction. It fell another 2.8% last year — the equivalent of 50,000 fewer cattle.
The industry faces deep-rooted problems. Looking ahead, many worry that there will be less demand for milk. A third of British 16-to-24-year-olds use non-dairy milk, according to one recent survey.
The trend is global in the developed world. For example, milk consumption per person has shrunk 40% since 1975 in the US, where net sales fell by $1.1 billion — or 8% — between 2017 and 2019 alone.
Part of the appeal of non-dairy alternatives is connected to climate change. Around 37% of greenhouse gas emissions stem from cattle production. Dairy farming accounts for 4% of emissions — more than the airline sector.
There are also criticisms of the dairy industry from an animal welfare perspective. "Cows that never get out to grass are now producing more than half the milk that people buy in supermarkets," says Patrick Holden, founder of the Sustainable Food Trust. "I think a lot of people are going vegetarian and vegan because they don't like farming done on these vast scales."
Pressure may be coming from an unusual source, too. Scientists at American business TurtleTree Labs are creating raw milk by using cells from mammals grown in their laboratory, encouraging the cells to produce milk in giant bioreactors. Will we even need dairy farmers soon?

Going green
It is easy to underestimate just how big the British dairy industry is. The UK is the world's 11th-largest milk producer. Dairy is a £4.5 billion market that employs 50,000 people directly or in supporting businesses.
It is true that the number of dairy cows is falling, but those numbers can be misleading. Smarter breeding and automation have increased productivity substantially in recent years. Robot machines, like those installed by the Sloans, allow the cows to decide when to eat, drink or be milked. This makes them more relaxed and leads to more milk.
The dairy industry is so fragmented that it is also hard to see just how many farms are embracing technology.
At Copys Green Farm, Wighton, near the north Norfolk coast, Stephen Temple has managed to cut production costs dramatically and reduce his carbon footprint at the same time. He grows forage maize to provide fodder for his dairy herd and feedstock for an anaerobic digestor plant installed on the farm.
The digestor takes the maize and manure from his 130 cows and whey from his cheesemaking enterprise. It generates heat for grain drying, cheesemaking and warming his farm, office and three cottages. It also produces electricity for the farm and national grid. The waste or 'digestate' from the plant acts as a perfect fertiliser for his crops and soil.
Temple also uses electric vehicles where possible. He has an electric farm jeep for fetching in the cows for milking, a second-hand Tesla, a Nissan Leaf — used by the farm's full-time engineer — and, for delivering cheese, a Renault ZOE.
Dr Olivia Godber, a sustainable agriculture specialist, who last year moved from the UK to take up a post at Cornell University in New York state, says: "The UK dairy industry has made great progress towards improving its sustainability and reduced its carbon footprint by 24% between 1990 and 2015. But further action needs to be taken. The National Farmers' Union has set the goal of reaching net zero by 2040."
Godber says that modern farming is highly scientific. Methane production is an inherent part of rumination, but the quantity produced per litre of milk can be reduced through improving diet. This can mean optimising the balance of grass and maize silage, increasing the proportion of fat and oil, using high-sugar-content grasses — such as ryegrass — or even giving the cows probiotics. The way manure and slurry are stored and used on a farm can also help.
The supermarket challenge
One of the biggest challenges for dairy farmers is the squeeze on milk prices. Since 1994 — when the Milk Marketing Board, which guaranteed minimum prices, was effectively scrapped — farmers have been left on their own to negotiate with supermarkets, which use cheap milk to attract customers.
It has taken time, but farmers are increasingly joining cooperatives to strengthen their position. An example is Arla, a European dairy cooperative owned by 12,000 farmers, around 2,500 of whom are in the UK. By working together, members take greater control over how their milk is processed and sold and have a greater share of the profits.
Farmers are also being creative in finding new markets for their produce. In 2015 Joe Towers, a farmer in Lancashire, learnt that the best frothing milk for baristas had 3.6% protein. His 330 Holstein Friesians were averaging only 3.1%. He invested in 70 in-calf Jerseys from Denmark. He now supplies 35,000 litres of milk a week to London coffeehouses and a further 22,000 litres direct off the farm through his own branded milk business, Lune Valley Dairy.
Many farmers have turned to producing their own dairy products — yoghurts, ice-creams and cheeses — to enhance the money they can make.
Of course, Brexit adds another challenge. For now farmers are receiving funding similar to that which they received under the Common Agricultural Policy, but the new Environment Bill seeks to shift away from making payments to farmers based on the amount of land they manage — a model criticised for pushing up land prices. Instead farmers will be paid to produce 'public goods' — things that can benefit everyone but which bring no financial reward, like clean air and water. They will be rewarded for improving soil quality.
Tim Mead, founder and CEO of Yeo Valley, the UK's largest organic dairy brand, has been running tests on the soil of his farm near Bristol for 15 years. He says: "Soil stores three times more carbon than all the trees and plants in the world. The potential of soil to store carbon is immense."
Tests on Mead's 2,000 acres show an annual growth of soil carbon in excess of one-and-a-half times the carbon footprint of his herd of cows. More research needs to be done, but the numbers are encouraging in supporting organic farming and in highlighting the role that famers can play in the battle against climate change.
A new era?
"Grassland stores carbon, whereas ploughing releases it into the atmosphere," notes beef farmer Rosamund Young. She is one of the surprise publishing successes of the past few years. In her book, The Secret Life of Cows, she describes the different personalities of the cows on her land at Kite's Nest Farm in the Cotswolds.
" More than two thirds of the farmland in the UK is grassland. Most of this is unsuitable for crop production."
She notes how each cow's milk tastes different. She argues that grassland converted to cropland often results in the digging up of hedgerows and trees, which otherwise help offset the methane emissions of livestock. She recognises that modern agriculture is not perfect — she condemns the intolerable pressure to cut costs, which leads farmers to trawl international markets for the cheapest feedstuffs. She is also uncomfortable that so much good arable land is used to grow crops to feed animals — globally, it is estimated that a third of cropland is used for feeding grazing animals, including dairy cattle.
But she says: "More than two thirds of the farmland in the UK is grassland. Most of this is unsuitable for crop production. Keeping cattle and sheep on grassland is the only way to get food from it. We cannot eat grass, but they are purpose-built to do just that."
There may be challenges for this industry, and COVID-19 has not helped, but milk is still a huge part of the British diet. Thousands of British farmers are working hard to produce a quality product, farmed sustainably and profitably.
Speaking on Back British Farming Day last year, Minette Batters, President of the National Farmers' Union, summed up the challenge and the ambition of the industry. She said: "We want to be world leaders in climate-friendly farming. We want to be making sure we are producing carbon-neutral food by 2040... We are facing a new era. It is so important that we get this right. We cannot afford to fail. The future of our food and the future of our iconic landscape depend on it."
This article has been taken from 'Rathbones Review Summer 2021' read the full publication here.