Liquid assets
It seems incredible that a modern metropolis could run out of water, yet this is the threat that major cities in developed and developing nations all around the world are facing. With the balance between demand and supply becoming increasingly fragile, we examine the challenges and implications.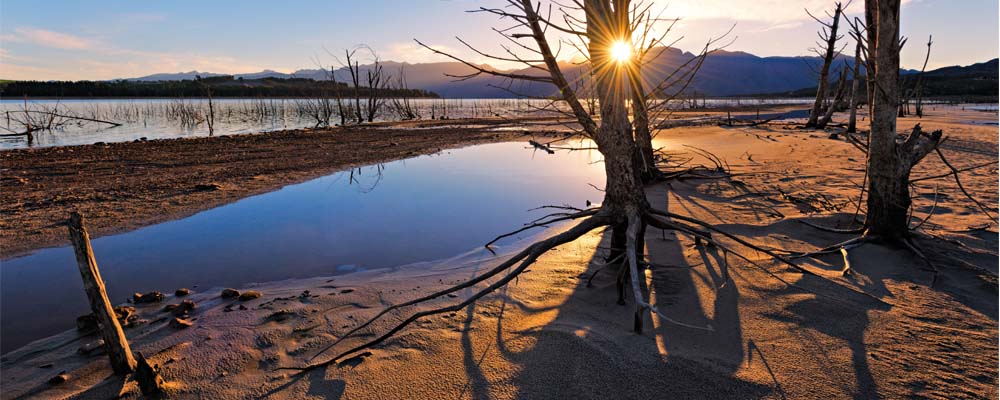 Christopher Bullock, Investment Director, Rathbone Greenbank
Earlier this year, when much of the UK was hit by a spell of severe weather dubbed the Beast from the East, many Londoners briefly experienced life in a "water-stressed" city. Freezing temperatures prompted a spate of burst and leaking pipes, leaving some householders and businesses to rely on water stations for more than a week.
At present London draws 80% of its water from the River Thames and the River Lea. Current levels of average annual rainfall suggest this is no longer a sustainable approach. The Greater London Authority has warned of supply difficulties by 2025 and "serious shortages" by 2040.
Four years ago, following a study by the US-based Nature Conservancy, London ranked 15th in a list of "water-stressed" cities worldwide. Despite being more readily associated with supreme efficiency, Tokyo was first. Los Angeles was another developed-nation metropolis that featured high on the list.
The situation in emerging economies is generally even more acute. The main reservoir in São Paulo, Brazil, fell to less than 4% of capacity in 2015. Both India and China are victims of pollution on a gigantic scale, with a recent survey of Bangalore's lakes declaring 85% of their water fit only for irrigation or industrial cooling and none at all suitable for drinking. In 2014 it was estimated that more than 20 million inhabitants of Beijing each had access to only 145 cubic metres of water a year: the World Bank officially defines anything less than a thousand cubic metres as evidence of "water scarcity".
Although crisis is not inevitable, there can be no doubt that this is a serious global issue. "In the developed world it is a problem of replacement, a problem of expansion and a problem of updating," says Professor Asit Biswas, a former member of the World Commission on Water. "In the developing world it is a problem of installing new sewage treatment works and water supply systems."
……………………………………………………………………………………
Greg Pillay is the head of the Disaster Management Centre in a sprawling metropolis that is home to almost four million people. Once celebrated as the most attractive tourist destination in the world, his city is teetering on the brink of meltdown. He is preparing to confront sanitation failures and disease outbreaks. He says he is ready for "anarchy". What he fears most of all is what has come to be known as Day Zero.
It sounds like the plot of a creaky sci-fi film from the early 1970s, but this is Cape Town, early 2018, with a crippling water shortage poised to bring South Africa's legislative capital to its knees. In the shadow of Table Mountain, the long-dreaded spectre of resource scarcity has become a terrifying reality. "In my 40 years in emergency services," says Pillay, "this is the biggest crisis."
Interviewed in February this year for a British newspaper article, Pillay explains what Day Zero means. The term is used to denote the point at which Cape Town's six-reservoir system falls to just 13.5% of capacity — at which juncture piped supply will be judged ineffectual and teams of engineers will be dispatched to shut off the valves to around a million homes.
The largest reservoir, Theewaterskloof Dam, has already mostly evaporated. It is a victim of a three-year drought and a climate whose pace of change has outstripped technological advances in mitigation measures. One onlooker remarks that the last remaining puddle is "barely wide enough to skim a stone across".
Elsewhere, supermarkets are rationing bottled water. Many hotels have removed the plugs from bathtubs to force guests to shower rather than bathe. Water tanks, pool covers and dehumidifiers — the last conveniently repackaged as "water from air" generators — have long since sold out. Anyone wanting a borehole drilled must join a year-long waiting list. Strict restrictions on water usage have been put in place, with online consumption maps supposedly maintaining discipline by shaming those who exceed the limits.
It makes for a scene that many experts expect to be replicated in cities around the globe. The emerging consensus is that if we do not re-evaluate how we use water — that is, if we continue to waste our planet's principal source of life — the Cape Town experience could be repeated virtually anywhere.
……………………………………………………………………………………
In 2010 the United Nations classified access to water as a human right. Five years later, at the World Economic Forum (WEF) in Davos, water crises were identified as the most urgent social and economic threat of the next decade — ahead of wars, epidemics and weapons of mass destruction.
Tellingly, many of the other perils highlighted in the WEF's Global Risks 2015 report were inextricably linked with water's use and management. They included extreme weather events, the spread of infectious diseases, the breakdown of governance and the inadequacy of climate-change adaptation — each a crucial component of Cape Town's plight in 2018. Carl Ganter, a member of the WEF's Global Agenda Council on Water, summed up the scale of the danger when he observed: "Water connects — it doesn't separate. What manifests itself as a regional or local crisis quickly becomes a global problem."
Wherever one looks, the prospective price of dealing with water scarcity is huge. Professor Biswas has described policies for managing water in India, the most populous country on Earth, as "unsustainable". In China, where more than 300 million people are moving from rural to industrial areas, the existing infrastructure simply cannot cope. Even the US has suffered for adopting an "out of sight, out of mind" philosophy: a wave of poisonings in Flint, Michigan, four years ago was traced to lead contamination in an underground supply system that was both ageing and investment-starved.
Water industry expert Simon Gottelier is lead manager of the Pictet Water Fund, a global portfolio of companies, many of which focus on recycling water, reducing waste or monitoring and metering. "The US has been underinvesting in its water infrastructure for 50 to 100 years," he says.
"It needs to spend between $100 billion and $150 billion a year to repair and upgrade it. Globally, the figure is $1 trillion. We won't reach that target, but this is an issue that is rising to the top of the political agenda everywhere. There is a little-understood correlation between water availability and a country's ability to grow its GDP. Underinvestment and changing weather patterns caused by climate change mean this is a problem that has to be tackled."
……………………………………………………………………………………
Many researchers and entrepreneurs believe atmospheric condensers — extracting water from air — will be on the front line of the battle to stave off global water scarcity. Often running on solar or wind power, the most sophisticated systems to date are capable of producing several thousand litres a day for just over a penny a litre. A related technology is the "fog collector", a giant mesh used to harvest cloud droplets from the mists that swirl around the mountainous regions of developing nations such as Chile, Ecuador and Peru.
Just south of Tel Aviv, Israel, stands the Sorek desalination plant. Since October 2013 it has been sucking saltwater from the ocean a mile away and turning it into useable water; it now produces around 650 million cubic metres' worth a year.
Seawater accounts for 97% of our available water resources, which is why desalination seems an obvious solution. Yet critics say current technology is expensive and uses so much energy that it exacerbates the climate problems that have led to our water shortage. Scientists are now attempting to decipher the biophysical characteristics and processes that enable certain species of fish and mangrove to desalinate themselves naturally.
Until they succeed, says Gottellier, desalination will be only part of the solution. He is a supporter of better water management. "You can increase the supply or you can use what you have more efficiently," he says. "We invest in companies that are working on both ends of the problem.
"It can be quite simple, like reducing the amount of water consumed per toilet flush or the efficiency of a shower head. And it can be sophisticated. Sensus, a US company, is developing 'smart water' capabilities to monitor water flow and identify and locate leaks quickly. It has been estimated that American utilities lose $9.6 billion each year from leaks."
……………………………………………………………………………………
It is vital to appreciate, though, that money and technology alone are unlikely to suffice. We also need to change our behaviour. Total water use has increased nine times since 1900 and is set to rise further. Can we reverse the trend of wastefulness?
Agricultural irrigation is typically cited as one of the most unconscionable wastes of all. Much of the world's farming still relies on what is known as flood irrigation, whereby fields are drenched and the excess is left to trickle off into nearby streams and rivers — generating not only waste but pollution. In tandem, many economies raise thirsty crops that are ill suited to the local climate. Aquifers — underground layers of water-bearing rock — are literally being sucked dry by the remorseless pumping of groundwater. Such practices cannot be sustained over the longer term.
Meanwhile, on an individual level, who among us can honestly claim to give serious thought to the amount of water we use? Earlier this year, when Day Zero was thought to be around 10 weeks away, residents in Cape Town were urged to use no more than 50 litres a day. It has been calculated that watering a garden for 15 minutes uses up to 250 litres of water; even washing dishes in a sink uses nearly 10 litres.
The reassuring news is that there are water-challenged areas of the world where, through a combination of better management, prudent water use and state-of-the-art technology, the problem is being addressed. Gottellier, who sees an "immense" investment opportunity in meeting the challenge, offers the example of Orange County, just outside Los Angeles, which is now home to one of the world's biggest and most advanced water treatment plants.
The plant takes waste water and uses a series of processes — including microfiltration, reverse osmosis and ultra-violet disinfection — to make it usable again. The procedure has been so successful that a depleted aquifer has even been replenished. In essence, it is a case of turning sewage into drinking water.
It might not sound palatable. But it shows what is possible.