Planning for the unplannable: adapting to lockdown at the Percy Hedley Foundation
Carole Harder, Chief Executive of The Percy Hedley Foundation, tells us about the impact of Covid-19 on the charity, how it has been adapting and the value of people and relationships.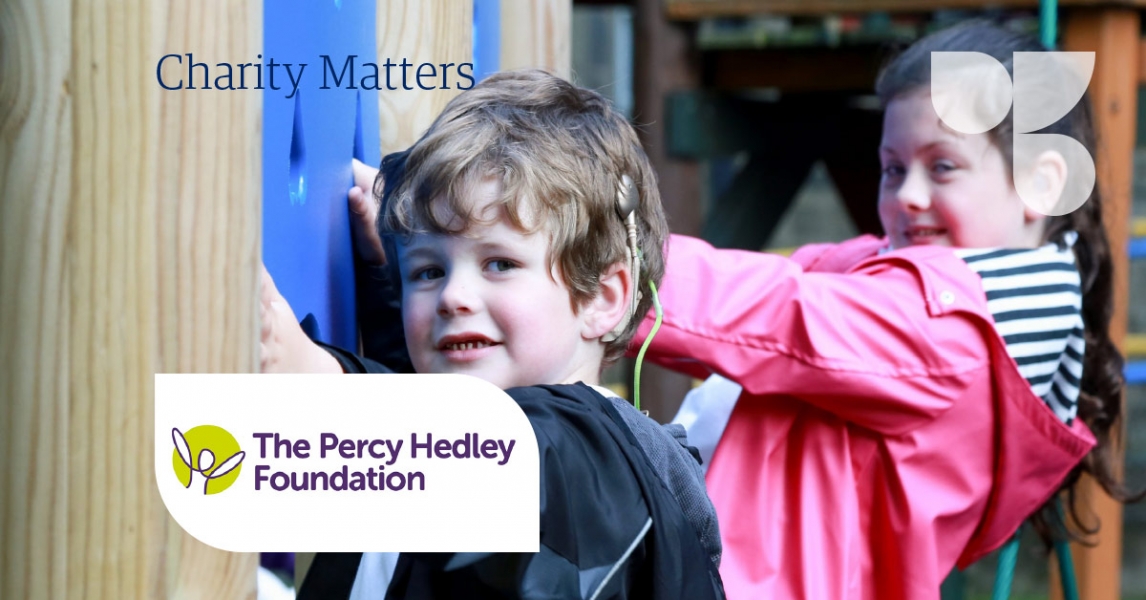 The Percy Hedley Foundation offers a range of specialist personal, residential, and educational support and services to over 1,000 disabled children and young people, adults and their families in the North East.
"People are at the heart of everything we do," says CEO Carole Harder. "And this is what is guiding us through these difficult times."
Challenging times
The Percy Hedley Foundation's service users often have multiple and complex needs, and health conditions which, says Carole, makes them particularly at risk at the moment. However, like many other charitable organisations, the Foundation has had to prioritise and limit its services during the lockdown. The charity has kept all of its schools, college and residential services open to support the most vulnerable children and young people, and is providing regular welfare checks via telephone and video calls, and home visits where necessary. "We're connecting regularly with our service users and their families to offer any support we can."
Carole says that one of the charity's biggest challenges is balancing the need to support service users while shielding staff from the virus, and managing the increasing numbers of staff having to self isolate.
Like many other health and social care services, the charity is experiencing very real challenges sourcing and procuring essential personal protective equipment (PPE), and has only recently been given access to Covid-19 tests. While they're mainly relying on existing contacts to source PPE, Carole says that the community has really rallied round in support. "The fire brigade recently brought us some PPE. The community spirit is alive and strong."
Local authorities are also understandably feeling the impact of Covid-19, and some are reviewing and have changed how they release funding. This has created another level of uncertainty for the Foundation, as the majority of its funding comes from local authority packages.
The charity sector has also been hit from a donor perspective, and Carole thinks many charities will need to rethink their fundraising strategies. Organisations linked to the NHS are understandably receiving most of the available charitable funds during the crisis – making it particularly difficult for those charities that rely primarily on donations. Furthermore, many of the large fundraising events, such as The Great North Run, have been cancelled, and charities aren't able to rely on volunteers as they normally would.
Silver linings
"The pandemic has meant that we've had to get used to different ways of looking at things and different ways of doing things," says Carole. "While it's a challenge, there are also many positives."
For example, the lockdown has forced the Foundation to find new ways to communicate. "We're using Microsoft Teams, holding daily virtual team calls, using WhatsApp for group conversations, and we've even held a very successful virtual board meeting. Our IT department has implemented technology solutions I didn't even know existed!" Carole is confident that the Foundation will be doing things differently in the longer term, benefitting from these new ways of working.
Another big positive for Carole has been the resourcefulness of her team. She says that the staff have been amazing, continuing to come in to work and provide high levels of service. "I always knew I had a good leadership team, but they have really shone during these difficult times. Our board has also been very supportive, trusting us to manage the situation as best as we can given uncertain and changing times."
Navigating the financial storm
Given the impact of Covid-19 on the economy, Carole is understandably concerned about the Foundation's financial position. A lot of the charity's investments are tied up in its pension fund, while it is also able to draw down income from its share portfolio, managed jointly by Rathbones, if required. "Last year was an exceptionally good year for us financially. This year we'll be lucky if we get anywhere near breaking even. We, like most charities, will most likely have a deficit – the challenge will be just to make it as small as possible. "
While the Foundation is fortunate in having built up significant reserves over the last few years, having put a lot of work into debt recovery, Carole says that much needed capital expenditure on some of its buildings, as part of a wider review of strategy, will have to be put on hold for now.
Although Carole is cautious about the charity's financial future, she says she has complete faith in investment manager James Garbutt and the team at Rathbones to guide it through these uncertain times. "Rathbones has been really good at staying in touch and keeping us informed. They have done a lot to protect our investments and manage our losses. We have absolute confidence in them."
The Foundation's portfolio is managed on a fairly cautious basis for a long-term endowment fund, working within defined asset allocation ranges, and Rathbones completed a full risk profiling exercise and investment policy review with the Investment Committee in 2018. Despite challenging global market conditions, the portfolio has performed relatively well since the onset of the crisis against its benchmark index. The Foundation has not needed to draw capital or income from the portfolio and there has been no change in strategy required so far.
However, for Carole, it's still helpful to know she can just pick up the phone to discuss the Foundation's investments, strategy, and anything else she may want to talk about. "Rathbones has very similar values to the Foundation – it's all about family, support, being flexible, and providing the best possible service."
Looking ahead
Of course, as for everyone, there is a lot of uncertainty about what the future holds. While it's difficult to know how Covid-19 will affect the Foundation's services, Carole is confident it will be able to adapt as necessary. "We've always been a very flexible organisation, so we're able to change what we're doing very quickly."
Carole also expects to see future budget cuts from local authorities. As such, she knows the Foundation is going to have to think about adapting its services. For the time being, her team is doing its best to strengthen their relationships with the local authorities and help out however they can. "It's these relationships, and those with our service users, their families and communities, that is what is going to last through the difficult times."
Prior to this crisis, the Foundation put a lot of effort into creating business continuity plans and Carole believes these have been key in helping them manage the situation. Over the years, she's learnt that it's important to "have a plan as far as possible for the unplannable".
Carole believes charitable organisations should be focusing on their staff and service users and planning for the longer term. "What guides me in these difficult times, is that the people come first," she says. "We will come through this. And it's the team you bring with you and the relationships you continue to build that will sustain organisations."
To find out more about The Percy Hedley Foundation visit percyhedley.org.uk or contact c.harder@percyhedley.org.uk