Professor calls for new approach to food at the City Food Lecture
With Rathbones' recent move into the City of London, we were delighted to continue our support of its livery companies with the annual City Food Lecture.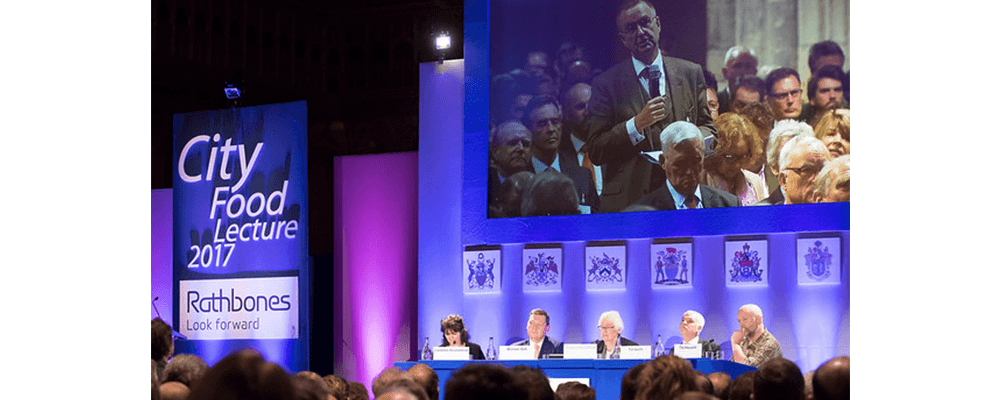 Livery companies play an integral part in the development of the city, the activities of each being intertwined with the daily life of the Square Mile.
Held at London's Guildhall, the City Food Lecture is one of the most prestigious events in the food industry's calendar, bringing together industry leaders, academics and members of London's leading food-related livery companies, namely, the Worshipful Companies of Bakers, Butchers, Cooks, Farmers, Fishmongers, Fruiterers and Poulters.
This year's lecture was prepared by Chris Elliott, the professor of food safety, and founder of the Institute for Global Food Security at Queen's University Belfast and delivered by Michael Bell, executive director of the Northern Ireland Food and Drink Association.
The speech focused on the impact of the complex global food supply system, highlighting Professor Elliot's view that this has had massive and negative impact on our ability to understand, and indeed care, where our food comes from. The wide-ranging address covered the UK's growing dependency on importing food and the effects of our £20bn balance of payments agri-food deficit.
Professor Elliot argued that the UK agriculture and food industries are being sacrificed, to keep food prices low, provide consumer choice and maintain political stability. He also stated his belief that the UK agriculture industry does not compete on a level playing field.
The lecture was followed by a panel debate chaired by businesswoman Margaret Mountford and featured LEAF chief executive Caroline Drummond, writer and broadcaster Tim Hayward and Tesco group quality director Tim Smith.
The event was rounded off with an informal networking supper in the Guildhall's famous Old Library room.
For more information visit www.cityfoodlecture.com