Rathbones hosts Civil Society's charity trustee governance training with Dorothy Dalton
On 17 January, Rathbones' charity team hosted the first in a series of Civil Society's flagship training sessions for charity trustees, Understanding governance: the trustee role.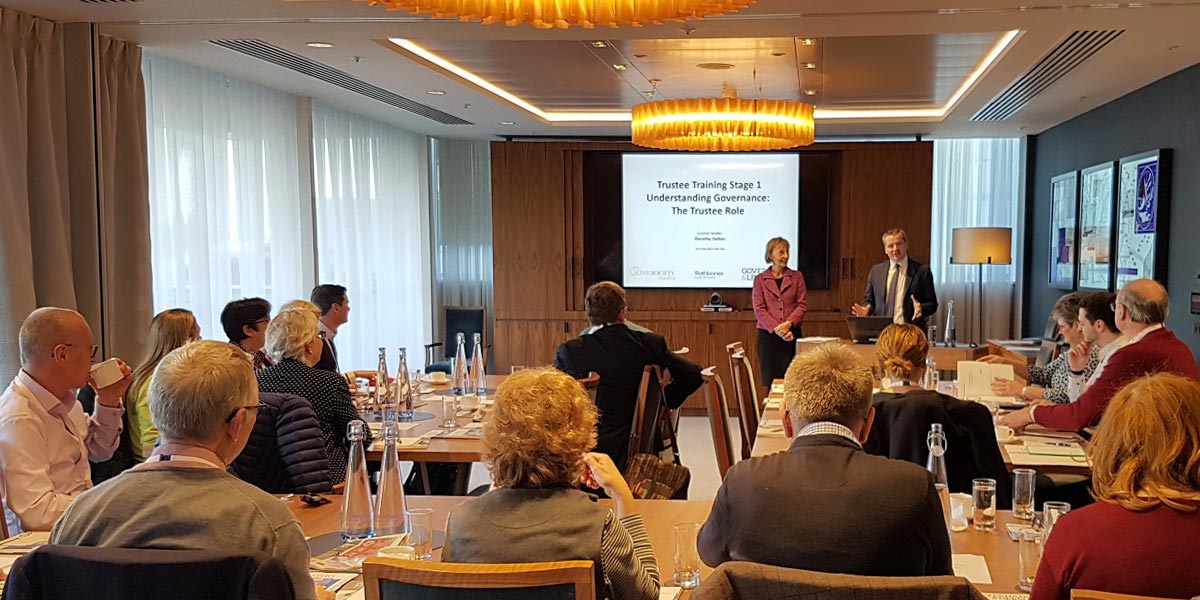 James Brennan, investment director and head of business development at Rathbones, welcomed a full complement of charity trustees to Civil Society's training held at our office in Finsbury Circus, London.
The training was delivered by Dorothy Dalton, a leading expert on governance in the charity space. She has written several books on the subject and was founding editor of Governance: essential information for effective trustees – a post she held from July 2005 to January 2016. With a 'first' in mathematics, Dorothy, a former head teacher, was chief executive of ACEVO, the Association of Chief Executives of Voluntary Organisations from 1992 to 2000. From 2000 to 2003 she was a non-executive director of the Inland Revenue. She is currently chair of governors of the Petchey Academy in Hackney. She has been a trustee of many charities including Marie Curie and has been chair of trustees of the Journey of a Lifetime Trust and chairman of governors of Orley Farm School Trust. She is a fellow of the Leadership Trust Foundation and of International Students House. She founded the Journey of a Lifetime Trust, the Network of Women Chairs, and Groundbreakers: Voluntary sector women leaders.
Dorothy discussed the changing environment for charities and what is required of trustees. The new CC3 duties of trustees was covered including collective authority and responsibility, acting solely in the interests of the charity and not benefiting. The training also included what governance means for charity trustees, the information they need to be effective in their role, the importance of agendas and the relationships with the chief executive and chair of trustees.
Governance is a subject close to our hearts at Rathbones. We are a member of the FTSE4Good Index Series which only includes companies that demonstrate strong environmental, social and governance credentials. Separately, as a signatory to the United Nations-backed Principles for Responsible Investment, we are committed to considering corporate governance when deciding whether or not we should invest in a company on behalf of our clients.
We are therefore proud sponsors of the production of Financial governance: a gentle guide for the non-financial charity trustee, authored by Dorothy Dalton and jointly published with the Association of Chief Executives of Voluntary Organisations (ACEVO).
Vicky Browning, CEO of ACEVO, noted: "This guide is designed as a first and gentle introduction to charity finances, aimed at trustees who haven't had experience of this area before. By giving it to new or less experienced trustees and even experienced trustees who lack confidence when it comes to financial governance, you can steer them towards the areas where they should have informed oversight, and give them the confidence to know they're asking the right questions to meet their duties."
"The key to good financial (and any other) governance depends on the trustees understanding their role and duties… We welcome this new piece of guidance as it sets out clearly the things trustees will need to know when looking at investing their charity's funds and is a useful addition to the resources available to the charitable sector."
Sarah Atkinson, Director, Policy and Communications, Charity Commission.
View and download the publication here. If you have any questions please contact a member of our charities team.