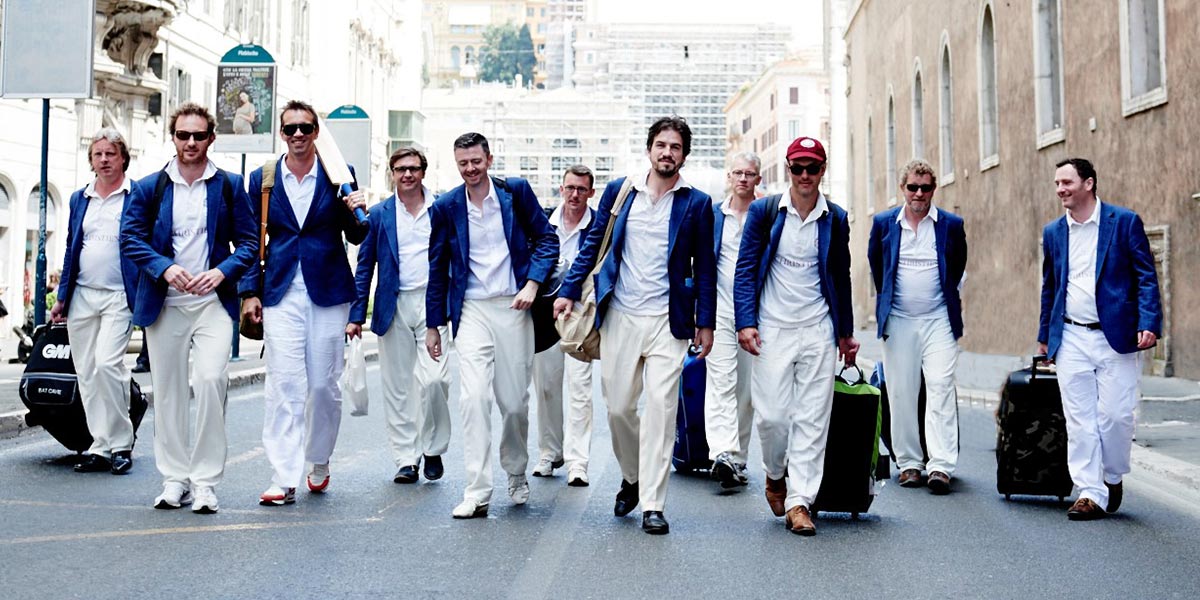 As part of the Rathbones Folio Prize programme of events, we are delighted to be sponsoring the Authors XI cricket team during their 2019 season. Rathbones is truly committed to supporting the arts, education and sport. Since 2012, the Authors XI have raised tens of thousands of pounds for charity and will be raising money again this year with  matches for The Lord's Taverners and Afghan Connection, a charity promoting cricket as a unifying force for boys and girls in Afghanistan.
The Authors are one of the world's oldest wandering cricket teams and many eminent writers and cricketers have played for them. An offshoot of the Authors' Club, they played regular matches at Lord's against the Actors, Artists, Jockeys and Publishers until 1912. Arthur Conan Doyle and PG Wodehouse turned out regularly for the side, even opening the batting together. AA Milne was the best fielder, JM Barrie probably the worst and EW Hornung somewhere in between. The one-time England captain and Prisoner of Zenda star C Aubrey Smith led the Actors, and went on to found the Hollywood Cricket Club with Boris Karloff. Wodehouse was the club's first secretary.
In the 1950s, the Authors played regular matches at Vincent Square against the Publishers. Alec Waugh and Edmund Blunden were joined by Test legends, including Len Hutton, Douglas Jardine and Denis Compton. In 2012, a century after their last match at Lord's, the Authors took the field again. They revived the traditional games against the Actors and Publishers and faced other opposition, including the Lords and Commons at Sir Paul Getty's beautiful Wormsley ground, the Gaieties at Lord's (covered by Radio 4's Front Row) and a Wisden XI in Victorian garb to celebrate the 150th edition of the Almanack. That winter, the Authors toured India, playing at Bombay Gymkhana, the venue for England's first Test on the subcontinent, and opening the Jaipur literary festival with a spectacular match against a Rajasthan Royals XI. The captains rode out for the toss on camels and the Authors made the front page of the world's largest newspaper, The Times of India, the next day.
Since then, the Authors have beaten the national team of Japan and toured Sri Lanka, where they played eight matches in nine days, against teams of prison guards, tea planters and the Colombo Colts. They donated two pitches and four kit bags to local schools there, sponsored a promising young player, and were, very briefly, mistaken for the England team.
In 2015, they travelled to Rome to play the Vatican and presented Pope Francis with his own Authors cap. In 2017, they faced the national team of Iceland in a three-match series in Reykjavik, losing to the Puffins 2-1. The Authors have played at numerous festivals, including their own EFG Words & Wickets, which celebrates cricket's long and great literary tradition.
Rathbones' own XI take on the Authors on 25 July at Dulwich College, the ground at which PG Wodehouse played his cricket.
If you'd like to attend any of the matches, please email louise.willows@rathbones.com
Authors XI 2019 Fixtures
Friday 3 May – Chilmark CC (Chilmark) 6pm
Saturday 4 May – Fonthill Park CC (Fonthill) The Author's annual Wiltshire tour.
Sunday 12 May – Tilford CC (Tilford) Each county has a pre-World Cup event, where the trophy will be flown in and this is Surrey's day. There will be a marquee, barbecue, coaching and a decent crowd. Tilford is an iconic ground and the club where Silver Billy Beldham played his cricket in the nineteenth century.
Sunday 19 May – Home Park (Eton) Annual match vs Eton Masters.
Sunday 26 May – Gaieties CC (Stoke Newington) Harold Pinter's old team at their home ground.
Sunday 2 June – Devil's Advocates CC (Chiswick House) A side of lawyers.
Sunday 9 June – Heartaches (Aston Rowant) Sir Tim Rice's team.
Sunday 16 June – Shenington Sloggers (Wroxton) Charity game near Oxford.
Sunday 23 June – Avebury CC (Avebury) An all-day game amongst the stones of Avebury, to celebrate the summer solstice. 
Sunday 30 June – Faire Is the XI (Chiswick House) Playing against a team of choristers who raise money for the Cystic Fibrosis Trust. 
Tuesday 2 July – Burghley Park CC (Burghley Park) Part of Burghley Park cricket week. One of the strongest sides the Authors face.
Saturday 6 July – V&A CC (Stonor Park) Once the museum's cricket team, now a wandering side like the Authors.
Sunday 7 July – Wisden Cricket Monthly XI (Ascott House) 
Friday 12 July – Publishers (Dulwich College) One of the original Authors' fixtures, on the pitch where PG Wodehouse played his cricket. 
Saturday 20 July – Actors or Lords & Commons (Dulwich College) 
Thursday 25 July – Rathbones XI (Dulwich College) 
Sunday 28 July – Middleton Stoney CC (Middleton Stoney) A beautiful ground north of Oxford.
Tuesday 30 July  – Refugee Cricket Project (Arundel) This is a game against young Afghan migrants who are being helped on their arrival to the UK. 
Thursday 1 August – Bradman Foundation XI (Eton) Match against a strong touring side from Australia.
Sunday 4 August – Old Alleynians CC (Dulwich College) Competing for the Wodehouse Cup against an Old Boys side. 
Thursday 8 August – Walmer CC (Deal) 
Sunday 11 August – Hambledon CC (Hambledon) One of the most historic grounds in England, where many of cricket's laws were decided upon, including the width of the bat and the introduction of a third stump.
Saturday 17 August – Royal Household CC (Frogmore) Playing against the Queen's team, right next to the Duke and Duchess of Sussex's new house.
Saturday 24 August – HAC CC (HAC) The Artillery ground is one of the most historic and amazing venue's to watch cricket. 
Sunday 25 August – Thespian Thunderers CC (Ascott House) 
Sunday 8 September – Chertsey CC (Chertsey) A new fixture at yet another very historic ground. 
Tuesday 10 September – Lord's Taverners (Wormsley) Showpiece charity game against former professionals, raising money for the Taverners. 
Sunday 15 September – Warborough & Shillingford CC (Warborough Green) A lovely village ground that features in ITV's Midsomer Murders.
Sunday 22 September – Chelsea Arts Club CC (Stonor Park) Another wandering cricket side, loosely affiliated to the club. 
Sunday 22 September – Afghan Connection cricket tournament (Sandhurst). Raising money for Afghan Connection, which is a charity promoting cricket as a unifying force for boys and girls in Afghanistan. 
26 to 29 September – Corfu tour. The Authors return to Corfu for the second Corfu literary festival and some more cricket.