Regional renaissance
In a post-Brexit world, Britain may have to become less reliant on its financial services sector and the South East.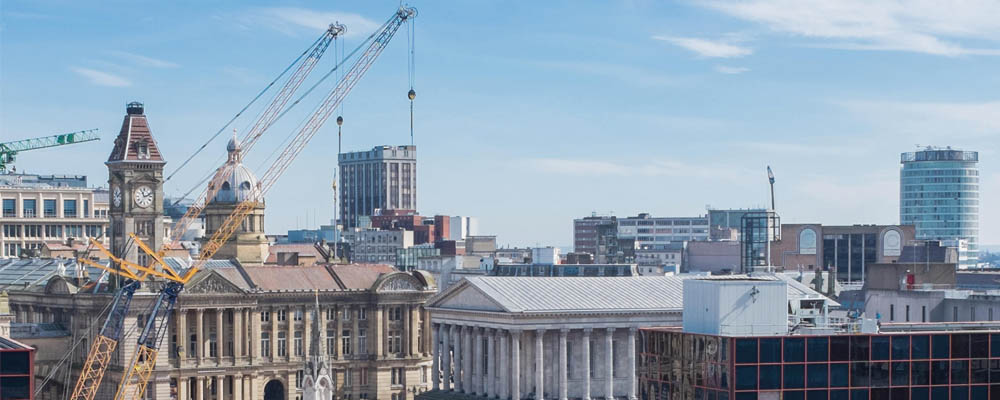 Sir John Peace, Chairman, Midlands Engine
Former chancellor George Osborne was committed to encouraging greater diversification in the UK economy and was a big promoter of the "Northern Powerhouse" — an economic region stretching from Manchester and Liverpool to Leeds and Newcastle.
Do you see a renaissance of the regions in Britain?
Yes and no! Go to Birmingham, look at all the cranes, the changes, the infrastructure investment with HS2 for example. There is clear, physical evidence of progress there, and it is not alone.
Confidence is coming back with our young people. In the Midlands we are seeing the emergence of a whole new generation of entrepreneurial, technology-led businesses built on brilliant ideas.
The region is also underpinned by some tremendous large, global and genuinely world-class businesses, like Boots, Jaguar Land Rover, JCB, Rolls-Royce and Bombardier, which have a real sense of ambition at the moment too.
But in my view a huge amount of work still has to be done. It is essential we rebalance the economy and that means places like the Midlands Engine and the Northern Powerhouse needing more investment and attention than they have had in the past.
We need to drive economic growth so that we can provide better opportunities to create jobs especially for young people. There are still some significant social issues that we need to tackle, too — in particular, education results in the Midlands are below the national average.
If we have to rebalance the UK economy does that mean it is currently unbalanced?
We have become too dependent on the South East, on London in particular, and on financial services, but I qualify that. I think London is the best capital city in the world bar none, and my comments are not meant to be negative about London and the South East but more to illustrate the need to rebalance geographically, economically and socially.
The dependence we have had on financial services — which are still very important to the UK — means that it is critical for other sectors to emerge which will offset any possible reduction following Brexit. Coming back to the Midlands, we have some genuine global strengths here and it is vital we build on them.
What are the Midlands growth sectors that excite you?
The Midlands is very good at making things. We have the largest concentration of advanced manufacturing businesses here, with some powerful global brands producing high-tech products in innovative ways. We collectively employ something like 460,000 people in that sector and it is capable of significant development.
I'm also very taken by the strength in life sciences. We have a corridor stretching from the Queen Elizabeth Hospital in Birmingham through to the Queen's Medical Centre in Nottingham which is creating tremendous new opportunities and we're carrying out significant research within our universities.
And don't forget our service sector. We have some very large companies growing their businesses in accountancy and professional services, finance and banking. We have significant fintech expertise here too — expertise that has been developed over many years.
One of the great strengths of the Midlands' economy is the diversity of the opportunities and industrial sectors developing here. There is still ground to make up but we have global strengths and real entrepreneurial attitudes.
What purpose do labels like Midlands Engine and Northern Powerhouse serve?
These badges give scale and focus to particular parts of the country and help us to unlock significant potential. A powerful example of that is provided by our trade missions to China. Birmingham is a large city in its own right, but if you look at the Midlands as a whole then you have a regional banner covering some 10 million people. In a country like China that kind of size makes a material difference to the way in which you are viewed.
They also represent a rallying cry for our collective potential. I think people would be amazed at the long history of scientific, industrial and cultural creativity in the Midlands and the number of global products and brands that it has given birth to. It is something we should all be proud of, but we have to build on it and we'll do that best together.
What do you think the Northern Powerhouse has achieved and should the Midlands Engine replicate that?
I don't see the Midlands Engine as being in competition with the Northern Powerhouse or with Scotland or Wales. Our competitive landscape is one that takes in the likes of Shanghai, Frankfurt and New York, and if it makes sense on occasion for the Midlands Engine and Northern Powerhouse to cooperate and collaborate then that's something we should have no hesitation in doing.
The Northern Powerhouse has been around longer and I think George Osborne did a good job in bringing some focus to it. Having received some early financial support from government, the Midlands Engine is not far behind now and if there are things that the Northern Powerhouse has done that we can adapt — or vice versa — we should do so.
How is this relevant to the Brexit debate?
Very relevant! Advanced manufacturing is hugely important to the Midlands' economy and we have companies here not just exporting finished products to the EU but dealing with goods which move backwards and forwards multiple times before they reach a finished state. The Brexit negotiations are a very important issue for these companies and are something we are focusing on very carefully.
Right now, the Midlands is the only region that has a positive trade balance with China. We will need to widen our exports as a post-Brexit economy gears up so over the next two years we have 20 trade missions planned to different parts of the world.
I'm stressing the importance of good relationships with the EU. Our biggest trading partner is Germany, France is third, the US second. So it is extremely important that we increase the number of opportunities we create for businesses to export and seek investment not only from existing markets but new ones as well.
We need to secure investments not just in businesses but in infrastructure and new areas of growth. The government has set up a British Business Bank investment fund of £250 million. That's a substantial sum, but on its own it is not enough to support the investment requirements of Midlands businesses in a post-Brexit economy.