Review of the week: Can warm words stop a cold war?
Last week chief investment officer Julian Chillingworth set the scene for what proved to be a week of happy mood music from major central banks. This week all ears will be tuned to the G20 summit of world leaders in the hope of hearing more of the same on the trade front.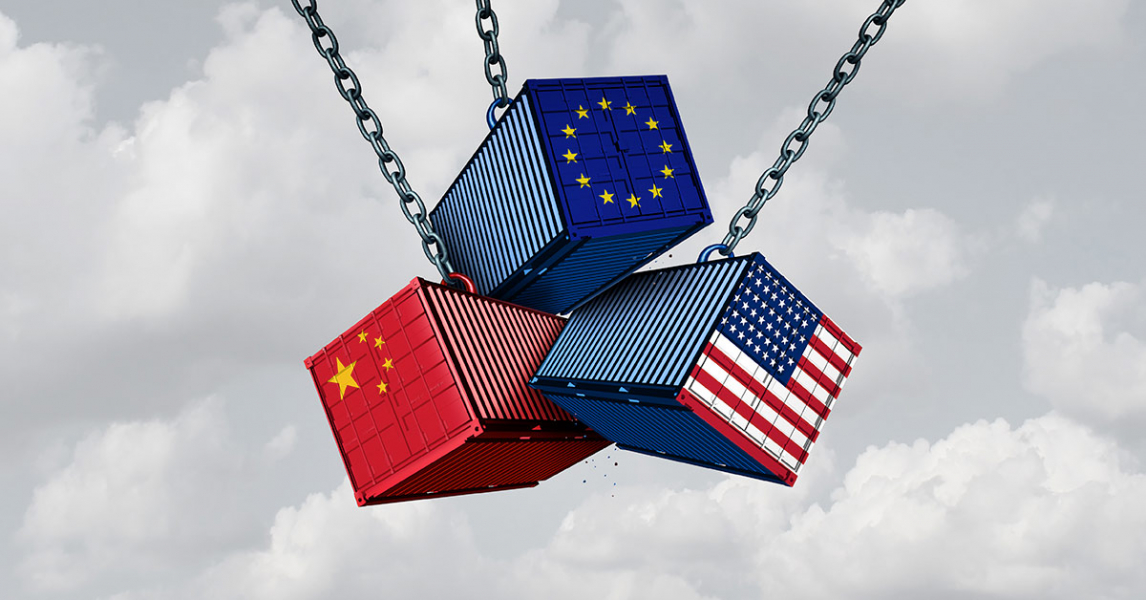 The idea that politics have little relevance for markets seems quaint and naïve sitting here in 2019. With the world in desperate need of wise and statesman-like political leaders, there's plenty to worry about, but markets are hopeful ahead of this week's G20 summit of world leaders in Osaka.
Last week safe havens continued their advance; gold set a six year high and rallying government bonds sent benchmark 10-year yields in the UK, US and Germany to fresh lows. Still, equity markets seemed determined to keep the party going too. Jerome Powell and Mario Draghi, the respective chiefs of the US Federal Reserve (Fed) and European Central Bank (ECB) were happy to oblige, with talk of possible rate cuts and new rounds of money printing in Europe.
Equities across the globe remained in a buoyant mood, numbed to the political aches and pains. Meanwhile, America narrowly averted stumbling accidentally into armed conflict with Iran and, although Donald Trump was in a conciliatory mood on trade, his antagonism could still be lurking just below the surface.
All ears will be tuned in to the G20 summit of global leaders in Osaka this coming weekend, where investors are hoping for some soothing balm from Presidents Trump and Xi that will avert a breakdown in negotiations and a new cold war that could set frosty economic winds blowing across both their economies and the rest of the world. The stakes are high. Even without such a breakdown, the World Bank reduced its estimate of 2019 global growth from 2.9% to 2.6% earlier this month. Despite the increasing trade attacks on China, the country's growth forecast has actually held up well in the most recent appraisal – lower, at 6.2%, but stable. Year-on-year, China's growth is expected to decelerate from 6.6% last year to 6.2% this year.
For his part, President Trump plans $300 billion of extra tariffs at the end of June if no progress is made at the G 20 meeting. If that goes ahead, American retailers will have to choose the lesser of two evils – either absorb the rising cost of imports and watch their already meagre profit margins evaporate some more, or raise prices and watch their sales bleed away to cheaper competitors. Whether the President takes any notice of US industry is debatable. China's President Xi has been more circumspect, but no doubt has a potent arsenal at his disposal if the right concessions aren't forthcoming.
Much of last week's equity gains came after news that Messieurs Trump and Xi would deign to speak to each other at the G20. If hopes for a constructive dialogue come to fruition, those gains could be extended. But either way, economic reality is likely to reassert itself sooner or later. We're not giving up on equities, but a raft of slowing global leading indicators suggest a defensive positioning within these markets would be prudent.
| | | | | |
| --- | --- | --- | --- | --- |
| Index | 1 week | 3 months | 6 months | 1 year |
| FTSE All-Share | 1.1% | 2.1% | 13.1% | 1.4% |
| FTSE 100 | 1.1% | 2.2% | 13.3% | 2.6% |
| FTSE 250 | 1.5% | 1.3% | 12.9% | -3.7% |
| FTSE SmallCap | 0.5% | 2.8% | 11.3% | -2.4% |
| S&P 500 | 1.6% | 6.9% | 22.9% | 13.7% |
| Euro Stoxx | 2.2% | 6.6% | 16.2% | 4.0% |
| Topix | 0.9% | 5.2% | 9.6% | -2.6% |
| Shanghai SE | 4.0% | -3.2% | 19.4% | 2.8% |
| FTSE Emerging Index | 1.9% | 2.3% | 11.6% | 6.9% |
Source: FE Analytics, data sterling total return to 21 June
So close yet so far
After a week of debates and MPs ballots – borrowed, spoiled or otherwise – we're closer to knowing who will lead the Conservative government through the next phase of the Brexit morass. But we may be no closer to the conclusion of what we've been calling a 'never ending story'.
The erstwhile dark horse in the leadership race, Rory Stewart, may have sealed his fate by daring to give voice to a reality most of the rest of his peers in the Conservative Party seem loathe to accept - renegotiating a deal with the EU before the 31 October departure date may be nigh-on impossible.
UK stocks joined the party in equity markets last week, despite the risk of a no-deal being higher given the likelihood that Boris Johnson, the champion of Brexit, will be the next leader. Mr Johnson and Jeremy Hunt, the other remaining contender, will now spend the next month battling for the votes of the 160,000 grassroots party members. Both claim they would take the UK out of the EU, but only Mr Johnson is prepared to press the 'no deal' button, Jeremy Hunt currently is not.
Mr Johnson, who starts the race fighting off some negative press based on an opportunistic neighbour's recordings of a row with his partner, is rumoured to be drawing up plans for an early election if he becomes the leader. Meanwhile Chancellor Hammond, in a speech at the end of last week, urged both contenders to consider holding a general election or second referendum to break the Brexit impasse and avoid a damaging no-deal divorce.
We all know how both those ideas turned out the last time they were tried. And with that in mind, we can at least take solace in the fact that UK-listed companies in general have surprisingly little exposure to the domestic UK economy.
For our views on recent Brexit developments, read our latest InvestmentUpdate.