Sorting your financial affairs
The lockdown has put pressure on many households, like those juggling work and childcare or home schooling. But it has given others time to catch up on tasks they have been putting off. Here we offer a helpful list of financial affairs jobs that people often procrastinate over.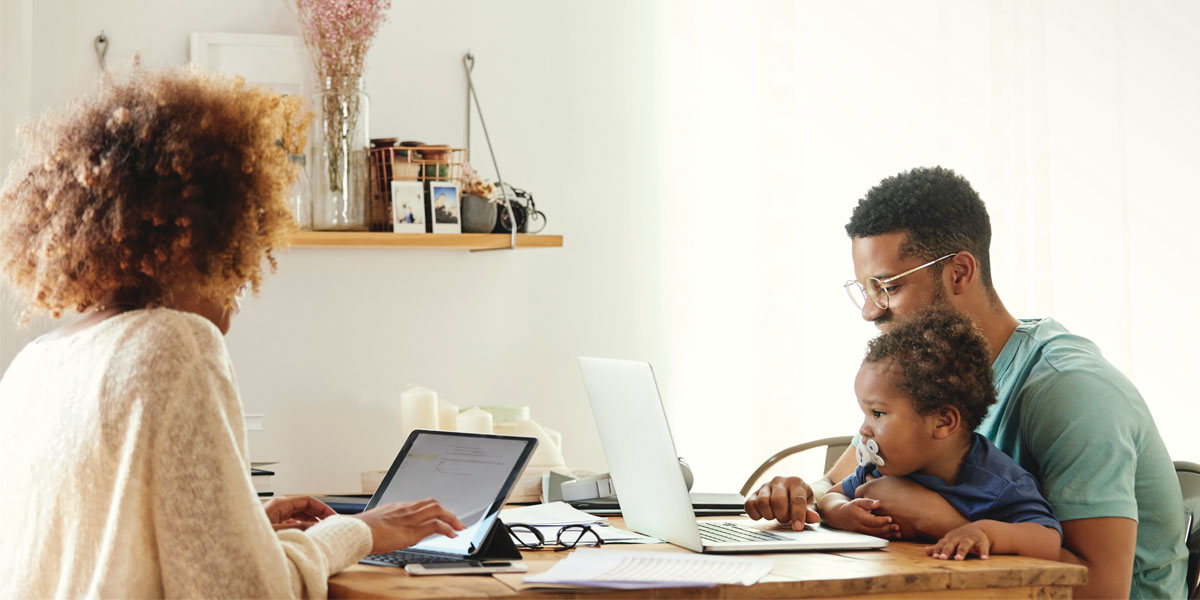 Write/update your will
More than half of UK adults have not written a will, according to recent research. Six out of 10 parents do not have a valid will.
Rathbones financial planner Stuart Grennan says: "It's very common to find that busy people have not made a will or it's horrendously out of date. A correctly drawn-up will can prevent delays in the distribution of your wealth at an already stressful time. It can ensure money goes to the right people. It can even help save inheritance tax."
For many, a will can be a simple document. It can outline that your spouse inherits everything on your death and — on theirs — that assets are equally divided among the children. An accompanying codicil, or simple letter, might summarise how one or two personal items are to be distributed. For others, particularly those with non-nuclear families — including children from a first marriage and stepchildren from a second, for instance — it can get more complex.
A number of online services now make it relatively easy to complete a simple will (though getting witness signatures in lockdown might be hard), but for a complex will it is usually better to consult a solicitor. Your financial adviser can offer useful insights to ensure you have thought through all the necessary issues in drafting your will.
Wills do need updating — particularly after life events like divorces, weddings and births of children and grandchildren. Think about whether your chosen executor is still the right person for the role, too.
Stuart says: "I've come across cases where a named executor is an old friend they have lost contact with or a spouse who now has dementia. Finalising an estate can be a time-consuming and difficult job, and it may be that you should appoint a professional to the role — though this will incur costs."
Put in place and update 'expression of wish' letters
Though you may have an up-to-date will, your pension provider or SIPP holder needs to know who is to be the beneficiary of your pension on your death. This is done through a simple expression of wish letter or completion of an online form.
Stuart says: "This is particularly relevant now that savings in pensions are free of inheritance tax (IHT). It means many people prioritise drawing income from elsewhere first, with the intention of leaving as much money as possible in their pension pot for children or grandchildren to inherit. If that's the plan, you will want to ensure it goes to them."
Put in place powers of attorney
Lasting powers of attorney (LPAs) give legal authority to those you wish to make decisions on your behalf in the event of you being incapacitated — whether physically or mentally. In England and Wales there are two main types — a health and welfare LPA and a property and financial affairs LPA.
The first gives an attorney (named family members, for instance) power to make decisions about your medical care, moving into a care home or delivery of life-sustaining treatment. The second gives them power to make decisions about your financial affairs.
In Scotland there are three types — a "Continuing POA" for financial issues, a "Welfare POA" for health and personal matters and a "Combined POA" covering both.
There are set forms to complete, and the process is administered by the Office of the Public Guardian. The forms are a little complex, and a solicitor can help — although professional advice is not necessary. You will require witness signatories.
There is also a little-known business power of attorney. Stuart says: "The concept is the same but for business owners. If you have a small business and you are the one that signs the cheques and makes key decisions, what would happen if you were incapacitated for several weeks and unable to pay invoices or wages?"
While thinking about this, business owners may want to consider putting in place "Shareholder Agreements", saying clearly what process is in place in the event of the death of one or more shareholders.
Review your insurance
Life insurance is designed to pay out a lump sum (though sometimes an income) on your death. It can be set up to protect a mortgage debt, to support family members on the death of a breadwinner or to insure against IHT liabilities. It is worth periodically reviewing your cover levels.
If you have not done it already, consider writing the policies in trust. This can help ensure beneficiaries receive the proceeds more efficiently and can reduce IHT liability. It is neither expensive nor complicated but advice is crucial.
Think about other insurances while you are at it — like critical illness cover. Simple insurance is easy to arrange. If you have underlying health issues and your policy needs underwriting with a medical report, however, this is likely to be difficult at the current time, as doctors have other priorities.
Review your IHT position
The number of people paying IHT has doubled in the past nine years. The tax generated £5.4 billion for HMRC in 2018/19. Each of us has a nil-rate band (the amount of assets that are exempt from IHT) of £325,000. This rises to £500,000 if you own your home (or a share in it) and plan to leave it to your children or grandchildren and your personal estate is worth less than £2 million. It means a couple may have a combined IHT exemption of £1 million.
" If you leave 10% or more of your net estate to charity then your IHT rate is reduced to 36%."
As already mentioned, assets in a pension are currently exempt from IHT as well. Anything outside the IHT exemptions is taxed at 40%. If you leave 10% or more of your net estate (the element that is taxable) to charity then your IHT rate is reduced to 36%.
The IHT rules are complex, and a financial adviser can help you navigate them safely. With smart planning, you can seriously reduce the amount of tax paid from your estate.
If your estate is liable to incur IHT and you have not done any IHT planning then it is worth discussing this with a financial adviser, who will help you draw a plan to put the right structures around your assets and ensure you are saving — and spending — your money tax-efficiently.
Tidy and summarise your affairs
It is worth considering what it would be like for your loved ones to manage your affairs if you were to die suddenly. Is everything in one place? Is it neatly labelled? Do you have piles of obsolete documentation that is better shredded than left to confuse a family member who might spend hours chasing a with-profits policy you cashed in years ago or a pension you transferred elsewhere?
Rathbones clients can contact their financial planner who can help them pull together key details into a summary for loved ones that will cover things such as:
— Where my important documents are kept
— People to call (name, relationship and telephone number)
— Summary of my will, the name of my executors and where a copy can be found
— Powers of attorney documents
— Assets held in cash, investments, property, pensions, etc
— Life cover provider(s) and details
— Details of other insurances (home, car, etc)
— Tax details, including your unique taxpayer reference and National Insurance number
— Contact details for trusted professional advisers
You should also think of your digital life. Stuart says: "Until fairly recently, your financial life left a long paper trail that could be picked up by anyone tidying your affairs. Now, everything is digital and it's more important than ever to provide access on death to information as to where your assets are and, if appropriate, relevant online details. It's probably worth including information about your email accounts — this can be a good place for your loved ones to pick up on ongoing communication that needs to be dealt with and which would once have arrived through the letterbox. Think, too, about how your loved ones might access music and photos that are stored online and how they might close down your social media accounts. The challenge, of course, is storing the summary safely — and keeping it updated."
Enjoy your money!
" This is also a good time to think about whether you are making the most of your money."
Ending on a positive note, this is also a good time to think about whether you are making the most of your money. A financial plan built using cashflow modelling can liberate you to enjoy spending capital you know you do not need. For some this means travelling — when it is permitted again. For others it means giving money to charities, children or grandchildren and taking pleasure from seeing it help fulfil their needs. For many it means a combination of all these things.
This could be a good opportunity to re-evaluate your needs and desires and work out how your money can enhance your wellbeing and happiness.
Our expert in-house financial planners have long-standing experience of advising individuals, couples and families, companies and trusts. Visit rathbones.com/planning to learn more.