Taking time to listen
Alison Lowe, Touchstone's CEO and Darren De Souza, Community Health Development Manager talk about the Touchstone Loves Food initiative, the charity's open and trusting culture, and the power of really listening.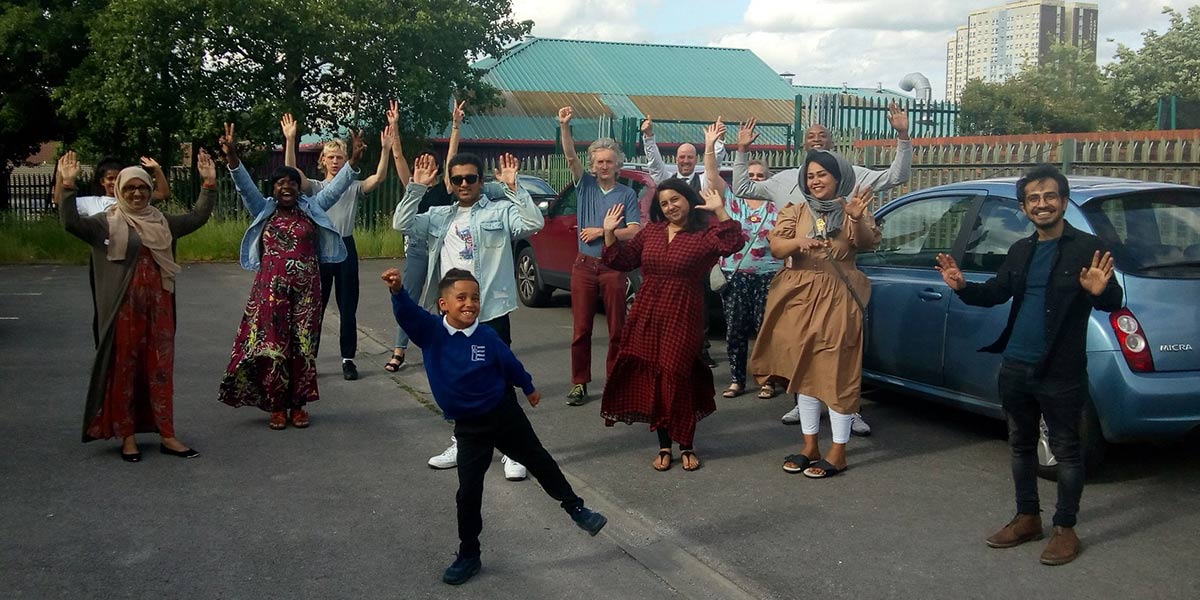 Touchstone is a mental health and wellbeing charity that specialises in eliminating health inequalities in underserved and marginalised communities, including Black African, Caribbean and South East Asian communities, refugees and asylum seekers, and LGBTQI+ groups across West and South Yorkshire.
The Leeds-based charity not only delivers vital services to meet these groups' mental health and wellbeing needs but uses its expertise to amplify the voices of vulnerable groups with service commissioners and other stakeholders.
Well-earned recognition
"Within a few hours of the start of the first lockdown, Darren and his team were delivering food to some of the most deprived neighbourhoods in Leeds."
Touchstone was recognised at this year's Charity Awards for its incredible work during the COVID-19 pandemic. The charity received the COVID-19 Response Award, sponsored by Rathbones, for its 'Touchstone Loves Food' initiative.
Community Development Manager Darren De Souza explains: "Touchstone Loves Food (TLF) came about through really listening to our service users. When COVID first hit, we already knew that some of our communities would be less worried about the virus and more concerned with how they were going to feed their families if their usual services weren't operating, or if they couldn't go out because they were shielding."
Within a few hours of the start of the first lockdown, Darren and his team were delivering food to some of the most deprived neighbourhoods in Leeds.
The team quickly realised they would need a more sustainable solution, so they set up a referral process and food delivery system. Within six weeks, TFL was supporting over 400 people and within 12 weeks the team was providing five hours' of much needed one-to-one phone support a day.
Darren explains: "People were scared and incredibly anxious. But because everyone helped out, TLF allowed us to meet our service users' basic food requirements while also providing much needed mental health and wellbeing support."
Fundraising challenging
With rapidly increasing demand for TLF, Darren and his team launched a fundraising appeal for the first time.
Through a video on TikTok and an application to the Big Lottery Fund, they successfully raised close to £200,000. Darren says: "This money should fund TLF until the end of September 2021, allowing us to continue helping some of the many people who have been left bereft during the crisis."
Having successfully delivered its emergency response to COVID-19, the charity is now working on an exit plan, which includes helping service users to become more resilient. However, Alison and Darren know there are going to be many ongoing COVID-19 welfare and mental health repercussions, which might necessitate a new form of support, particularly within the most marginalised communities.
The Touchstone timebank
Like many other organisations, Touchstone has moved many of its support services online during the pandemic. However, rather than furlough under-utilised staff, it created an online 'timebank' through which individuals with spare capacity could volunteer their time to other services and do whatever they could to help.
"The timebank allowed our team and volunteers to continue working and meant we had enough people to run TLF, which was growing exponentially," Alison says.
Adjusting to the pandemic
Touchstone had to make a number of changes to its working practices during the pandemic, alongside setting up the timebank.
This has included increasing the frequency of team meetings and creating virtual 'spaces' to allow colleagues to catch up informally. It also lifted the cap on its staff counselling service, organised weekly wellbeing activities and found creative ways to hold team 'away days'.
Darren says: "Our staff's wellbeing and personal connections are integral to how we work, so it was crucial that we were able to maintain these."
An open and safe culture
Alison and Darren attribute a lot of the charity's resilience to its open and welcoming culture. During her time at Touchstone, Alison says she has had to face up to some of her own personal experiences and the impact they have had on her health and role as a senior leader. This led to the realisation that many of her staff might be feeling and experiencing similar issues. She says: "As the CEO of a mental health organisation, I felt I had a responsibility to share my lived experiences with the team because if I could tell them about my journey, they could tell me about theirs."
The team now actively and openly talks about its mental health and difficult experiences. Alison says this is key to Touchstone's culture and resilience: "It's not only okay to talk about these things – it's positively welcomed. It's a really safe environment in which our people can be themselves."
Darren adds: "Our success is down to our leaders' belief in us. They enable us to be our authentic selves, to share our stories and to be vulnerable. So we trust people, and we will always do the right thing by our staff and our communities. As a result, people are truly committed to Touchstone and want to go the extra mile."
Silver linings
In spite of the many COVID-19-related challenges Touchstone has faced, Alison and Darren believe the pandemic has also brought about new opportunities.
For example, by offering services remotely, it's able to reach new and different demographics. As a result, most of its 'reset' plans include a 'blended' service delivery offering, allowing Touchstone to be more inclusive, more efficient and more sustainable.
"The pandemic has shown us that our staff work most effectively when they feel trusted – productivity, engagement and attendance levels have all gone up dramatically," says Alison.
Darren says: "We're also getting involved in more digital inclusion work. This includes a lending library, called Healthy Connections, which has 100 tablets available with relevant software and data, and we want to turn one of our buildings into a free Wifi hotspot."
Touchstone has also adopted a hybrid model and agile working policy. "The pandemic has shown us that our staff work most effectively when they feel trusted – productivity, engagement and attendance levels have all gone up dramatically," says Alison.
Human intelligence
Data also play an important role at Touchstone, and have formed the bedrock of the TLF initiative. Alison explains: "It's a big part of our passion – we use data to explain why things are or aren't working, and to illustrate what we need to do differently."
In response to the potentially life-long detrimental impact of the pandemic on mental health, the charity is now feeding the TLF data and pandemic learnings into a city-wide strategy that is helping to inform conversations about mental health, poverty, housing and homelessness. This will hopefully result in mental health and wellbeing services receiving more funding in the future.
Of course, while data has an important role to play, Touchstone knows that engaging with and understanding people is the first priority in finding the right solutions. As Darren says: "It shouldn't take a pandemic to take the time to really listen to our communities – we should be doing it all the time and acting on what they're saying. We shouldn't expect to find answers in research papers – it's people who have the answers."