An unsung heroine
Eleanor Rathbone was one of the unsung heroines of the 20th century. As a feminist, suffragist, MP and humanitarian activist, she influenced social and welfare reform both at home and abroad. Seventy years after her death, we celebrate her remarkable life and reflect on the enduring relevance of the qualities that made her who she was.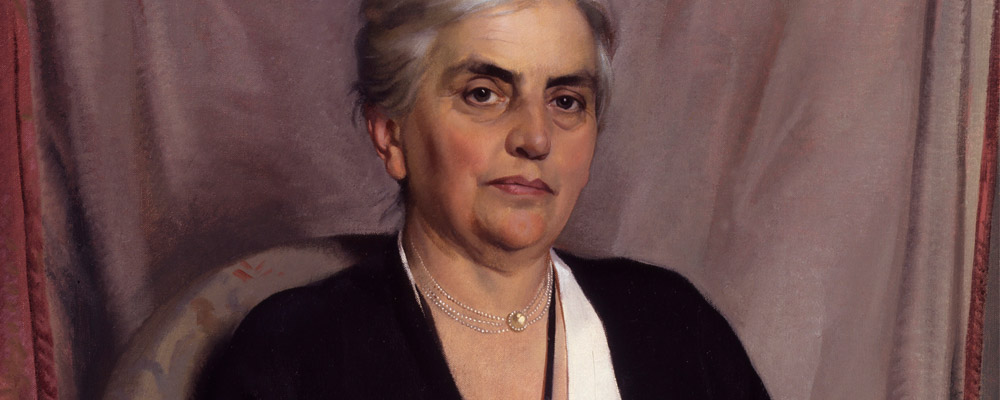 Dr Susan Cohen, Honorary Fellow, Parkes Institute at the University of Southampton
Clients of Rathbone Investment Management may have a vague idea of the family heritage behind the Rathbone name, and know that the roots of the company can be traced back to Liverpool in the 18th century. Early generations were in shipping and overseas trade — but never the slave trade — before they became engaged in managing money in the 20th century, but regardless of their business activities, philanthropy and responsible citizenship were a fundamental part of their lives. Abiding by the family motto 'what ought to be done, can be done', Rathbone men and women followed their consciences, making it their business to help improve the lives of the poor and needy in society, and using their wealth to bring about positive and lasting change.
The early generations of Rathbones were inspired by their strong Quaker beliefs of honesty, integrity and public service, but this ideology continued long after the religious link was broken. This was the case with William Rathbone VI (1819-1902), a Unitarian, a respected businessman and Liberal MP, a philanthropist, and a social and welfare reformer, who was responsible for pioneering district nursing by establishing the first ever scheme for nursing the sick poor in their own homes, in Liverpool, in 1863. Royal patronage was conferred in 1887, and the newly founded Queen Victoria's Jubilee Institute for Nurses continues today as the Queen's Nursing Institute, numbering William Rathbone VI's great-great-grandson, another William Rathbone, amongst its trustees.
But there is another very important Rathbone to consider, and that is William VI's daughter, Eleanor Florence Rathbone, who died 70 years ago, on 2 January 1946.
Born in May 1872, she had a privileged upbringing, but was regularly reminded of the duty she and her siblings had to those less fortunate than themselves. Her father's principles of responsible citizenship and practical philanthropy were reinforced by her studies of philosophy during her three years as a pioneering undergraduate at Somerville College, Oxford, and informed her decision, after completing her degree in 1896, to follow in his footsteps. The more social investigations she undertook, the more determined she became to find practical ways of improving the lives of the poor in Liverpool. From challenging the deeply entrenched casual dock labour system which impoverished families, she investigated the household budgets of widows, worked as a 'friendly visitor' for the Liverpool Central Relief Society, and for years undertook social investigation for the Liverpool Victoria Women's Settlement, where untrained volunteers provided amenities and support for women and children. The warden, Elizabeth Macadam, became her lifelong friend and companion, and between them the two women were responsible for establishing the Liverpool School of Social Science and Training for Social Work, which opened in 1905, putting social work on the professional map.
Eleanor never stood still in her pursuit of worthy causes to champion. During the First World War she pioneered a nationwide scheme for the prompt payment of separation allowances to the impoverished wives of serving soldiers and sailors, and then post-war, she and Elizabeth revitalised their lapsed organisation, the Council of Voluntary Aid. It was soon renamed the Personal Services Society (PSS), and gained a reputation for responding quickly to the crises of the day, exemplified by the clothing and boot clubs and loan funds it set up in times of extreme poverty. Today's PSS, which now stands for Person Shaped Support, continues to work with the community and to innovate, having been involved in developing Age Concern, Citizen's Advice Bureau and Legal Aid, organisations that everyone recognises. And following in the Rathbone tradition, a member of the family is chair of trustees.
Eleanor's political career, which ran alongside her other work, began with her appointment as parliamentary secretary of the Liverpool Women's Suffrage Society in 1897, but took a new turn after she was elected, in 1909, as Independent Councillor for Granby Ward, the first woman ever appointed to Liverpool City Council.
For 26 years she campaigned across a range of social issues, from abolishing unsanitary slums, to reducing the hours of labour, raising wage rates and improving education.
As a feminist and suffragist, Eleanor was drawn to campaigning for equality for women, and her concern over their economic dependence upon men led to her formulating her plan for a regular payment to be paid to mothers. By spring 1918, she had launched her long-running family endowment campaign.
In 1919, she was elected second president of the National Union for Suffrage and Equal Citizenship, and during her 10-year tenure steered the organisation towards legislative campaigns which were the catalyst for reform, leading to improvements in women's domestic rights, helping to improve their access to pensions, divorce, the guardianship of children, and separation and maintenance from abusive husbands. The battle for family endowment eventually succeeded with the passing of the Family Allowance Act in June 1945. This payment survives today as child benefit.
Eleanor achieved her long-held ambition of becoming an MP in 1929 when she was returned as Independent Member for the Combined English Universities. She used her new platform to campaign on behalf of underrepresented women and girls in Britain's colonies, including challenging the practice of child marriage in India and clitoridectomy (FGM) in Kenya. FGM was not banned in the country until 2011, and not only has it not been eradicated, but continues to be illegally performed in many other countries, including Britain.
The mounting international crisis and foreign affairs soon took precedence over all these campaigns, and on 13 April 1933 Eleanor delivered a prescient warning in the House of Commons of the dangers that Hitler and his party posed to world peace. Henceforth she devoted herself to defending states and people vulnerable to fascist and Nazi aggression, while fiercely opposing appeasement.
Her humanitarian activism was exemplified by her part in the rescue, in 1937, of some 4,000 children from the Basque combat zone during the Spanish Civil War, but the refugee crisis that resulted from the Munich Settlement, signed on 30 September 1938, proved decisive for Eleanor. She felt a deep personal responsibility for Britain's part in the German occupation of the Sudetenland and launched herself into a campaign to save as many endangered Czechs as possible. From November 1938 she used her newly-formed, purely voluntary, all-party Parliamentary Committee on Refugees to exert pressure on the government, demanding that they relax entry restrictions and pay the promised loan to Czechoslovakia.
With the outbreak of war in September 1939, and the doors to Britain firmly closed, Eleanor shifted the focus of her activism to the refugees already in the country, now classified as enemy aliens. Her immediate concern was for the 6,500 or so who were classified by the tribunals as friendly but who nevertheless were subject to supervision and restriction orders, and their treatment struck at the very heart of Eleanor's sense of justice, and her belief that Britain's tradition of liberty, generosity and asylum were of profound importance, even in wartime.
Hers became a familiar voice in the House of Commons as she challenged the workings of the tribunals, and the lack of procedural uniformity which wrongly restricted many refugees and prevented them working. But the situation worsened following the introduction of mass internment on 12 May 1940, as 26,700 enemy aliens, many of them Jewish refugees, were arrested and taken into so-called 'protective custody'.
The unsatisfactory condition of some of the camps, the food shortages, the suicides and the deportation of internees to Australia and Canada were among the raft of injustices which Eleanor now challenged relentlessly from the backbench. She put down more than 80 parliamentary questions on internment alone. Her subsequent visits to camps up and down the country boosted the morale of the internees, who claimed her as the 'MP for refugees', and her intervention led to the early closure of some of the worst ones and to changes and improvements being gradually implemented at home and abroad.
In response to confirmed news of the Holocaust reaching her by late 1942, Eleanor set up a new campaigning group, the National Committee for Rescue From Nazi Terror, which besides proposing some small-scale rescue plans, published propaganda material intended to keep the Nazi atrocities in the public eye.
Her speeches and letters displayed her utter despair at having ultimately failed to do more to save lives, but despite being utterly exhausted, she vociferously opposed post-war plans for the compulsory repatriation of the surviving remnant of Europe's Jews to countries from which they had escaped near-certain death, and in which many had lost whole families. She remained actively involved in Victor Gollancz's Save Europe Now campaign, and was reasserting her support for a Jewish homeland in Palestine when she died suddenly on 2 January 1946.
Eleanor never sought recognition for her work, for she considered it her duty as a responsible citizen to champion the cause of the disadvantaged and underrepresented in society. She never had a plan, but instead responded to 'unsuspected obligations' as and when they came to her attention. Throughout her lifetime she refused to be a bystander, adhering to her principles and belief in right and wrong. She serves as a model the world would do well to emulate.
Dr Susan Cohen is Honorary Fellow of the Parkes Institute at the University of Southampton, and is the author of Rescue the Perishing. Eleanor Rathbone and the Refugees (London: Vallentine Mitchell, 2010). She is the co-founder of the Remembering Eleanor Rathbone group - drsusancohen@gmail.com.