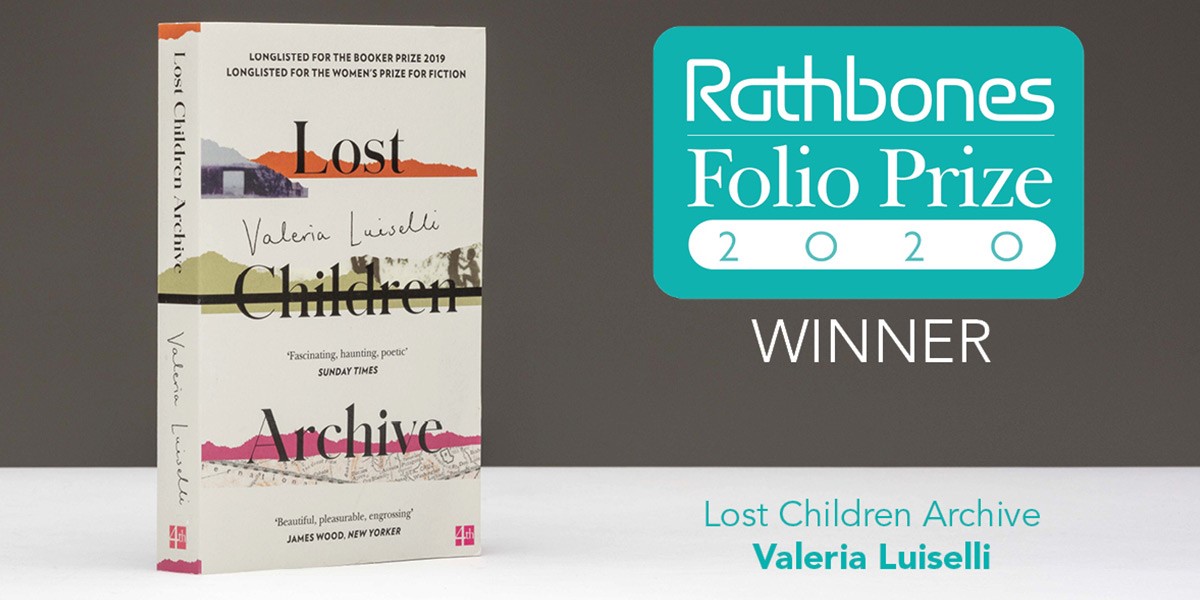 One of the brightest young stars in world literature, Valeria Luiselli was named the winner of the £30,000 Rathbones Folio Prize on Monday 23 March, for her third novel, and her first to be written in English, Lost Children Archive. It is the first time the annual prize – which rewards the best work of literature of the year, regardless of form – has been awarded to a woman since its inception in 2013, with Mexican novelist and essayist Luiselli beating off stiff competition from literary heavyweights including Zadie Smith and Ben Lerner.  In a year of firsts, the awards ceremony was also the first fully digital event for the prize. With the original evening at the British Library cancelled due to Covid-19, audiences around the world followed winner speeches, judges comments and written contributions on Twitter and the prize website.
Luiselli, who was born in Mexico and lives in New York, was inspired by her work with young migrants on the Mexico-US border to write Lost Children Archive (4th Estate), a fiercely imaginative autobiographical work of fiction. In a breath-taking feat of literary virtuosity, it intertwines two journeys – a family road trip and the stories of thousands of children trying to cross the Southern border into the US – to create a masterful novel full of echoes and reflections. A moving, powerful, and urgent novel, it tells a prescient story about what it is to be human in an inhuman world.
Chair of judges Paul Farley said:
'In a year of brilliant books, Lost Children Archive by Valeria Luiselli is our unanimous choice as winner of the 2020 Rathbones Folio Prize – and we're all thrilled and delighted to be able to celebrate this genuinely original and bravura performance of a novel: a road trip, a documentary, a portrait of a family and of the American borderlands, and a journey into the idea of home and belonging doesn't even begin to do justice to this singular, teeming, extraordinary book.'
Paul Stockton, CEO of Rathbones said:
'As we watch how rapidly our world can change and impact people's lives, the judges of the Rathbones Folio Prize have unanimously rallied behind a book that brings the personal story of a disintegrating American family embarking on a fraught road trip to a worldwide audience. Rathbones is very proud to sponsor this prize, which is uniquely backed by an Academy of writers and crosses many genres to find the very best book written in the English language. Lost Children Archive by Valeria Luiselli is a piece of writing that will have a powerful, and long-lasting impact on readers everywhere.'
Waterstones is also getting behind the winning book, offering 500 people currently self-isolating the chance to win a free copy of Lost Children Archive, which will be delivered to them at home. 
Bea Carvalho, Waterstones Fiction Buyer, said: 'The judges certainly had an unenviable task choosing from this shortlist, but in Valeria Luiselli they have found a truly worthy winner. In a year rich with excellent new books, Lost Children Archive stands out as an especially impressive work which exemplifies how exciting, intelligent, and creative fiction is today. It is a beautiful novel and an important study of modern humanity which deserves to be read widely. I'm thrilled that it has been chosen as the Rathbone Folio Prize winner this year, and that this gives us a new opportunity to share it with even more of our customers.'
The 2020 judges were the multi award-winning poet and non-fiction writer, Paul Farley, the Desmond Elliot Prize-winning novelist, Nikita Lalwani, and Ross Raisin, Sunday Times Young Writer of the Year winner and a Granta Best of Young British Novelists.
Lost Children Archive was chosen from a shortlist that contained three novels, one collection of poetry, a short story collection, a book of essays and two works of non-fiction from the UK, Ireland, Mexico and North America.
Valeria Luiselli was awarded a cheque for £30,000 and joins Raymond Antrobus (2019), Richard Lloyd Parry (2018), Hisham Matar (2017), Akhil Sharma (2015) and George Saunders (2014) as previous winners of the prize.
The Rathbones Folio Prize – also known as the Writers' Prize – is the only prize governed by an international academy of distinguished writers and critics, the Folio Academy. It is borderless and open to all genres – fiction, non-fiction, and poetry – which means it reflects a greater diversity and variety of voices present in our literary culture and society as a whole.
The Rathbones Folio Prize is the flagship of the Rathbones Folio Programme, which also includes the Rathbones Folio Mentorships for aspiring young writers and Rathbones Folio Prize Sessions at literary festivals across the UK.
Valeria Luiselli was born in Mexico City in 1983. She is the author of the novels Faces in the Crowd and The Story of My Teeth, which won the 2016 LA Times Book Prize for Fiction; the essay collection Sidewalks; and Tell Me How It Ends, an essay about the situation facing children arriving at the US-Mexico border without papers. Lost Children Archive is her first novel written in English and was longlisted for the Booker Prize 2019 and the Women's Prize for fiction.
'Fascinating, haunting, poetic' Sunday Times
'Beautiful, pleasurable, engrossing' James Wood, New Yorker
'A mould-breaking new classic … The novel truly becomes novel again in her hands – electric,    elastic, alluring, new' New York Times
'Daring, wholly original, brilliant … a twist on the great American road trip novel, a book about     alienation that chronicles fractures, divides, and estrangement' NPR
'Timely and poignant' Vogue
'A wonderfully subtle story in which the experience of migrant children is filtered through the   delicate, funny, effortlessly poetic account of a family's road trip from New York to the Mexican border' Guardian
To be part of the literary conversation, follow the prize on Twitter @rathbonesfolio or visit the website rathbonesfolioprize.com.