Original, diverse and international – this year's shortlist encapsulates what the Rathbones Folio Prize is all about.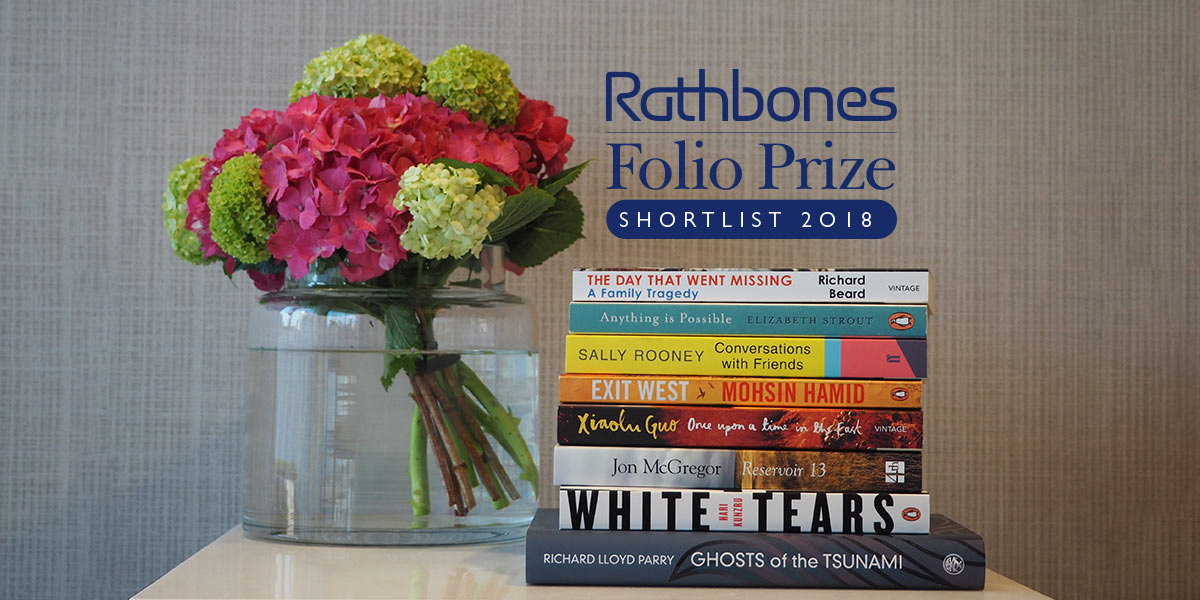 By Max Liu
America, Britain, China, Ireland and Pakistan are represented by eight writers who are working in a variety of forms. The settings for their stories range from an English village to Japan amid a natural disaster. Some of the authors have several books to their names but, like last year, there's room for a debut novel which always makes a shortlist more exciting.
The Folio Prize was established in 2014 as a genre-crossing alternative to the Man Booker. It was open to American writers from the start, a decision which was arguably instrumental in the Booker following suit. Inaugural Folio winner George Saunders went on to win the Man Booker in 2017, so this prize is perhaps the trend-setter among literary prizes in the UK today.    
Last year, with Rathbones as sponsors for the first time, the judges awarded the prize to The Return, Libyan writer Hisham Matar's memoir about returning to his country following the Arab Spring. Matar's book was both deeply personal and highly topical. Several works on this year's shortlist, which have been chosen by judges Jim Crace, Nikesh Shukla and Kate Summerscale, achieve a similar combination. They include five novels, two memoirs and a work of non-fiction.
Looking at the Rathbones Folio Prize 2018 shortlist, and thinking about which work might eventually triumph, it's clear that the judges have an unenviable task in picking one winner. The rest of us simply need to decide which one to read first.  
Learn more about our shortlisted books by selecting one below.
"The day that went missing"
Richard Beard
"Once upon a time in the East"
Xiaolu Guo
"Exit west"
Mohsin Hamid
"White tears"
Hari Kunzru
"Ghost of the tsunami"
Richard Lloyd Parry
"Reservoir 13"
Jon McGregor
"Conversations with friends"
Sally Rooney
"Anything is possible"
Elizabeth Strout
Shortlist overview
Richard Beard is the author of nine previous books but the reader finishes his tenth feeling that this is the one he needed to write. The Day That Went Missing is less a grief memoir than a personal inquest into the death of Beard's younger brother who drowned on holiday when the author was 11. The book is a portrait of a family and an era, and a meditation on the silence that can surround loss.
Xiaolu Guo's memoir, Once Upon a Time in the East, is global in its scope and personal in its focus. It charts Guo's journey from growing up in rural China to moving to London at the turn of the century. As a novelist, Guo is prolific and acclaimed, having written works in Chinese before making the transition into English a decade ago. Her writing examines the experience of moving between cultures and aims squarely at the human heart.
Exit West by Mohsin Hamid is a continent-hopping novel that tackles the big issues of our time – globalisation, migration and the new international order, by telling the story of a couple who, like millions of people today, are uprooted by war. Hamid is best known for his second novel, The Reluctant Fundamentalist, but his fourth, which was shortlisted for the Man Booker, is a strong contender here. 
With White Tears, the New York-based British novelist Hari Kunzru uses the subject of music to deliver a timely meditation on race in America. Cool, complex and haunting (literally so with its foray into ghost story), Kunzru's fifth novel was considered by some critics to have been unjustly omitted from other prize shortlists. By recognising a work that's been overlooked elsewhere, the Rathbones Folio Prize is fulfilling one of the purposes for which it's cherished by readers, writers and publishers. 
Reservoir 13 is the fourth novel by Jon McGregor who has been doing daring things with the form since his debut, If Nobody Speaks of Remarkable Things, appeared in 2003. McGregor's latest work, a subtle and suspenseful story set among the inhabitants of an English village in the aftermath of a teenage girl's disappearance, has already scooped the Costa Novel Award.
Richard Lloyd Parry is a Tokyo-based Times journalist who was living and working in Japan when a massive earthquake hit Tohoku in 2011, followed by a tsunami and subsequent nuclear meltdown. Ghosts of the Tsunami teems with voices from communities reeling from the disaster, which claimed more Japanese lives than any single event since World War Two, and examines how people respond to an exceptional tragedy.  
Irish fiction has been booming for years, but the acclaim that greeted Sally Rooney's first novel last summer was still remarkable. Conversations with Friends is the wry and funny tale of an affair between a 21-year-old poet and an older married actor. Rooney's second novel arrives this autumn. In the meantime, her nomination poses the question: could 2018 be the first year that the Rathbones Folio Prize is won by a debut?
Elizabeth Strout is the sole American here. Her previous novel, My Name is Lucy Barton, is the work for which Strout is famous, but the intertwining stories of Anything Is Possible are a sequel of sorts and add up to a slow-burning whole. A book from across the Atlantic, that blurs the boundaries between literary forms, is a worthy Rathbones Folio Prize nominee.   
Looking at the Rathbones Folio Prize 2018 shortlist, and thinking about which work might eventually triumph, it's clear that the judges have an unenviable task in picking one winner. The rest of us simply need to decide which one to read first.  
Learn more about the Rathbones Folio Prize and other initiatives.