Investment Insights Q3 2020
The global economy is reopening for business as the COVID-19 virus recedes, and the groundwork has been laid for a speedy recovery by massive government and central bank stimulus.
Markets have rallied strongly as investors look forward to better days ahead. It's often difficult to work out what's happening in the middle of a crisis, and we don't know what will return to normal and what will have changed forever.
In our first article on page 3, we explore the outlook for financial markets and the global economy over the coming months. Stock markets are nearly back at the record highs seen at the start of 2020 as investors stay optimistic about the post-pandemic recovery. Yet it's important to bear in mind the risks that lie ahead and the best ways to protect your portfolio in the face of ongoing uncertainty.
As the world entered lockdown and the global economy closed for business, many companies decided to suspend dividend payments. On page 5, we examine what this means for the UK market, which is uniquely focused on dividend income. We also discuss how the crisis could be an opportunity for companies to adjust their strategies and offer more sustainable and attractive long-term growth and income in the future.
Absolute return strategies are often criticised for underperformance relative to broader equity markets. On page 6 we explain why this is a flawed approach and explore how to assess the performance of actively managed diversifiers. We outline the different types of strategy and examine their role in multi-asset portfolios, as well as the conditions where they might perform well.
With the US presidential election fast approaching, we take a look at who's leading in the polls on page 8. We examine the possibility of Joe Biden claiming victory in November, and what his policies — including higher corporation tax, higher minimum wages and more regulation — could mean for investors.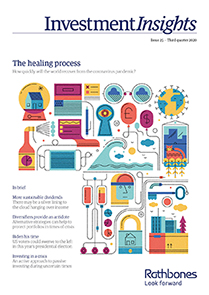 During the coronavirus crisis, demand among European investors for exchange-traded funds — the passive, index-tracking cousins of actively managed funds – held strong. Our final article on page 9 explores whether a cheaper, passive option would have been a wise choice over active management during the uncertainty experienced in recent months.
I hope you and your family remain healthy and safe. I'd also like to reassure you that we're doing everything we can at Rathbones to keep track of what remains a rapidly evolving investment environment.
Julian Chillingworth
Chief Investment Officer