Climate change is one of the most pressing challenges facing current and future generations. If global 'net-zero' targets are to be met, the building and construction industries urgently need to reduce their emissions. We discuss how they're addressing this, and what it could mean for your clients and their investments.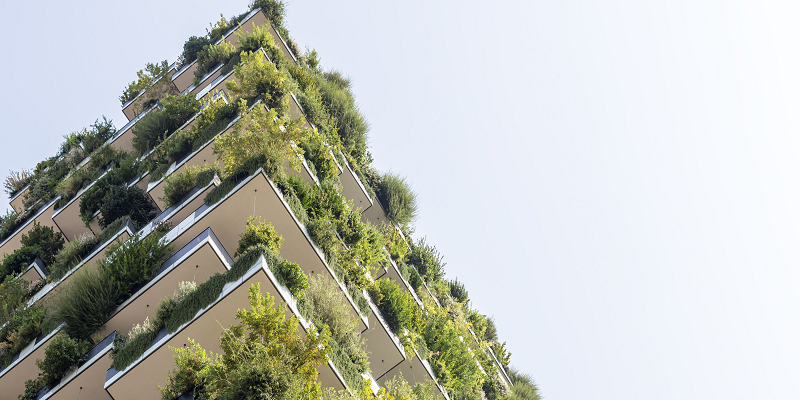 The materials used to build and manage our homes, workplaces and other indoor spaces are responsible for a huge portion of global emissions. As such, the building and contraction industries are undergoing tremendous change as they reimagine our future built environment and transition toward a world of net-zero carbon emissions.
Here are just some of the ways in which they're adapting to help solve the pressing climate challenges facing current and future generations – and therefore areas of potential growth that long-term investors may want to keep an eye on. 
Greener building techniques
In the face of insatiable demand for building materials, these industries are focusing on designing buildings that last longer, and recycling and reusing materials from old buildings. Many new technologies and processes are being designed to support sustainable construction techniques, including developing ways to reduce the environmental impact of producing cement, concrete and steel. 
Cement makers such as Breedon are working to reduce their carbon dioxide (CO2) emissions through the use of more biofuels and municipal waste instead of fossil fuels, while green hydrogen is being trialled by companies like Cemex and Hanson to replace fossil fuels in powering cement kilns. Similarly, companies including Solidia and Sika are working on tweaking the composition of cement in order to improve the resulting concrete's CO2 footprint. 
Meanwhile, in the carbon-intensive steel production process, HYBRIT, a joint venture owned by Swedish steelmaker SSAB, utility Vattenfall and miner LKAB, has begun test operations at a pilot 'fossil–free' steelmaking plant. And building materials company Owens Corning produces composites that can be used as lighter and more durable alternatives to steel for reinforcing concrete.
Sustainable materials
At the same time, forestry companies such as Stora Enso and Sumitomo Forestry have invested in renewable cross-laminated timber (CLT) production, while building materials company Boise Cascade produces engineered wood for buildings, and US-based Trex and AZEK have developed composite decking from recycled materials.
Similarly, the factory production of modular housing by companies such as TopHat is experiencing rapid growth as it is more efficient, produces less waste, and requires less labour. Several major home builders, including Barratt Homes and Berkeley Homes, are already investing in this area due to the potential cost savings on offer. 
Meanwhile, policies such as the UK Future Homes Standard, designed to significantly reduce emissions in new homes, should drive demand for energy efficient products and services that encourage recycling and longevity – such as the use of recyclable plastic piping, which is longer-lasting and cheaper to transport than traditional copper piping. Companies such as Genuit Group, for example, specialise in pipes made from recycled plastics and other products that enable more energy-efficient heating, cooling and ventilation.  
Retrofit for the future
All of this innovation is good news for future buildings, but the reality is that existing building stock will still represent the majority of floor space in 2050. Meeting 'net–zero' targets will mean 'retrofitting' existing buildings to higher energy efficiency standards. This will be expensive, and is currently often uneconomic, but some interesting developments are enabling renovations to be financed by future cost savings on energy and maintenance.
Alongside more conventional renovation work, this is an area with lots of potential for long-term growth. For example, in the Netherlands the Energiesprong (energy leap) movement has seen specialist Dutch retrofitting businesses improve labour productivity for production of parts by 75% and reduce waste by 90%.
This is in addition to growing demand for ancillary products and services, such as environmental building audits, window coverings for energy conservation, and building fabric insulation. 
What this means for your clients
While all of these innovative technologies may go some way to helping build the more environmentally-friendly houses, offices, factories and other indoor spaces of the future, innovations in polices, planning, and financing solutions are also required. Of course, ultimately, the key question is: who pays for all the necessary change and transformation, and how?
For clients' long-term investments, the crucial thing to consider is that if the building and construction industries don't dramatically reduce emissions, they won't meet their net zero targets. While the risks to companies in these sectors over the coming decades are significant, there are also likely to be interesting opportunities for good investment returns from those that do embrace positive change and technological innovation to find low-carbon solutions. 
To find out more about how the building and construction industries are working to help tackle climate change, please download our investment report, Building a more sustainable future.