Rathbones Look forward podcast
Hosted by journalist and broadcaster Andrea Catherwood, the Rathbones Look forward series brings you closer to some of the world's leading political, cultural and philosophical thinkers. Our guests discuss topics on the world of tomorrow, ranging from the future of democracy to the importance of the pursuit of truth in this era of fake news.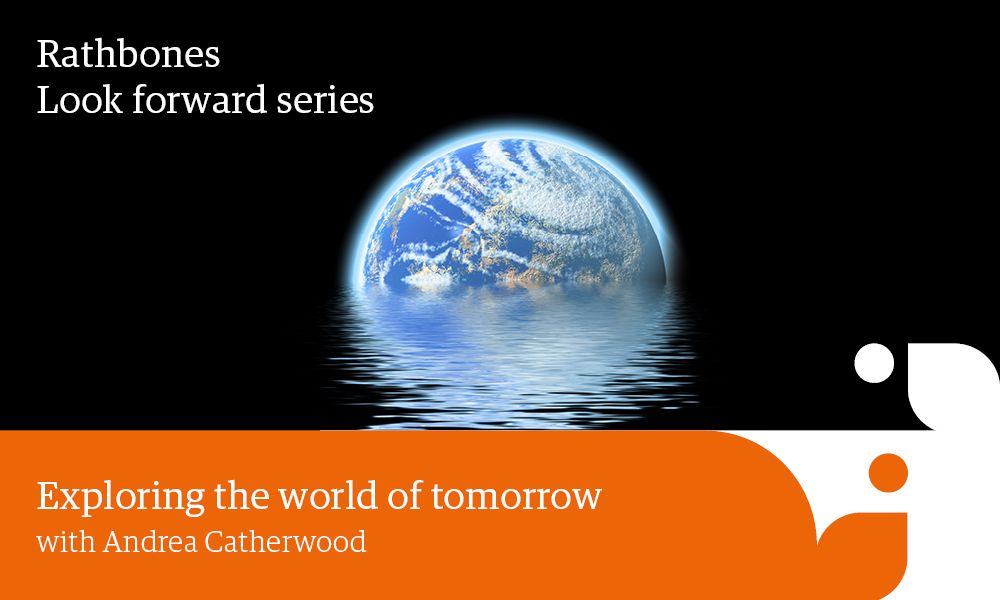 Download the podcast of the series here.
For full video, audio and essay, please visit rathboneslookforward.com
The future of leadership - Dr Pippa Malmgren
How can today's business leaders keep up with seismic geopolitical and economic shifts that include Brexit, inflation and the unseating of traditional political powers, and what do these mean for their own leadership narratives? Economist Dr Pippa Malmgren and author of best-selling book, The Leadership Lab, discusses the future of leadership with broadcaster and journalist, Andrea Catherwood.
The future of brands - Rory Sutherland
Why is Red Bull so popular – even though no one likes the taste? Why do we prefer stripy toothpaste? And why do we think branded painkillers are more effective? Vice chairman of Ogilvy UK Rory Sutherland discusses why we think we're rational creatures, making logical evidence-based decisions in economics and business, when in fact we aren't.
The future of society - Dr Hilary Cottam
Is our welfare state fit for purpose? Social entrepreneur Dr Hilary Cottam discusses collaborative and affordable solutions to some of the greatest social challenges of our time: challenges such as ageing, loneliness, chronic disease, good work and inequality. From her book Radical Help, she offers a new approach to fixing the welfare state that fosters the bonds between us.
The future of the countryside - Professor Dieter Helm CBE
The decline of the Britain's countryside and wildlife has been meticulously documented by some of the best naturalists in the world. The insects have largely gone, farmland birds have been decimated, and our rivers, uplands and urban green spaces are all in a less than happy state. Economist, Professor Dieter Helm CBE, shares his radical but tangible plan for positive change.
The future of democracy - Elif Shafak
Novelist and political scientist Elif Shafak explores how populism affects the language of mainstream politics and how things can start to change. When a demagogue comes to power, they start to change the judiciary, the electoral system, the constitution and society becomes polarised. These are worrying times for people who are interested in the truth.
The future of politics - Philip Collins
We find ourselves in unchartered political times. Our electorate has changed – it appears that political allegiances may have moved from a class basis to a more cultural footing. Against the backdrop of Brexit and recent parliamentary tantrums, journalist and academic Philip Collins helps us examine how things have fundamentally changed and how to fix the UK's broken politics.
The future of education - Alex Beard
How do we ensure that children continue to develop the skills of critical thinking and creativity? To what extent can the learning experience be enhanced by using AI in the classroom. We speak to teacher and writer Alex Beard on the future of education.
The future of spirituality - Alan Lightman
With a lifetime exploring the fundamental nature and origins of the universe, theoretical physicist Alan Lightman talks about the unscientific experience of looking up at the stars one night, and 'falling into infinity'. In this interview he explores this apparent contradiction, and how in his belief, it is still possible to be a scientist and a spiritual person connected to something larger than oneself.
The future of free speech - Professor Nadine Strossen
Professor Nadine Strossen, a world-leading expert in civil liberty explores free speech in this interview. Using examples such as the neo-Nazi protests and their counter-reaction at Charlottesville, she discusses examples of the unpalatable views being aired, and the thesis that it is important to encourage debate in order to counter prejudice.
The future of genetics - Dr Sharad Paul
Is coffee bad for you? The media changes its mind by the day. The real answer exists in your DNA and whether you are a fast or slow 'metaboliser' of caffeine. Our interview with surgeon and geneticist Dr Sharad Paul looks at what the future of genetics can hold for our health, and explores his preventative ideas on treating wellness, not illness.
The future of artificial intelligence - Sir Nigel Shadbolt
Artificial intelligence, or 'AI' is now a regular conversation topic in the media. The way we communicate, our jobs, privacy, security and well-being are areas already impacted by AI. Our interview with Professor Sir Nigel Shadbolt, one of the UK's foremost computer scientists and a leading researcher in artificial intelligence, looks at what the future holds for us.
Plastics and the environment - Lucy Siegle
Lucy Siegle is an accomplished Guardian, Observer and BBC journalist and broadcaster, with a passion for environmental and social justice. She is also the go-to environment expert for Sky News and Good Morning Britain. In this interview Lucy implores us to listen to the planet – 'you'll hear a faint drumbeat. It's a beat that will grow louder over the next two years'.
Truth and lies - Allan Little
Allan Little is an award-winning broadcaster and former BBC special correspondent. In this interview he discusses this era of fake news and the importance of the pursuit of truth.