Responsible business governance
Having taken our first step by defining our responsible business framework in 2019, we have undertaken further engagement, reviewing and updating our underlying plans, reviewing our operating environment and ensuring the business has suitable governance in place to oversee the programme. We also conducted an extensive engagement programme with colleagues to ensure our programme aligned with their interests and values.
To this end we formed the responsible business committee, co-chaired by our chief executive and the head of Rathbones specialist and charity business, with members from risk and investment and representatives from the business who act as workstream leads.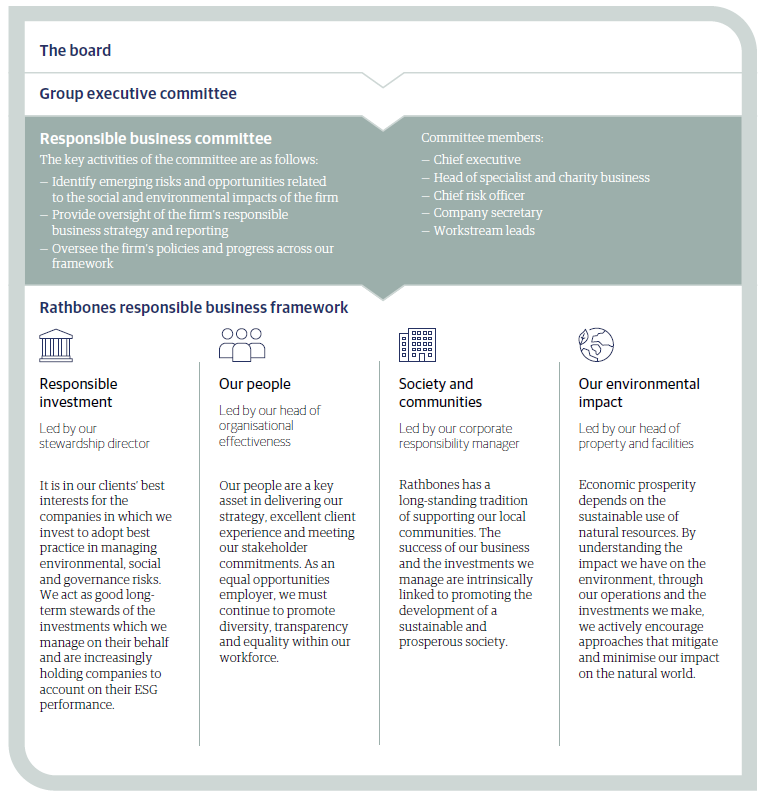 For a summary of our committee activity please see our Annual Report and Accounts.
Pillar governance
Each pillar of our programme is supported by a committee, working group or network, who oversee the plan and progress within the pillars.
Our responsible investment pillar has a number of committees supporting the different underlying principles. To read more about RI is governed see our RI governance and policy page.
Our people pillar, is supported by a number of groups including Rathbones Included, who input into our diversity and inclusion objectives. To find out about their aims and objectives see our Annual Report.
In Q1 2021 we set up our community investment network. Consisting of representatives from across our offices and meeting at least quarterly the working group recommends the approach to having a meaningful impact in the communities and societies in which we operate.
Our environmental pillar is supported by a champions network. Comprising of people passionate about reducing the impact of our operations. When in our offices this network works to identify opportunities to reduce our resource consumption be it through improvements in our waste management system or reducing the sourcing of plastic through our supply chain.