Responsible business governance
Rathbones is committed to upholding high standards of corporate governance and business ethics.
Having taken our first step by defining our responsible business framework in 2019, we have undertaken further engagement, assessing and updating our underlying plans, reviewing our operating environment and ensuring the business has suitable governance in place to oversee the programme. 
To this end, we formed the responsible business committee, co-chaired by our group chief executive and the managing director of our investment business, with representatives from risk, our underlying business units and subject matter experts who act as workstream leads.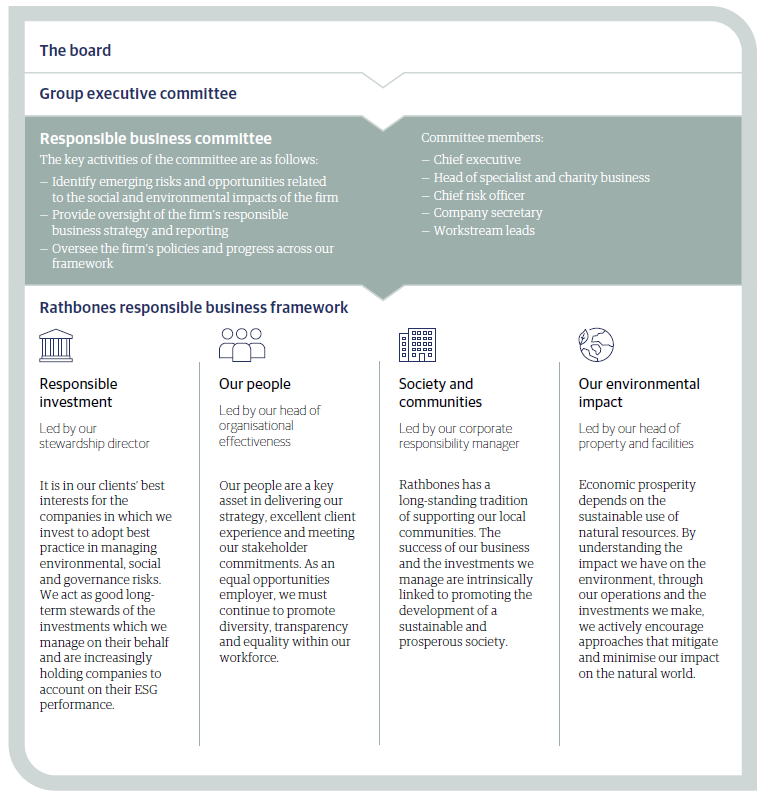 For a summary of our committee activity please see our Responsible business report.
Pillar governance
Responsible investment - a number of committees support the underlying principles of our responsible investment pillar. This includes our group responsible investment committee as well as our engagement and voting committees. To read more about how responsible investment is governed, see our responsible investment report and the responsible investment pages on our website.
Our people – this pillar is supported by a number of groups. Rathbones Included, for example, provides input into our diversity, equality and inclusion (DE&I) objectives. Acting as the employee voice, it works with our people team to integrate DE&I across the group.
Society and communities - our community investment network consists of representatives from across our offices. Meeting at least quarterly the working group reviews our approach and recommends actions to support meaningful societal impact. 
Our supplier management framework is supported by a project team working to integrate environmental, social and
governance information into our existing supplier review process.
Our environmental impact - as we return to the office, our environmental pillar will be supported by a champions network, comprising of people passionate about reducing the impact of our operations. The impact of climate risk both from and on our investments is managed through our responsible investment programme.