The Apprentice beats Dynasty
"Hillary, you cannot be trusted – you're fired…"
- Donald Trump 2016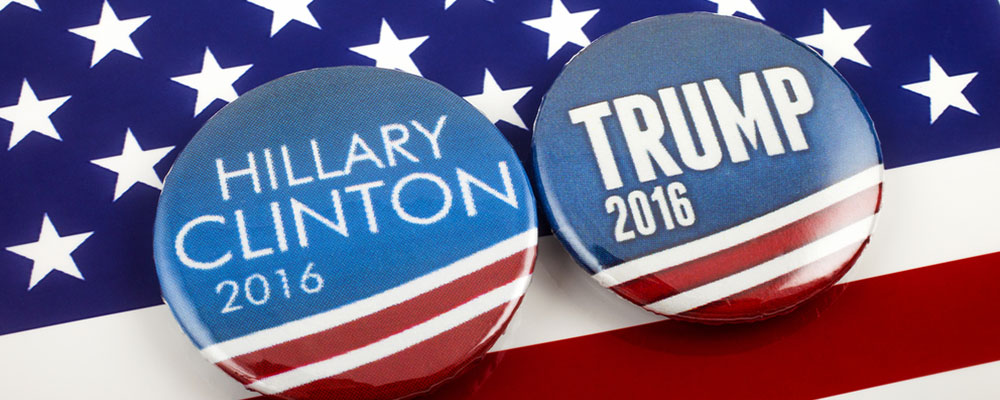 Obviously, this is not an official quote, but it may as well be. If Clinton had won, it would have been 32 years out of 40 (from 1981 to 2021) where either a Bush or a Clinton had held an office in the White House. What price then on George Junior II (Jeb's son George P) versus Chelsea Clinton in 2024?
So what does this mean for us over here from an investment perspective? Initially, there will be a large sell-off in the dollar and US assets because of the uncertainty shock. No-one really knows what Trump stands for – the election has been incredibly light on policy (even more than usual). This volatility may continue for some time; however, we believe that the American checks and balances will make Trump a lame duck for domestic affairs.
Therefore, attention is likely to shift to the Brexit argument and how it may affect next year's national elections in Europe. It is possible that radical Virginia Raggi, Marine Le Pen and Frauke Petry will soon become household names. Next year, we have German, French and Dutch elections, which will tell us how much anti-EU sentiment has been exported from here to the mainland. These are the countries that will probably pick up the hole in the budget caused by the UK's withdrawal. In Eastern Europe, there will be elections in the Czech Republic, Serbia and Slovenia, with Hungary following in 2018. All of these nations are directly affected by the migrant crisis.
Last week's High Court ruling on Article 50 has not helped build certainty for markets as they try to discount what a post-Brexit world would look like. The likelihood is Brexit will continue, but with delays because of the Government's minority in the House of Lords. This means yet more volatility in UK equities. We have seen the FTSE split into two baskets: domestic-earners and overseas-earners. Large rotations from one to the other seem to depend solely on the flow of news.
But back to the US.
Why are we relatively sanguine about a Trump presidency in the long term? We believe presidents very rarely get the chance to execute their policies – especially when they are as radical as Trump's. The new President is clearly despised by his own party politicians, let alone the Democrats on the other side of the aisle.
This should mean he will struggle to get any policies through Capitol Hill. That doesn't mean he is completely neutered however – he has considerable latitude on foreign affairs, for example. Still, I suspect President Trump will be a very different animal to the one on the stump.
However, until the evidence of a more reasonable and pragmatic Trump is in front of me I would express caution on US assets, particularly treasuries and the dollar. We do need to keep perspective though as Europe descends into a year of high uncertainty, tainted by nationalistic rhetoric and hyperbole.
Sound familiar?