The ocean makes up 70% of our planet's surface, yet it gets nowhere near the attention it deserves. Our sustainable multi-asset investment specialist, Rahab Paracha, looks at the next frontier of sustainable action.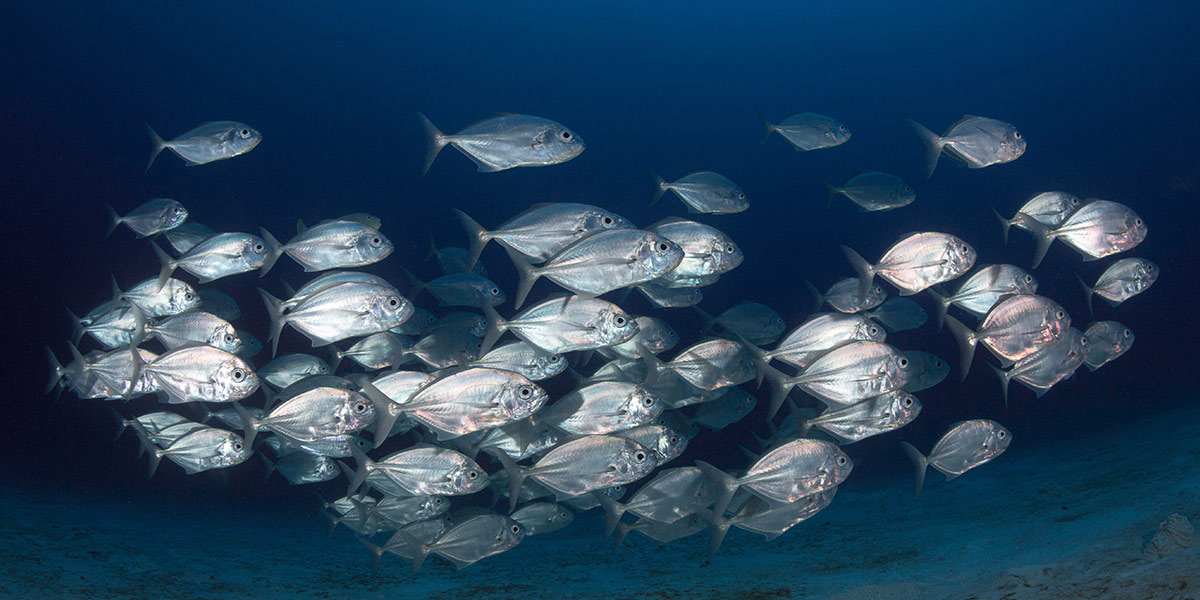 Sunday night was a pretty ordinary one in my flat. Sat on the sofa with my husband, Nadeem, browsing through Netflix, struggling to agree on something to watch.
This time, though, it struck me just how many climate-change-related documentaries we were finding. From David Attenborough's 'Planet' classics to the controversial 'The Game Changers', there definitely seems to be a shift towards talking about sustainability issues, even during our leisure time. One documentary which took the world by storm earlier this year was 'Seaspiracy', itself a follow-on to 'Cowspiracy' which made less of a splash when it came out in 2014. Like many others, I watched it the week it came out and was shocked at how much we've been overexploiting our oceans and its inhabitants, whether through overfishing, plastic and wastewater pollution or global warming.
After watching the show, I decided to do a bit of digging (you can't completely trust everything on Netflix after all) to find out more about the role our oceans play for our planet and economies. I quickly realised that our oceans will play a massive role in our journey to a net-zero future, yet that isn't reflected in the amount of attention they receive, both from the press and the population at large. We constantly hear about potential emission reductions from electric vehicles, planting trees and switching to renewable energy, but little about the seas that cover 70% of our world.
According to a 2019 University of Oxford study, the oceans absorbed about 90% of the planet's extra heat between 1971 and 2010. They also store roughly 30% of global carbon dioxide (CO2) emissions and produce somewhere between 50% and 80% of our oxygen. There's a reason why Earth is called the Blue Planet, after all. And our sea life and coastal vegetation is just as important. For example, each year mangroves store the equivalent amount of carbon as 20,000 people flying every day for a year from New York to Sydney!
Investing in our oceans
Given all of this, seafaring industries could well be the next area of the economy to face huge disruption as we try to keep oceans healthy. And if they are, what sort of things can we invest in to help drive the change and make money in the process? There's already a name for investing in this area: the 'blue economy'. It encompasses all industries and sectors related to oceans, seas and coasts, whether they are based in the marine environment or on land. And it turns out it's pretty huge. The blue economy is estimated to be worth $2.5 trillion each year; if it were a country it would be the world's eighth largest by GDP. It's also expected to expand at twice the rate of the mainstream economy by 2030.  
Given its size, I was interested to learn that of the 17 UN Sustainable Development Goals, the conservation and sustainable use of the ocean and its resources (SDG14: 'Life Below Water') attracts the joint lowest share of investment. I tried to figure out why.
There are various ways to invest in this theme which can be roughly grouped into five categories: energy solutions, fisheries and aquaculture, plastics and pollution, shipping and ports, and coastal tourism. Aquaculture is the practice of farming seafood, whether fish, crustaceans or shellfish. Companies in this space, such as Norway's Atlantic Sapphire and New England's AquaBounty, are producing ocean-safe seafood 100% on land in what they term 'bluehouses'. These watery greenhouses optimise feeding, water temperature and even lighting to maximize fish production. Precision fishing, on the other hand, involves using technologies to improve the efficiency and sustainability of capturing fish from our oceans. For example, companies like SmartCatch use sensors, cameras, and lighting to help fishermen reduce their bycatch. As we discussed in 'Culture grub', the latest episode of our podcast the Sharpe End, we've seen that technologies being used in this way have already disrupted the food and agriculture sector. Demand for these tools has spurred the rise of precision-farming specialists that help farmers increase their productivity. I can see the ocean industry being disrupted similarly in the future.
Then there are the fisheries, downstream so to speak, that must grapple with sustainable fish production and distribution. Norway's Mowi, for example, is one of the world's largest producers of farmed Atlantic salmon, while Nomad Foods is a European frozen foods company whose brands include Birds Eye and Findus.
Finding the right fit
There is literally an ocean of opportunities for investment in the blue economy, so why haven't our sustainable multi-asset portfolio funds invested in these areas yet? Companies in areas such as aquaculture and precision farming are either still very small, private, or loss-making. And larger companies involved in seafood production are grappling with all those problems mentioned in 'Seaspiracy', such as traceability of fish stocks, forced labour and whether the other parts of their frozen foods business are in line with our sustainable values.
But we are investing in the blue economy in other ways. Within energy solutions, we have exposure to offshore wind (Vestas and SSE) and within plastics and pollution we like companies that are reducing plastic packaging waste (Advanced Drainage Systems, Ball Corp, SIG Combibloc and Tomra). Of course, the huge potential of the blue economy means it's a theme we'll continue to explore, until we find more companies with an investment case just as attractive as its sustainability story.
Now speaking of exploring, I think it may finally be time to give up trying to find something to watch on Netflix and look to something else … Disney Plus here we come? They're practically giving it away.