Bond life
From his kitchen table our head of fixed income Bryn Jones gives his perspective on the bond life, where emergency stimulus has brought signs of life, but credit remains in a critical condition.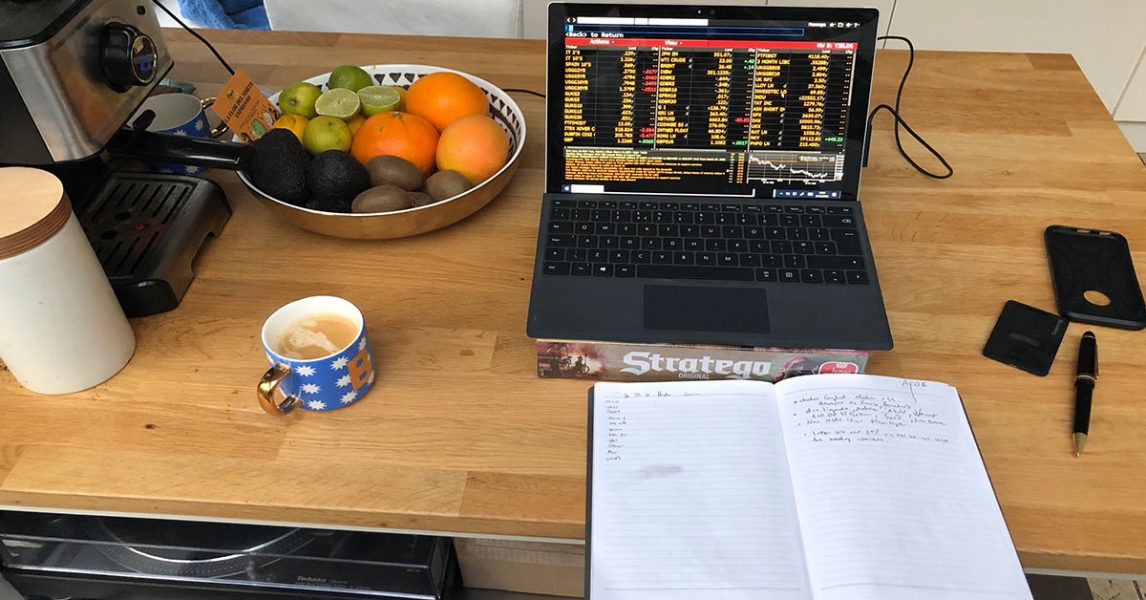 Firstly, I hope you and yours are staying healthy during this tough time.
What a couple of weeks! I am fully operational in my kitchen. I have my Bloomberg, emails and order-management system on my laptop, which is positioned on top of my favourite board game.
My day starts at 6am when I write the company bonds comment. Think more Daily Mail than Economist – our asset allocation gang led by Ed Smith put out higher-quality pieces on par with the latter. At 8am there's an executive call, at 9am a fixed income team call and then it's time to get down to the day job, looking at trades, reading research, answering a higher-than-normal volume of client calls and queries – only natural in times of stress – and...deleting emails.
The coffee machine is of great importance. The queues for this are quite small which means extra work time. I buy ethically sourced coffee from small producers via my long-term supplier, Pact Coffee. The commute is also quick...there are no queues on the stairs, or daggers glaring at me as I try to get the table seat. I'm saving on travel costs and my carbon footprint has fallen – especially as I buy 100% renewable energy from Bulb.

Who needs offices in the future? We all seem to be functioning well from home.
Two weeks ago we moved to split site. That meant most people working from home with just a couple of people in the office. When it became clear the London office would close, I drove into town and raised more cash as it was unclear how the market would function in lockdown. To be fair, it's functioning really well.
Stability returned last week. The central bank bazookas and government fiscal taps finally culminated in the Fed delivering unlimited quantitative easing, buying trillions of dollars' worth of Treasuries, commercial paper, mortgage-backed securities, exchange-traded funds, and corporate and financial bonds in an alphabet soup of stimulus. This led to a rebound in credit. The first trade I made from my kitchen last Monday, Phoenix RT1, we sold on Friday making 52%! But there are still many areas of concern.
Will we need offices in future? Companies could save millions...but here's the rub... real estate investment trusts (REIT) and commercial mortgage-backed securities (CMBS) may struggle. There are over $3 trillion of CMBS already reeling from the Amazon effect...now they're also reeling from the impact of coronavirus on office demand.
The high-yield market is another area of concern. There's been around $80 billion of fallen angels already this year – that's when an investment-grade bond gets downgraded – and some analysts estimate this could rise to over $200bn, surpassing 2005's $100bn. The good news here is that US high yields are trading dirt cheap at 11-year lows. Historically, if you buy when spreads are this wide you tend to make money. (Spreads widen when sovereign bonds are favoured over corporates, which typically happens in periods of economic uncertainty.)
Although as we know, history is not always the best guide to the future... Credit markets are unsure who will and who won't survive, who is going to get grants and loans and who is not… That's my biggest concern. Marks and Spencer and Ford have already been junked.
Emerging market debt is also looking cheap. But, I'm not sure their health systems are prepared for a pandemic. With this in mind we've bought two AAA supranational COVID-19 response bonds: African Development bank, and Inter-American Development bank to help Latin America.
Enough from me...time for my daily jog around the block. Down time is important too.