Head of equity research, Sanjiv Tumkur, considers how a new generation of consumers are leading long-established brands - the bedrock of portfolios around the world - to adapt a more sustainable approach and help shape a 'brand' new world.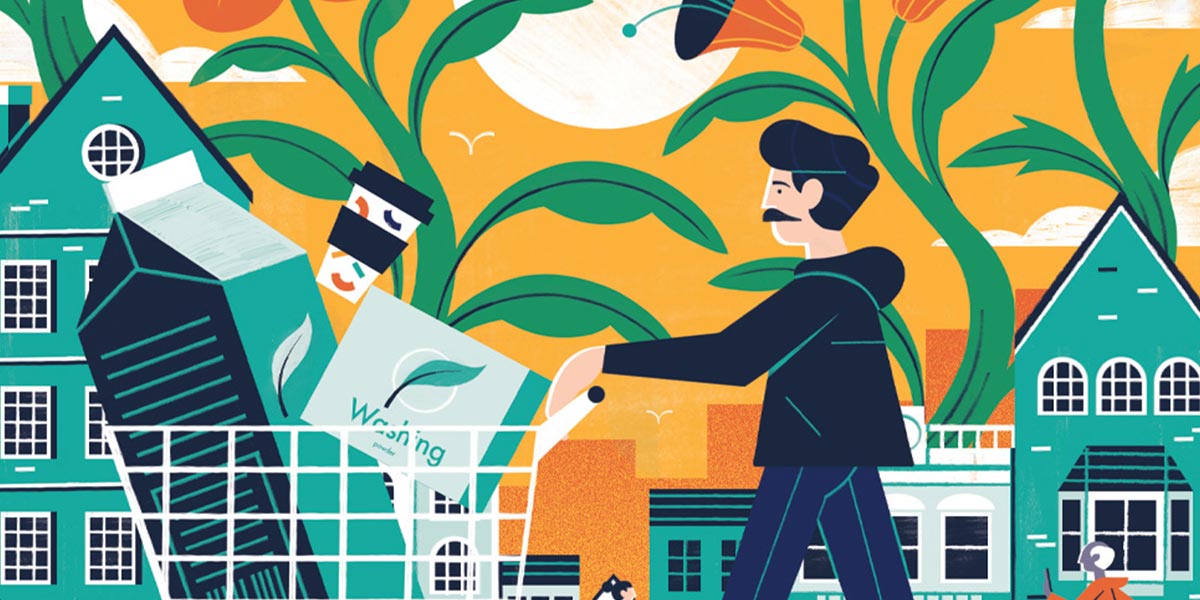 Branded consumer goods companies have tended to be successful investments over the long term. They enjoy fairly stable and predictable returns, gently rising demand and little in terms of earnings volatility through the economic cycle — particularly in the area of consumer 'staples', such as soap or toothpaste, that consumers need to buy no matter how poor they feel.
But these companies — the bedrock of many of your clients' diversified portfolios — are now having to innovate and evolve in order to engage with the shifting attitudes and changing spending habits of a new generation of consumers. This new generation is more likely to express a strong interest in social engagement, purpose and values than its predecessors, and the disruption that COVID-19 has wrought across the globe seems to have strengthened the demand for a more sustainable approach.
The threat is especially acute for companies with long-established brands, painstakingly built and maintained over decades, which used to command consistent loyalty and predictable consumer demand. These global brands are key parts of portfolios and economies, so what happens to them is important for all investors.
We believe these companies can continue to thrive, but only if they make significant efforts to be agile and innovative and demonstrate genuine commitment to sustainable business practices. It will mean engaging with customers in radically new ways.
Relevant and sustainable
These new behaviours and spending patterns present challenges which some businesses are meeting head-on, seeming to benefit from an approach that looks beyond short-term profits to longer-term relevance and sustainability. One example is the multinational consumer goods company Unilever.
A decade ago, it set out to decouple its growth from its environmental impact while increasing its positive social impact through the launch of its Sustainable Living Plan. The plan included targets to halve its products' carbon footprint by 2030 and sustainably source 100% of agricultural commodities by the end of 2020. Unilever's own results show that its sustainable brands are growing faster and have better profit margins than the average for all of its products.
In May 2019, global food and drinks giant Nestlé reported an 8% reduction in its food waste since 2016. Budget fashion retailer H&M offers to reuse, recycle or repurpose any used clothes brought to any of its stores, with nothing going to landfill. In July, its UK rival Primark followed suit with a similar nationwide in-store recycling scheme, encouraging customers to donate "pre-loved" clothes from any brand to be "re-loved".
No more lazy loyalty
Global brands also need to acknowledge the fundamental changes in the way that consumers react to them. That means remaining resolutely focused on their long-term vision and values, which will need to incorporate sustainability, but being more tactical and nimble in terms of marketing their brands in response to the changing patterns of customer engagement.
Key to this is a clear understanding of their customers and their desires, and how they are changing. While demographics are important here, of even greater significance is psychographics: the attitudes, values and behaviours that different people have.
The days of brands being able to rely on winning a customer and then keeping them for life ("lazy loyalty") are over because consumers are constantly reappraising their choices and need to be "recruited and re-recruited", as beverages giant Diageo has noted.
Crucial to success
'No company can rest on its laurels, or a good environmental, social and governance (ESG) rating.'
No company can rest on its laurels, or a good environmental, social and governance (ESG) rating. This was made abundantly clear in July, when it emerged that workers in Leicester linked with making clothes for the highly ESG-rated online fashion giant Boohoo were being paid just £3.50 an hour — nearly 60% less than the minimum wage. Social media lit up with shoppers promising to boycott the company, and its shares lost nearly half their value in the space of a week.
The combination of long-termism with agile execution and a good underlying governance and ESG practices is something branded companies should always be considering, simply as best practice, but it has never been more crucial to success — and survival.
We are confident that many of today's major consumer goods companies — which form such an important part of many of your clients' investment portfolios — can survive and even thrive by recognising and adapting to the rapidly changing consumer landscape. The good news for their investors is that, since the COVID crisis struck, incumbent brands in general appear to be gaining ground.