When a habit becomes a trend
His heart is in Santorini, his head is in rural Wiltshire and his cash is in the freezer. Head of multi-asset investments David Coombs grapples with lockdown realities and the changes they could bring to shopping.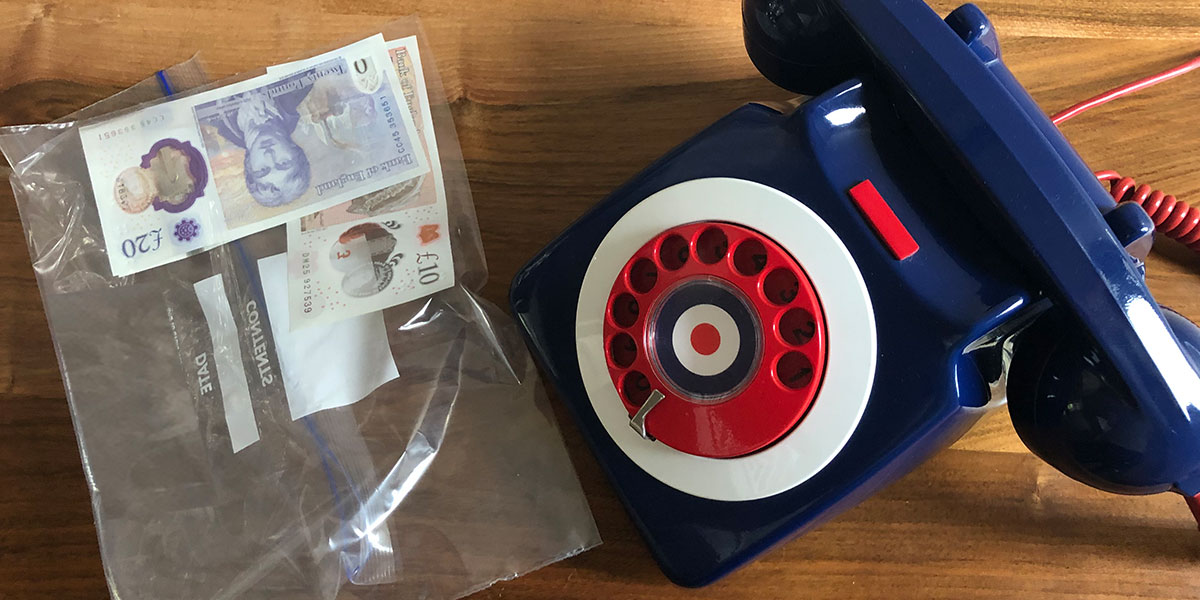 We're in the midst of significant home improvements, having bought a rundown version of our perfect house a couple of years ago. These renovations meant we recently had four gas bottles to dispose of. Turns out disposing of gas bottles isn't that easy in lockdown, so we turned to Gumtree.
All sold within 24 hours to four separate people! Apparently, you cannot buy gas cylinders at the moment, but you can fill them up. What's the best way of accepting payment? When it comes to selling a physical item, I like physical reimbursement: cash. Trust no one, particularly those that show interest at 12.15am.
So, we accepted cash and quarantined the notes in the hallway for 72 hours, as shown in the photo.
Last week, we should have been on holiday in Santorini but instead we were at home in Wiltshire, enjoying cloudier skies. To create some holiday cheer, we decided to bring Santorini to Swindon by buying some of our favourite wine from the island. Google tracked us down a specialist, Bermondsey-based, Greek distributor and the wine was ordered and received.
They say habits form over six weeks. Does that then become a trend? We won't continue to put cash in freezer bags post-COVID-19, but we are probably going to use cash even less often. I've spent just £5 in cash since February and that was to buy a cake at our next door neighbour's charity cake sale – gluten-free orange polenta if you're interested.
I suspect the coronavirus outbreak will signal the end for millions of cash machines across the developed world. So, should we be buying electronic payment companies? Maybe, but the payments market is an extremely complex one with many players. It isn't yet clear who will win and who has the most robust security.
We prefer Visa and Mastercard in the Rathbone Multi-Asset Portfolio Funds, and I'll explain why with a railway analogy. The guys that own the tracks don't really care who operates the trains, and it's very hard for a new entrant to lay another set of rails. We want to hold the track owners, which in the payments world are Visa and Mastercard.
So, the move to a cashless society has been accelerated by the pandemic. What about e-commerce? Is my Greek wine purchase typical of post-COVID behaviour? As always, it's worth looking to the US for new trends. Across the Atlantic, there's been a big rise in demand for suburban dwellings over urban. Apparently, this is called 'nesting'. To me, these are early signs that we're starting to move further away from our offices, work from home more often and commute for longer when we do. This is partly driven by new concerns about the health of those living in urban areas, and partly driven by the benefits of our newfound working from home work/life balance.
If this continues, it will have a huge impact on the retail, food, hospitality and leisure industries in towns and cities. It's also likely to fuel a greater move to local consumption and an increase in online shopping. Will my move to buy online from niche businesses be replicated? That's buying from someone else's local, if you like. What does that mean for the large supermarkets of this world?
What if this further fuelled the 'Nike-ification' of the retail industry? Ok, I made that word up, but you get the sense of what I mean. Nike significantly reduced the number of third-party distributors it works with by investing heavily in its own stores and online platform so it can sell direct to the consumer. Just think about how Apple does it. And what if Diageo starts selling Guinness direct to the consumer? Or if Colgate starts selling toothpaste? Fanciful? Perhaps not ...
I don't pretend to have all the answers, but I am trying to identify the potential winners and losers if any of these trends stick. In recent meetings with companies we invest with, it's been reassuring to hear management discussing these trends and setting up teams to monitor these changes in consumer behaviour. Generally speaking, they're still in watch mode but are considering their options. As ever, companies that are too slow or too complacent will fade away.
With people's attitudes to money and shopping changing so quickly, I'm worried that by the time my cash is released from its quarantine, no one will accept it! Actually, it's my middle son's birthday at the end of the month. I'll just put it in his card.