Our environmental impact
We recognise that our business has an impact on the environment. As part of our drive to reduce this we continue to monitor and report on our initiatives in place and their progress.
Our carbon footprint
In 2019, we reduced our carbon footprint by 2% with total emissions down to 2,043 tCO2e (from 2,077 tCO2e) in 2018). With our total funds under management increasing by 14% to £50.4billion, our emissions intensity (tCO2e/£bn FUMA) has correspondingly decreased by 14%.
This reflects that, whilst we are growing, we are doing so in a sustainable way with energy from our built estate accounting for nearly half of our annual emissions, the emissions intensity reduction is linked to the occupancy of more energy-efficient buildings, reduced energy consumption across our portfolio and the continued decarbonisation of UK electricity supplies.
For more information on our approach to managing our environmental impact please see our annual report and accounts and our environmental impact report.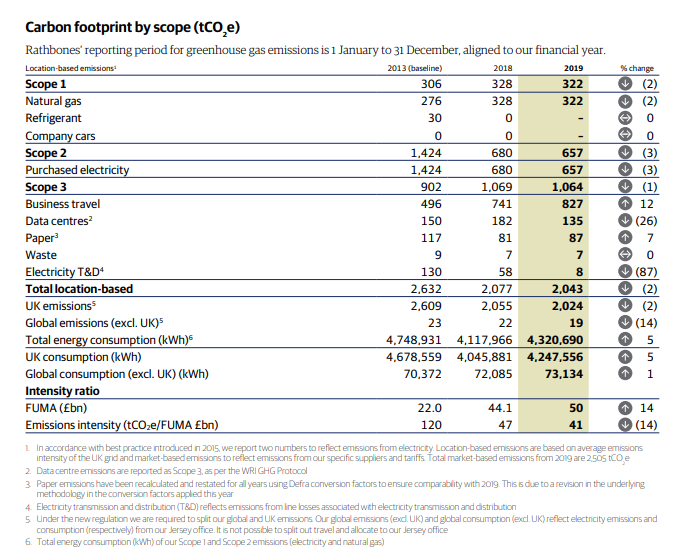 Carbon Smart assist us with the collection, verification and reporting of carbon footprint data for our offices.
Carbon offsetting
While continuing to pursue efforts to reduce our carbon footprint, we recognise that there is more that can be done to take action for our residual emissions. Where we have unavoidable carbon emissions, we take responsibility for these and have purchased annual carbon credits since 2011. In 2019, we offset 2,553 tonnes of CO2 through the purchase of carbon credits. Through our work with ClimateCare we have chosen to support two high-impact projects which provide clean energy and improve lives. Each of these projects has been selected in line with support for the UN Sustainable Development Goals and are certified by internationally accredited bodies, including The Gold Standard. More information on the different projects we have helped to fund can be found here.
Transparency
2019 CDP score: B-
In 2019, we continued our policy of voluntary disclosure to CDP. CDP has raised the standard of global climate disclosure, encouraging companies to demonstrate transparency, accountability, measurement and management of their environmental impacts. We are pleased to have received a B- rating (2018:C), reflecting our continued efforts to address climate-related issues across our business.